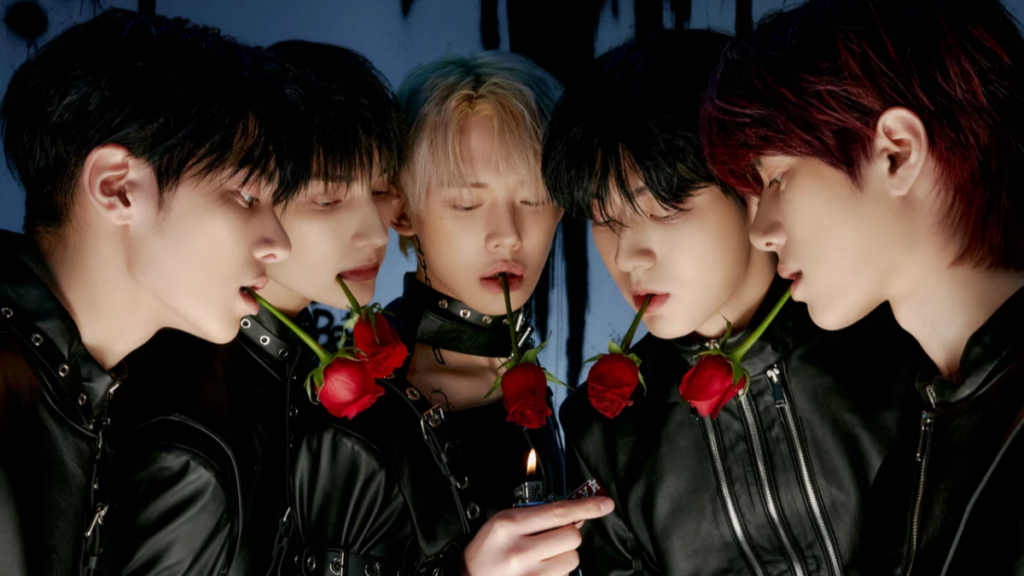 There's no room for child play when it comes to TXT's TikTok. While you might be caught up in the group's vibrant discography, their social media presence cannot be understated. The social media savvy kings shine on TikTok and have made the app their playground. It's part of the reason why TXT is the most followed fourth generation K-pop group on the app with over 16 million followers. To celebrate the group's upcoming mini-album minisode 2: Thursday's Child, we're reviewing TXT's TikTok game and revisiting some of our favorites. 
Ask anyone, and they'll tell you the key to TikTok is to make it your own. TXT has accomplished just that. The quintet has navigated the app and found a way to share their unique personalities and interests with those who watch. The members' dynamic shines in every TikTok they post. Accomplishing millions of views on every video, this is just a small taste of TXT's TikTok gems.
Yeonjun's Famous Dance 
It feels right to begin the list with TXT's most popular TikTok to date, made by none other than the leader, Yeonjun. In the video, Yeonjun sports a denim jacket and a sly smirk as he dances to the song "Own Brand Freestyle" by FelixThe1st and Dreya Mac, featuring Finch Fetti. To categorize the video, it can be wrapped up in two words – thirst trap. 
Soobin's Mic Stand
Even if you're not a TXT stan, this TikTok is one you've probably already seen. This video made its way across the internet and has accrued over four million likes. Though the TikTok starts with Soobin's singing pose and a glimpse of his dimple, it ends in a hilarious mime effect that caught viewers off guard. 
Taehyun's Day in the Life
Sweet vocalist Taehyun gives onlookers a look into how songs are recorded in the studio. Recording main vocals, doubling on each side, adding a lower octave, and adding a harmony – Taehyun gives viewers insight into the magic that is TXT's music. 
Beomgyu's "The" Photo
Showing he's a real TikToker, Beomgyu hopped on the "the photo" trend as it was circulating TikTok. In the trend, users share "the" photo of themselves, also known as the best photo taken of a person. Fans in the comments were quick to remind Beomgyu that every single photo of him counts as his "the" photo.
Hueningkai's Sweet Reminder
Youngest member Hueningkai chooses to use TikTok to share loving messages with MOAs, TXT fans, and remind fans to take care of themselves. As he eats his macaroon, Hueningkai reminds fans that they deserve a treat too. Coupled with the caption "As you should" with a blue heart indicative of TXT's fandom color, the wholesome moment was loved by fans. 
The Transition and Special Effect Kings
TXT show off their transition skills, a must for the TikTok app, in their promotions for "0X1=LOVESONG (I Know I Love You.)" Featuring all the members, the video shows a variety of different transitions and special effects. From fast-paced snapshots of each member to a kaleidoscope effect, TXT has fans stunned with their editing skills in the comments. 
The Before and After Transition
Participating in the ever-popular before and after TikTok trend, TXT first appeared with mussed hair, no makeup, and warm winter clothes. After a collective sneeze, the scene transitions to the members with their hair and makeup done and dressed in school uniforms with a TXT mega sign behind them. 
TXT's Message to Beomgyu
With one member missing, the remaining TXT members decided to send a loving message to Beomgyu. While Yeonjun loudly makes his statement, Hueningkai, Taehyun, and Soobin come to stand behind him in modeling poses for what makes a very random TikTok indeed. 
Swifties Forever
The same four members, sans Beomgyu, deviate from their public service announcement to share a song they've been liking with fans. With Taylor Swift's emotional song "Enchanted" in the background, Hueningkai, Taehyung, Yeonjun, and Soobin rock out. Headbanging, playing air drums, and an air electric guitar, these Swifties are loud and proud.
TXT's Magic
Promoting their song "Magic," TXT is in the practice room dancing before they fall to the ground and share what helps them keep going when life feels chaotic. It is MOA! TXT's TikTok is ultimately a way for them to connect with fans on a more personal and fun level. 
If you look at TXT's TikTok now, the recent videos are all in preparation for the group's mini-album minisode 2: Thursday's Child. With black-and-white videos and mini skits, TXT's TikTok builds anticipation for the next addition to the group's discography. 
Want more TXT? Check out our favorite b-sides from the group here!