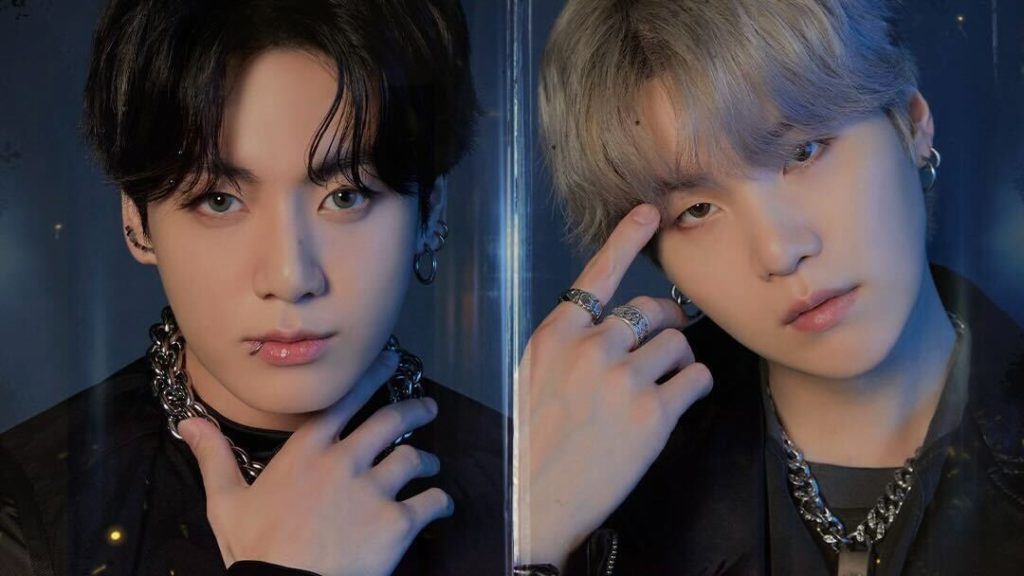 On February 11, 12 AM EST, BTS' Jungkook and Suga released "Stay Alive," the highly anticipated original soundtrack for the group's Webtoon 7 Fates: Chakho. A one-minute snippet of the song first dropped on February 4, alongside episode four of the series.
Accompanied by a special music video, the single is entirely sung by Jungkook and produced by Suga. With the track, the unique storyline captivated readers of the Webtoon.
7 FATES: CHAKHO
7 Fates: Chakho is an urban fantasy story inspired by elements from Korea's Joseon Dynasty. The story follows seven boys in the city of Sin-si, who, united by destiny, seek to conquer a series of trials and fight against mysterious beings called beom that are breaking havoc on the city. Will they overcome their fears to end this fight and find their fate once and for all?
7 Fates: Chakho is part of the partnership HYBE, DC Comics, and Naver Webtoon announced in August 2021, to create new original web content and comics. It is based on HYBE's artists. Other stories inspired by the boy groups TXT and ENHYPEN have been released simultaneously on the platform.
"Stay Alive"
Produced by Suga and EL CAPITXN, "Stay Alive" is a pop ballad genre with a delicate sound and captivating piano arrangement. The track's atmosphere blended perfectly with the Webtoon's story as it matches the characters' diverse storylines. Jungkook's smooth-honey vocals gave a sense of heaviness and sentimental vibe to the song, as the lyrics alluded to the trials and hardships of the protagonists. This is reflected in the lyrics, "The shadow is growing bigger / But it's okay because you are my big light / Because you are the profit in my life / Just smile like you always do / You resemble me so much / I resemble you so much."
PROD. Suga
Suga is well-known for taking part in the creative and production process for BTS' albums, and his solo music as Agust D. However, the rapper has also made a name for himself as a producer in the industry.
In 2017 he composed and arranged the track "Wine" for Suran. Later on, in 2019, he produced Epik High's "Eternal Sunshine." The same year, he co-wrote and produced "We don't talk together" for HEIZE, and closed the year with the song "SUGA's Interlude" for Halsey's studio album Manic which he both featured in and produced. In March 2020, Suga also worked on IU's digital single "Eight," and more recently he took part in the production of "You" for the Japanese singer ØMI.
When asked about his musical inspirations, he told Vogue that sometimes inspiration strikes when you least expect it. "There are times when I'm just sitting in a studio and suddenly feel I can do this," he said. "Sometimes, I get my inspiration even when I'm least expecting it, it's never like I'm consciously going to use this or that emotion at a certain time."
"Stay Alive" adds to the list of productions under Suga's name, exhibiting his versatility as a songwriter and producer while bringing new elements that distinguish it from previous releases.
ARMY Takes Over Social Media
BTS fans ARMY couldn't hold their excitement and took to Twitter to show their love and support for the track.
All-Rounder Artist
Aside from breaking records with BTS and showing his creative vision through self-directed videos on YouTube, Jungkook is not one to shy away from exhibiting his artistry with the world. Since his debut in 2013, he has released multiple covers through SoundCloud, YouTube, and Instagram, both in Korean and English, such as "Paper Hearts" by Tori Kelly, "Falling" by Harry Styles, and "Chilly Windy Night in 1991" by Park Hyoshin. In 2020, he released his first solo song "Still With You" in honor of the group's Festa Celebration.
"Stay Alive" has become the newest addition to Jungkook's musical range, cementing him as a powerful vocalist. With 2022 just starting, fans cannot wait to see what's next in store for the singer.
Want more BTS? Read about how ARMY and Chipotle had an unexpected collaboration because of BTS here!