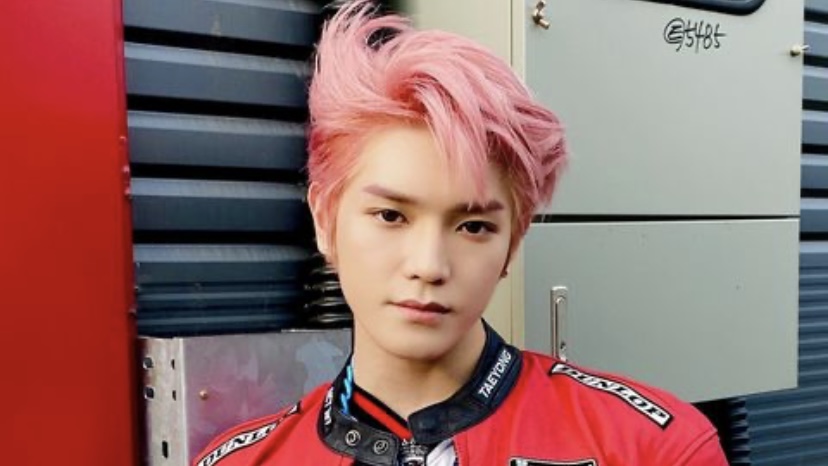 NCT's Taeyong has shown the best sides of himself as a leader and a musician over the years. In honor of his 27th birthday, Team EnVi compiled a list of 27 reasons why we love Taeyong.
1) A Kind and Strong Leader:
Leading a group of 23 members is not an easy job. As a leader, Taeyong takes good care of his members while supporting their projects and endeavors. Despite his own busy schedules, he always makes sure to carve out time for NCT members. From helping Shotaro fix his earpiece and mentoring Seungchan during recording to traveling to different cities to visit Doyoung and Jaehyun. 
2) A Fully Realized Artist:
From his writing credits on NCT songs to a versatile SoundCloud, Taeyong has been able to express himself through his music. Over the years, he has been able to meet fans with a number of songs that represent him well. Whether it's visual experiences like "Long Flight " or emotional songs like "Swimming Pool", his solo music takes us into his world as an artist. 
3) Meaningful Lyrics:
In March, Taeyong officially launched his SoundCloud. His lyrics are raw, intimate, and engaging. He makes pop culture references like in "Marilyn Monroe," or refers to emotions as "Swimming Pools." Because of it, his lyrics tell stories and engage fans to dig deeper and understand his own personal stories. Comparing his heart to a whale in songs like "Dark Clouds", Taeyong brings us into a story of his own life. 
4) A Creative Community:
Throughout his career, Taeyong has built a community of producers, artists, and creatives. Together, they have created a strong catalog of music for Taeyong. These creatives include Royal Dive, SQUAR, Zayson Wong, and Kim J.E.
5) Rapping Skills:
Even before his debut, it was clear that Taeyong had skills with delivery in his raps. Impressing fans with "Open the Door,"  it was clear that he would prove to be a strong rapper in NCT. Whether he plays around with his flows on songs like "City 127," or delivers hard-hitting lines in songs like "Kick It," his impact as one of NCT's rappers cannot be ignored. 
6) Choreography Mastermind:
Since his rookie days, Taeyong has shown a rich understanding of movement, rhythm, and figures. His multiple freestyles have proven that his talent for dance just keeps getting better and better. 
View this post on Instagram
7) Love for His Fans:
Whether he lurks on Twitter or shares artwork from his fans (also known as TyongF), Taeyong makes sure to let his fans know he loves them. His consistent updates on various social media platforms and on Bubble display care for his supporters. 
8) Rose:
Taken from his fans, Taeyong has embodied the beauty and bloom of a rose. From his rose-inspired Instagram pictures to music, his connection to flowers are admirable. 
View this post on Instagram
9) Tattoos:
When fans first saw Taeyong's 'Under Stand' tattoos, the internet went into a wild frenzy to figure out if they were real. Taeyong later went live to confirm that he indeed got tattoos. Taking meaningful messages and inking them on his arms, we can't get enough of his small yet powerful tattoos. 
10) No Manners:
Taeyong's composition on the song "No Manners" was a highlight of SuperM's debut. Many fans claimed the song as the best B-side on the album. During SuperM's tour, Taeyong's live performance of the song (especially that move) caused fans to roar as he performed in arenas across the United States. 
11) Sweet Tooth:
Taeyong never fails to show off his sweet potato snacks from Starbucks or flash the VLIVE camera a smile as he indulges in snacks. Other times he will indulge in chocolates, as seen in NCT's Hit The States vlogs. 
<#NEOCITYinJAPAN>
Arena Tour Memories#32
in東京

おやつのミニバームを楽しむテヨン#NCT127#今日のテヨン pic.twitter.com/lIEPLKZG9g

— NCT_OFFICIAL_JP (@NCT_OFFICIAL_JP) April 21, 2020
12) Sense of Style:
Taeyong is always bold when it comes to fashion. His outfits are notable for bright colors, unique patterns, and prints. He makes sure to pair it with a handful of accessories that tie into a catwalk-worth presence.
View this post on Instagram
13) Love for Animals:
As the leader of NCT, Taeyong is known for his considerate heart. But his kindness goes beyond his members and reaches all living creatures including dogs, stray cats, fish, and more.
14) English King:
Because of his dedication and desire to connect with NCTzens, Taeyong has been studying English to the best of his abilities. Now, he's able to participate more in overseas interviews and understands exactly how much he means to TyongF. (Bonus: his interactions with NCT's fluent English-speaking members are hilarious!)
15) Ruby:
Taeyong's love for his late dog, Ruby, is heartwarming. He even tattooed a drawing of her on his arm—his lifelong companion. Growing up with Ruby from a young age, he built a bond with her that will last forever. 
View this post on Instagram
16) Tyong-Time:
Despite busy schedules, Taeyong creates vlogs to share with his fans. Taking care of his fish or visiting his members on their schedules, he shows a more relaxed side of his life. His kindness and care shine through his actions.  
17) Perseverance:
In his own words, Taeyong said every day he "practiced until the ground shook." He began as a trainee with no experience, was told he'd never make it, and held to a higher standard than his peers, but never gave up on himself. Taeyong's willpower, tenacity, and self-discipline have molded him into the performer and leader he is today. 
View this post on Instagram
18) Love for Spongebob
:
Taeyong has expressed his love for Spongebob Square Pants on multiple occasions since his pre-debut days until now, unveiling a more comical and sincere side from his intense stage persona. Whether it is a doodle on his bedroom wall, or Taeyong trying to get Spongebob from a randomized box (gacha), fans can relate to his love for the sweet, yellow sponge! 
19) Playing "Among Us" with fans:
while on VLIVE, Taeyong took the time to get personal with fans and play the popular game "Among Us". Known for his skills as a gamer he went from the roles of crewmate to imposter with his fans. 
20) Mafia Game Enthusiast:
NCT 127 has played the mafia game on camera a couple of times, and one consistent thing, besides the ensued chaos, has been Taeyong's enthusiasm. Whether it's screaming in frustration when being fooled by Johnny or sulking upon being the first one taken out, Taeyong has always expressed how much he enjoys playing mafia.
21) Dance:
As a main dancer, Taeyong is always dancing, even when he's not on stage or in the practice room. He danced next to the swimming pool in Thailand and danced on the way to Miami beach. One of his most famous dances is his "Closed Dance," when he danced after finding out that the cafe in Phoenix Botanical Garden was closed. 
22) Donation Fairy:
Ever since his debut, Taeyong has donated more than ₩1,000,000 per month, as a scholarship for students to the Dae Multicultural School Korea. He also regularly volunteered at the school from 2016 to 2018.
23) Visual Artist:
Taeyong loves customizing clothes and gifting his friends. We've seen his artwork on Yuta's white jeans, Doyoung's shoes, and Haechan's bag. He also gifted Doyoung a whale painting and Haechan a sunflower painting.   
24) Best Uncle:
Taeyong has a nephew that he adores very much and has even shared selfies of the two of them. He showed off his nephew's drawing to fans during a Vlive, and also showed Doyoung and Jungwoo video of his nephew singing Happy Birthday to him. 
25) A City-Farmer:
In 2018, Taeyong participated in a TV program called Food Diary, where he stayed in a city farmhouse set up for contestants to prepare dishes from scratch. He learned how to tend plants and harvest different types of vegetables. In 2021, Taeyong accompanied Seungchan to be a city farmer again and successfully harvested some vegetables to cook together. 
26) Noises:
Taeyong often makes some "interesting" noises for no particular reason. Sometimes he imitates animals, while other times he leads dance practice with his "one man orchestra" sound. Sometimes, he'll even make Animal Crossing impressions. We don't know why he does this, but we wouldn't have it any other way.


27) Biggest Cheerleader
:
Taeyong always supports his team members in a variety of ways. He visited NCT Dream's music video sets, went to their broadcast, and even sent a coffee truck when he could not support them in person. Taeyong is also very supportive of his friends. He encouraged and supported Red Velvet's Seulgi to write and compose a song together with him, which resulted in the well-loved track, "Rose." He also promoted his producer friend, Zayson's, work on Vlive, which he was grateful for. Taeyong's big heart allows him to encourage, elevate, and empower others. Taeyong's natal chart indicates that his "success may be obtained by remaining humble and helping others," which we couldn't agree more on. 
Happy Birthday, Taeyong!