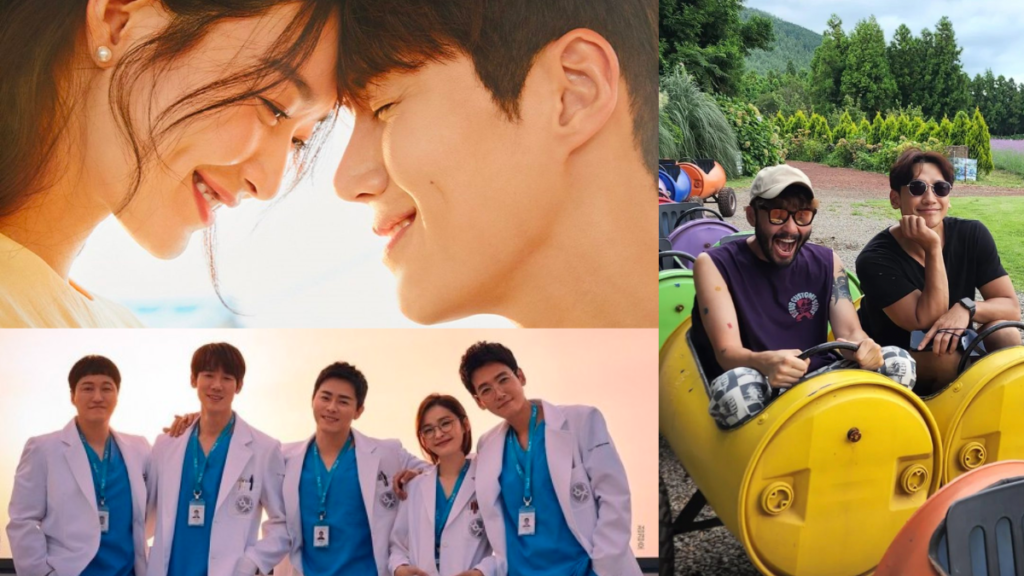 As the weather gets colder, you start to crave warmer meals and slower life. To help you ease into the chillier months, EnVi has curated a trio of shows to help you wind down after long days at school or work and bring back the energy you need!
When Meals Feel a Little Lonely
Hospital Playlist (2020-21)
Although a hospital might not be the first place that comes to mind when it comes to relaxing, Hospital Playlist's weaving of family and friendships feels like a warm meal on a cold, winter's day. This K-drama explores the friendship between five doctors who work at the same hospital. Discovering each other in a storage shed while escaping a freshman party at medical school, the five individuals bonded through establishing a band. With a simple storyline, Hospital Playlist heals your soul and makes you laugh. Lee Ik-Joon (Jo Jung-Suk) moonlights as a comedian, joking that Vivaldi's "L'estro Armonico, Opus 3 – Concerto #3" sounds exactly like the Seoul Subway system's announcements. "This stop is Wangsimni Station." He mimics repeatedly, annoying Yang Seok-hyung (Kim Dae-myung) who eventually closes the door on him and calls him " a crazy man."
Hospital Playlist depicts the five doctors' lives simultaneously, highlighting how complicated life can be, and how important it is to have a community. With a demanding hospital job, each character faces their own struggles and burdens. Whether it's going through a divorce or suffering a complicated family dynamic, the show highlights how important it is to have support during these trying moments. Surviving long surgeries and shifts, the friends still strive to come together for band practices every month. Not to mention, grabbing a meal together is a must! Especially for the 'always hungry duo,' Chae Song-hwa (Jeon Mi-Do) and Kim Jun-wan (Jung Kyongho), who test their eating limits every meal together. No matter how little time you may have to yourself, make sure to wind down doing the things you love!
If you can't get enough of the cast even after watching the two seasons of Hospital Playlist, you can watch their feature on Three Meals a Day: Doctors (2021). The cast gathers again as their 'real' selves and lives under the same roof. Escaping from their luxurious lives in Seoul, they must learn to live in a more rural area. Taking up tasks from apple-picking to woodworking their own dining table, the show is comforting to watch when you need some extra support! Their interactions will inspire you to find joy through simple day-to-day activities, even when they feel bland.
When You Feel Like Traveling
The Hungry and the Hairy (2021)
Life is sometimes as simple as eating and doing some crazy things, like losing a bet and jumping into a pool of carp. Join long-time idol Rain and Ro Hong-chul on a journey around South Korea as they ride fancy motorcycles and share personal stories while eating hearty meals.
Having debuted in 1998, Rain has since been an influential figure in the K-pop world. Through groundbreaking stages such as "Rainism," Rain has inspired many idols such as Shownu from MONSTA X to top dancers like Young J from Just Jerk Crew on Mnet's Street Man Fighter (2022). Despite his charming appearance in the K-pop scene, Rain is quite a soft and caring person. After exploring married life with two daughters and wife, Kim Tae-hee, The Hungry and the Hairy shows yet another side of Rain.
Hairy, also known as Ro Hong-chul, is the famous Elevator Guy who appeared in PSY's Gangnam Style, released back in 2012. With a 3-year age difference and opposite energies, Rain and Hong-chul bond creatively through honest conversations and friendly competition. Hong-chul also expresses that he would date Rain if he were a girl, notably because of his caring nature and compatible energy. Oh, and the show is on Netflix, if the message didn't quite come through with Ro Hong-chul's constant Netflix name drops!
When You Need a Quick Escape From the Hustle
Hometown Cha-Cha-Cha (2021)
Nominated for Best Drama Series in Asian Television Awards 2022, Hometown Cha-Cha-Cha brings warmth to your screen no matter where you are. In the mood for a romantic comedy by the sea? Dive into this slice-of-life K-drama featuring Kim Seon-ho and Shin Min-a . Tired of being disrespected at work, Yoon Hye-jin (Shin Min-a) resigns and opens her own clinic in Gongjin. While overcoming criticism from her professional work community, she reconnects with her past and overcomes childhood scars with Hong Du-sik (Kim Seon-ho).
Hoping to let off some steam on a visit to Gongjin, Hye-jin finds herself stranded on the island with her car broken and her phone without a signal. While trying to get back to Seoul, she decides to take a leap of faith and open her own dental clinic right where she grew up.
On the other hand, Hong Du-sik is a mysterious jack-of-all-trades who lives in the seaside town. With various qualifications under his belt, Du-sik is unemployed despite working part-time in multitudinous jobs: sometimes a mailman, occasionally a barista, and at times, an auto-mechanic… He gains the title of Chief Hong thanks to the respect he has gained for fulfilling different roles in the community.
It's Time To Get Cozy
With winter around the corner, it's the perfect time to wind down and reflect on your achievements so far in the year. Sometimes, it can get quite overwhelming with life's constant demands and these shows are a way to practice self-care. Hopefully, through Hospital Playlist's heartwarming scenes, you'll enjoy moments in life a little more. Through The Hungry and the Hairy, you'll fuel your body with nourishing meals. And lastly, you'll find love again through your passions, just like in Hometown Cha-Cha-Cha.
Interested in more K-drama content? Check out our article on 20th Century Girl here!