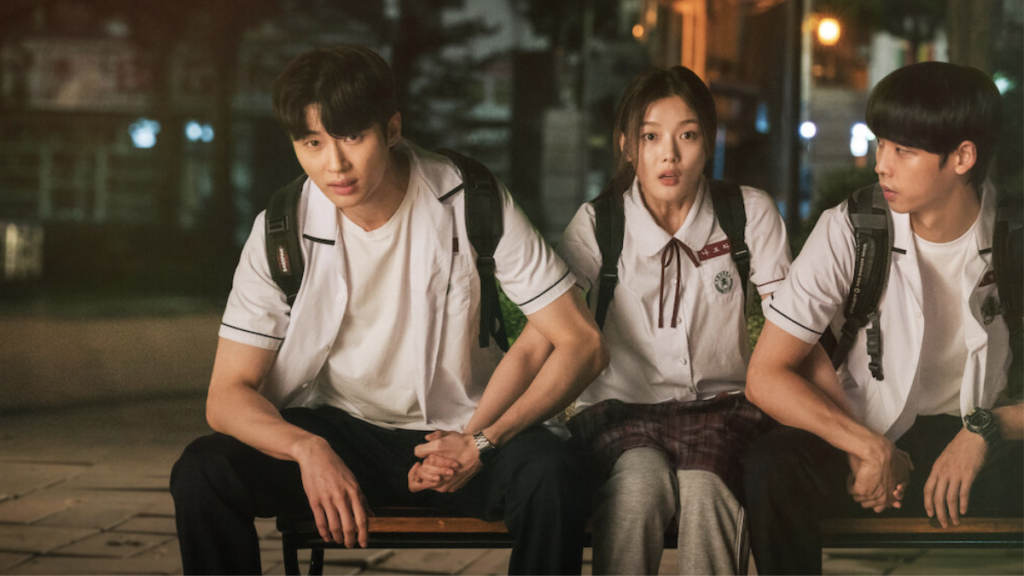 486, 0124, 10102486 (meaning 사랑해 "I love you," 영원히 사랑해 "I love you forever," and 열렬히 사랑해 "I love you passionately"). All of these numbers stand for some variation of "I love you." But how? Or precisely, when? In the 1990s, pagers, also called beepers, (삐삐 or bbibbi in Korean) were mini handheld devices used to exchange messages. With a small build and even smaller screens, the text limit was ten digits—optimal for exchanging phone numbers. Beyond that, users learned how to communicate by having number combinations replace or stand in for Korean phrases and messages. From numbers that sound like Korean words to numbers that only made sense looking at the pager upside down, digits were multipurpose.
With numbers conveying meanings, pagers were a nostalgic item that set the tone in Director Bang Woo-ri's feature film debut, 20th Century Girl. Set in Cheongju, the romance drama film followed a group of high school friends in 1999—the year before everyone thought the world would end. With life suddenly dangling an ultimatum, first loves felt like they could be the last. Entangled in a heartfelt story with a special vintage twist, the film resembled an old DVD full of memories of firsts, friends, and feelings. Now available on Netflix starting October 21, 2022, 20th Century Girl captured the raw, warm feeling of finding home in a person—even when the person is away.
7142: Close Friends (친한사이)
7142 means "close friends" or 친한사이 (chin-han-sa-i), which sounds similar to the numbers 7142 (칠-한-사-이 or chil-han-sa-i) in Korean.
Director Bang introduced a star-studded cast in 20th Century Girl with popular Korean actors and actresses: Han Hyo-joo, Kim Yoo-jung, Byeon Woo-seok, Park Jung-woo, Roh Yoon-seo, and Ong Seong-wu. Encased in a flashback story within the present, the film had Kim and Han respectively portray the main protagonist Na Bo-ra in two timelines—past and current. Creating a nostalgic mood of looking back on old videos, the film mostly centered on Kim's portrayal of Bo-ra back in her high school days in 1999.
Bo-ra's sentimental memories involved the main friend group with Byeon as Poong Woon-ho, Park as Baek Hyun-jin, and Roh as Kim Yeon-du. Beyond the characters, the main friend squad showed incredible chemistry onscreen and offscreen. Filled with light-hearted jabs and sweet moments between the cast, Kim and Roh stated how 20th Century Girl is a "cute movie with bickering between the characters like [us]." Byeon reaffirmed their friendship, saying that the movie is "full of great chemistry." Behind the scenes, Roh commented that they enjoyed eating out together at different filming locations. Although, this came at the sweet cost of their dignity in having to wear old-school uniforms out in public. With crackling energy behind the scenes that translated well on camera, the cast bonded over food, fights, and fun.
486: Love (사랑해)
486 means "I love you," or 사랑해 in Korean, based on the number of strokes in each character (사 has 4 strokes, 랑 has 8 strokes, and 해 has 6 strokes).
1999 was a simpler time unless you were in charge of investigating your best friend's crush. Na Bo-ra, ride-or-die best friend to Kim Yeon-du, is tasked with a mission—to investigate Yeon-du's high school crush, Baek Hyun-jin. Stationed in America for her heart surgery, romantic at heart Yeon-du eagerly awaits updates about her one-sided love as Bo-ra dedicates herself to learning more about Hyun-jin. From his shoe size to his favorite flavor of soda, every piece of information about him is collected in a journal to later be sent to Yeon-du. With a passion that even astounds Kim Yoo-jung in "see[ing how] much [Bo-ra] could do for her friend," Bo-ra throws herself into a friendship-fueled frenzy.
In a wild escapade to find out more about boy target number one, Bo-ra finds herself needing the help of Hyun-jin's best friend, Poong Woon-ho. As Bo-ra nestles herself deeper between Hyun-jin and Woon-ho's friendship, she winds up becoming their crush instead—shattering her mission's goal as a wingwoman. In a frantic reversal that had Bo-ra backtracking, she runs away from Hyun-jin and strangely, keeps on bumping into Woon-ho.
But what happens when Bo-ra ends up having observed the wrong boy? In 20th Century Girl's love square that interweaves the lives of four friends, first loves and friendships are at stake.
100: Come Back (백)
Explanation: 100 means "come back," as 100 in Korean (백 baek) sounds like "back."
Following Architecture 101 and Twenty Five Twenty One, South Korea brought back an era of scrunchies, wide-leg jeans, and long-skirted uniforms with 20th Century Girl. Reflecting a more saturated color palette, the film evoked a characteristically vintage feel. With items like DVDs, floppy disks, and pagers naturally displayed on set, Park Jung-woo said that "[he] really liked how all the props had a retro feel on set." In a youthful portrayal of high school life in '90s Cheongju, Kim Yoo-jung stated that "the main inspiration for this film came from [Director Bang's] childhood." Although Director Bang strongly denied the "based on a true story" moniker, she did confirm that she used certain ideas from her childhood like "observation notes on the boy [her] friend like in an exchange diary." With nostalgic feels and vintage reels, 20th Century Girl is a sweet memory of an unforgettable first love story.
Watch 20th Century Girl on Netflix.
Interested in more K-film content? Read our piece on the upcoming NCT DREAM THE MOVIE: In A DREAM here!