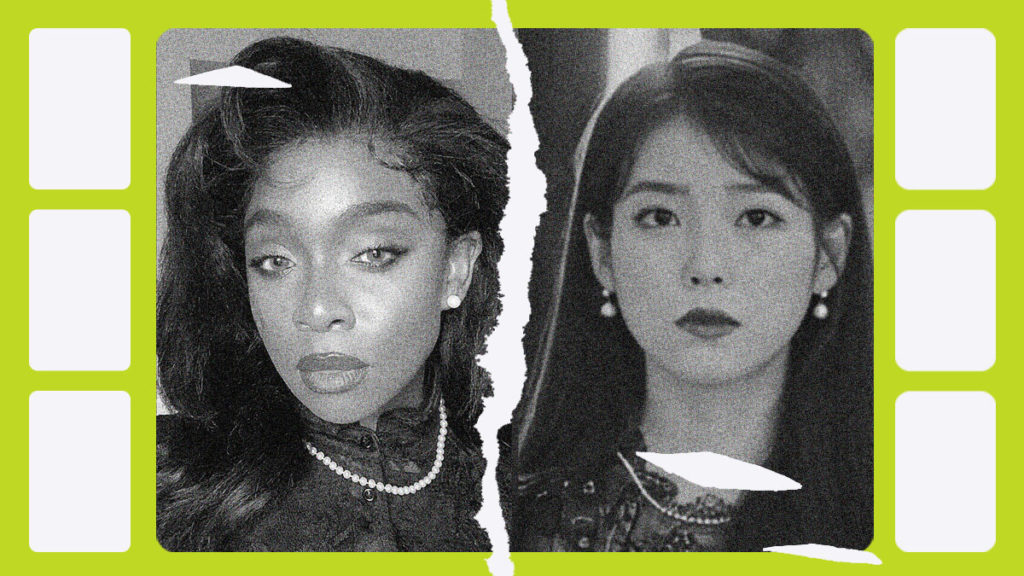 K-dramas are the perfect inspiration to turn to for this year's Halloween season. From deadly game players to timeless hotel owners, there are endless options to get creative with. Check out Team EnVi's looks inspired by some of our favorite dramas!
Squid Game (Sae Byeok)
Sae Byeok from Squid Game has taken the world by storm with her hard exterior but kind soul. The chilling drama critiques the capitalist system and its ability to make disadvantaged people go to extremes to escape debt.
To emulate Sae Byeok, it is important to capture her deep eye bags and light freckles. The character does not wear any makeup so the key is a no-makeup makeup look. To achieve this, it is best to use sheer layers of makeup. Keep in mind, a little goes a long way when recreating Sae Byeok's look.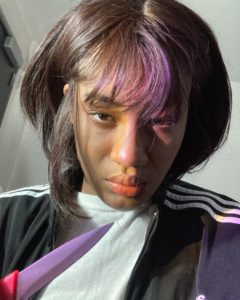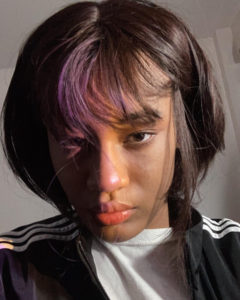 Products Used:
YSL All Hours Matte Foundation
Heroine Make Smooth Liquid Eyeliner Super Keep
Anastasia Beverly Hills: Jackie Aina Pallete
Pro Filt'r Instant Retouch Setting Powder
Recreate the Look:
The Penthouse: War in Life (Shim Su Ryeon)
Within the first few minutes of the gripping drama The Penthouse: War in Life, Shim Su Ryeon makes a memorable entrance. She exudes elegance in an outfit that screams elite. Draped in Georges Chakra's Bois de Rose Mousseline gown she steps into the building's elevator in Jimmy Choo Odette crystal embellished pumps. As she gazes forward, we catch a glimpse of delicate jewelry adorned around her neck.
In terms of makeup, Su Ryeon opts for a more natural look which highlights her sweet and kind aura. Most of her makeup is tame with her most noticeable feature being her pink-colored lips. Her eyebrow shape is naturally drawn straight which further softens her features. When mimicking Su Ryeon's makeup style, pay close attention to the aegyo-sal for the eyes. Aegyo-sal is the natural fat under one's eyes that is further emphasized through shadows and highlights to create a more youthful appearance.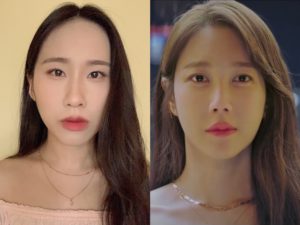 Products Used:
Recreate the Look:
Strangers From Hell (Seo Moon Jo)
Having a career as a dentist, before his secret life as a cannibal killer, Strangers From Hell's Seo Moon Jo typically wears casual dress clothes. For this look, wearing a white-collar dress shirt under an open white lab coat should do the trick.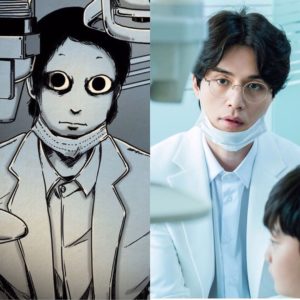 Some optional accessories are glasses, as Seo Moon Jo sometimes wears them. Wearing a mask and having tools suitable for this dentist look can also work. To intensify the look you can also use fake blood that signifies Seo Moon Jo's background as a killer.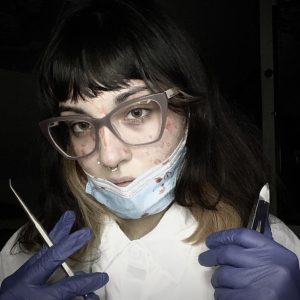 Products Used:
Hotel Del Luna (Jang Man Wol)
One of the most memorable features of Hotel Del Luna is Jang Man Wol's stunning fashion. Man Wol, played by actress and singer IU, is the owner of Hotel Del Luna, a hotel in which its visitors are supernatural. She is not human as she has owned the hotel for over 1,300 years, however, she is not a ghost either. Man Wol is just as mysterious as she is gorgeous, never failing to grab the viewer's eye with intricately detailed outfits that are charming from head to toe. While her outfits find their origin in several years of history, Man Wol's most notable style includes symbols of vintage glam.
When recreating Man Wol's look, start off with a high-collar long sleeve blouse or a dress of simple yet bright color. Puffy shoulders are a bonus; you could always add shoulder pads for a more upscale, expensive look. If wearing a blouse, be sure to tuck the bottom of it into a floor-length, high-waisted skirt. Silk, satin, lace, or velvet are all fabrics to prioritize for this old-fashioned glam look. If possible, visit a thrift store for vintage clothing, for pieces featuring stylistic elements of over 40 years old are often there waiting to be seen for their beauty.
To top off the elegant look, add in an eye-catching necklace, preferably one with pearls or gemstones, or a large brooch on the neckline. Pop on statement earrings before creating a sleek hairstyle to place jeweled hairpins in.
Makeup wise, be sure to follow the rule "less is more." Create an effortless look by using concealers instead of full foundation. Top it off with a light layer of powder foundation and blush. Then add a silky smooth highlighter to the high points of the face to create the stunning "glow" effect Man Wol has all throughout the drama. Add mascara and brow powder to the brows for a subtle intensity. Finish off with any choice of a blush-nude pink, a bright orangey-red, or fuchsia-pink lipstick. Man Wol sports all of these colors to compliment her outfits.
The goal is to look hauntingly beautiful as a centuries-old supernatural hotel owner would.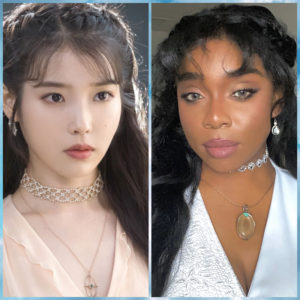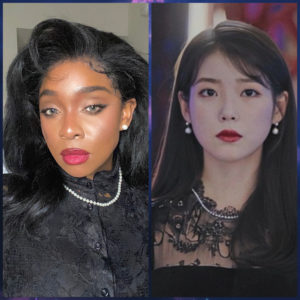 Products Used:
Pacifica Cherry Gold Highlighter & Blush
Kleancolor Madly Matte Liquid Lipstick in 1623
True Beauty (Jugyeong's secret)
True Beauty, originally a webtoon, follows one girl's (Jugyeong) life changes after learning various makeup techniques, alongside confiding in a young boy (Suho). The premise of the story is that Jugyeong, portrayed by Moon Gayoung, is able to live more comfortably by covering up her own looks. In the story, this idea is given the nuance of a secret, which is where the idea formed for this eerie look.
True Beauty may not initially scream "Halloween!" But it has a great basis for spooky season looks. The key to creating a True Beauty Halloween look is capturing the idea that makeup can cover up many secrets. This look stuns by revealing something shocking after wiping off the more glamorous look.
You can be as creative as you wish when deciding what you'd like to be "covering up". For this specific look, ghoulish green was the chosen color palette- seemingly more of a classic Halloween color. The color also seems to pop against most skin tones, however, it can be swapped out for any unnatural shade! For the rest of the look, keep to 'everyday' makeup in order to cause more of a contrast for the revealing section. The section can be placed anywhere on the face but if you choose to form it over the eye, I recommend using a contact to create even more impact.
In terms of clothing, I chose a soft-colored blouse to match Jugyeong's girly aesthetic in the show adaptation. The lilac color also contrasts with the green nicely, whilst still being a cooler tone. I paired the look with simple jewelry to ensure the main attraction was the makeup.
The goal is to shock with the reveal of a secret other underneath the normal makeup. Make sure to channel your inner Jugyeong!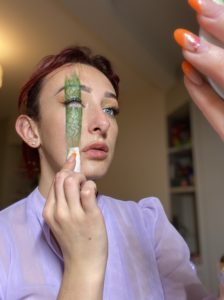 Products Used:
Urban Decay Optical Illusions Primer
Revolution London Fast Base Stick (F10)
Laura Mercier Translucent Finishing Powder
Anastasia Beverly Hills DIPBROW Brow Pomade (dark brown)
Urban Decay Blackout Single Shadow
P Louise color base (Green With Envy)
Morphe Second Nature Palette
Benefit Dandelion finishing powder
NYX Suede Lip Liner (soft-spoken)
Nature Republic Matte Lipstick (muted pink)
Kandy4Beauty Lashes (Aura)
With last year's Halloween put on pause, this year is set to be bigger and better than ever. If you still haven't decided what you'll be, try recreating these looks or even go in your own original direction. Halloween is a time for creativity to flourish and your favorite K-dramas will definitely make a statement with their gorgeous wardrobe and flawless makeup. Make sure to share your looks with EnVi by tagging us on Twitter and Instagram!
Want to see more looks? Read about how Team EnVi recreated looks inspired by NCT 127 here!
Thumbnail courtesy of Mal.