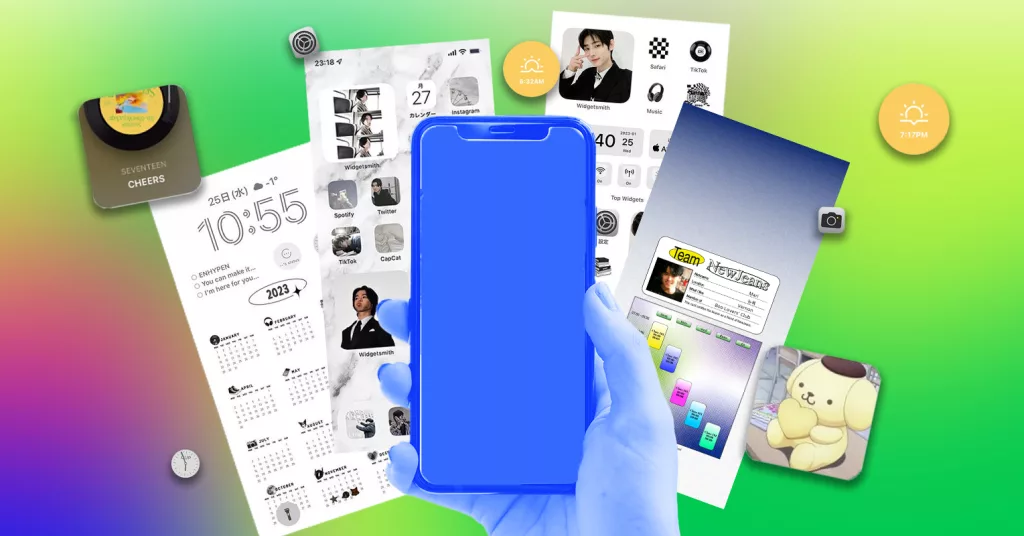 In the digital age, phones and computers are accessed regularly and people familiarize themselves with their screens every day. Device customization is a great way to enhance user experience and provide another medium for self-expression. Here are some creative ideas to incorporate your interests and create a theme across your device!
New Jeans Themed Wallpaper
If you are a Tokki, or simply love New Jeans' retro concept, you can now customize your desktop or phone wallpaper based on their Phoning app. Several fan-made templates can be accessed on Canva, such as a desktop template created by @1ovefiles (Twitter) and a lock screen template by @hansoluvbot (TikTok). You can use these templates and personalize the text and photos, and add other Canva elements. Using these templates, you can also add your weekly schedule so that it can be seen right on your home screen. These New Jeans inspired wallpapers are not only a cute way to customize your device but a fun motivator to keep yourself organized for school or work!
Customize Your App and Folder Icons
Another way to customize your device is by changing the app and folder icons. iOS users can change their app icons with Shortcuts by creating a new shortcut, selecting the "open app" action, and choosing "add to home screen" in the information section at the bottom of the screen. Before the shortcut is added to the home screen, the name and icon of the shortcut can be customized. Android users can customize their icons with apps such as Shortcut Maker. For a helpful tip: open the app through its widget before creating the shortcut. Then, icons can be customized by choosing the app, changing the photo, and creating a shortcut to add to the home screen.
Folder icons can be changed to personalize your desktop. Windows users can change their icons in the "Customize" tab of the folder properties, while Mac users can either copy and paste or drag the image they want to the folder icon in the top corner of the folder information.
Photo Widgets
Many screen customization apps, such as Widgetsmith (iOS) and MagicWidgets (Android), offer a number of functions that you can add to your screen through different types of widgets. While the Photos app only allows you to create a widget that rotates through a photo album, widget customization apps allow you to display a fixed image so you can add photos of your biases, your friends, or any images that match your aesthetic! Widgetsmith also allows you to add a small photo to your lock screen if you are looking for a cute, subtle addition. 
Countdowns
Add countdowns to your home screen, lock screen, or control center with apps like The Day Before. The app, available for both Android and iOS users, offers different layout and size options for widgets, as well as a number of stylistic options to modify the countdown itself. You can use a solid color for the background of the widget for a minimalistic look, or you can choose to upload photos.
If you happen to be attending a concert or event in the future, this is a fun way to count down the days. Alternatively, you can add a date calculator for any special dates related to your favorite group, such as debut anniversaries or your own personal anniversaries with your ult groups and biases. Countdown apps offer another way of adding photos to your home screen, while also displaying dates that are meaningful to you.
Add Text to Your Screen With the Reminders App
Not only is the Reminders app a helpful tool for keeping track of your to-do list, but it also provides a simple way of including text on your screen. Create a new list in the app, add it to your home or lock screen, and the content of the list will appear. While the Reminders app was developed by Apple, Android users can create a similar widget for their home screen with Launcher xPhone by searching "reminder" in the app. It is an easy way to include your bias' name, your favorite lyrics, or any memorable quotes to your device for a small reminder of them every time you turn on your phone.
Be Creative!
Decorating your digital screens can provide a medium for artistic output and a way to incorporate your favorite things or people into your daily life. With the many apps and templates created for screen customization, you can personalize your device in simple, creative ways. Use as little or as many of these tools and remember to have fun!
Want more? Make sure to read about gadgets to level up your concert experience here!