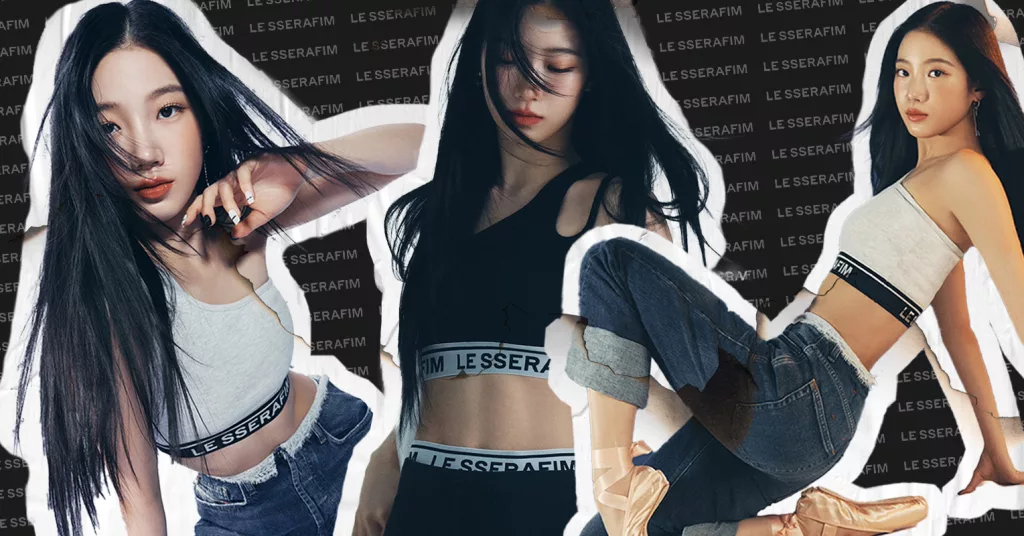 Effortlessly executing both ballet and hip-hop choreography while singing and rapping, Kazuha Nakamura of LE SSERAFIM has successfully carved her niche in the K-pop industry. After finding immediate success with their May 2022 debut track, "FEARLESS," LE SSERAFIM has continued to impress with their energetic choreography, down-to-earth content, and humble personalities. With the group's first full-length album coming soon, EnVi is shining a light on each of the group members. Read on to see seven things you need to know about LE SSERAFIM's Kazuha.
Ballet Dancing
Kazuha's graceful approach to dance comes from her lifelong experience with ballet. At the age of 3, her mom enrolled her in ballet classes that Kazuha would continue to attend for the next 15 years. Though she got into ballet unintentionally, after she began to enter competitions she developed an interest in professional ballet. The idol studied at the prestigious Dutch National Ballet Academy in the Netherlands before submitting an audition video to Source Music during the COVID-19 pandemic.
LE SSERAFIM's "Blue Flame" and "ANTIFRAGILE" feature elements of ballet in the choreography, specifically for Kazuha to express her dance background. Kazuha also showcases her skills during special performances, such as end-of-year awards shows and music festivals. Though ballet and K-pop choreography occupy starkly different genres, Kazuha bridges the gap between the dance styles of her past and future. Her style takes after one of her biggest dance inspirations: Jimin of BTS, who similarly had a background in more fluid dance. Her story of admiration came full circle when she and Sakura joined Jimin to film a TikTok challenge to celebrate the release of his solo track, "Like Crazy."
Elegant Swan
In November 2022, makeup brand Etude House appointed Kazuha as their newest muse. Since her debut in LE SSERAFIM, Kazuha received attention and praise for her "elegant visual," which is complemented by her graceful ballet skills and bright demeanor. When the news about Kazuha's official partnership with Etude House dropped, fans acknowledged the fitting match. With her feminine features and welcoming smile, Kazuha suits the Etude House attitude of fun, simple, and innovative beauty.
Kazuha has participated in various campaigns for Etude House in the five months since the brand crowned her their newest muse. Most notably, the brand dropped a new eyeshadow palette in April 2023 called "The Cool Ballerina." It is presumably named after Kazuha, with names that reference ballet, toe shoes, and a swan.
Then, on January 7, 2023, Kazuha posted a series of photos on her Instagram teasing an upcoming, unnamed project. In hindsight, her Calvin Klein baby tee hinted at her soon-to-come collaboration with the heritage denim brand. Days later, the singer shared snapshots from the photoshoot on the same account. Since then, Kazuha has released a series of images taken for Calvin Klein Jeans. Most recently, she modeled for Calvin Klein Shoes. Though an official ambassadorship has not been announced, a formal partnership between the two seems likely thanks to fans' positive reactions.
Within just one year of her debut in LE SSERAFIM, Kazuha accrued an impressive portfolio of collaborative posts for a variety of other brands. Even as a rookie idol, her presence in the fashion industry has grown exponentially during her months as a member of LE SSERAFIM. From Alexander McQueen to IWC Watches and Fendi, Kazuha's Instagram acts like a portfolio of endorsements, proving that her versatile visual fits a range of aesthetics and conceptual ideas.
Professional BLINK
Kazuha is consistently open about her admiration for BLACKPINK. In a behind-the-scenes video for the 2022 MAMA Awards, she shared that she attended BLACKPINK's concert at the Kyocera Dome in Osaka, where LE SSERAFIM was also set to perform. According to a pre-debut interview, this concert sparked her desire to perform on stage and embrace a variety of concepts from cool to cute. This was brought up again on singer Sunmi's show, Show!terview. Kazuha shared that seeing the way BLACKPINK performed in a music video was refreshing and new to her as a ballet dancer.
Even years later, Kazuha's status as a BLINK remains strong. Not only does she still have a BLACKPINK poster in her room in her family home, but she is also a certified Sooya — that is, her bias in the group is Jisoo. Kazuha's respect and awe for BLACKPINK is known among her group members too, with the girls of LE SSERAFIM gesturing toward Kazuha in conversations about the senior K-pop group.
Health and Wellness
To execute both the ballet-inspired and hip-hop-based moves woven into LE SSERAFIM's choreography while singing or rapping, Kazuha has to maintain her seemingly effortless flexibility and endurance. As any dancer knows, stretching is essential in warming up for and winding down from dance. Kazuha has shared her stretching routine in multiple vlogs, going as far as introducing her own equipment shortly after LE SSERAFIM's debut. She has accumulated years of knowledge from ballet training, pilates, and pre-debut fitness activities.
Even when she's away from home, Kazuha follows through with her stretching habits. She is often spotted stretching in the background of LE SSERAFIM's content or showing off her abilities on variety shows. Similarly, Kazuha's reputation for being a gym buff has become a recurring joke among LE SSERAFIM and their fandom, FEARNOT. From using the famed HYBE gym to doing at-home, travel-friendly workouts, the dancer is a proponent of exercising even in small amounts.
Kazuha encourages exercise as a way to support both mental and physical health. For her, exercise is a way to warm up her body before a performance, maintain her physical abilities, and improve her mental health. "Working out makes you physically stronger, of course, but I think it also keeps you mentally healthy, too," she said in an interview with WeVerse Magazine.
Master of Korean
As one of LE SSERAFIM's two Japanese members, Kazuha had to learn to communicate in a new language for her debut. Whereas fellow Japanese member Sakura has spoken Korean regularly since her IZ*ONE debut in 2018, Kazuha first started learning when she became a trainee. Since then, her language skills have improved exponentially. Now, she comfortably performs the group's songs in Korean, banters with her teammates, and communicates with variety show hosts.
Despite that, the girls of LE SSERAFIM have teased Kazuha about her habit of pretending to not understand Korean in convenient situations. In a :Diggle episode featuring Sakura, Kazuha, and Eunchae, Eunchae doesn't hesitate to point out past instances where Kazuha avoided answering questions by saying she didn't speak Korean. The youngest member nonchalantly calls her "shameless" as everyone shares laughs.
In "The World Is My Oyster," a brief YouTube docuseries about the making of LE SSERAFIM, viewers witnessed Kazuha's struggles with Korean firsthand. Not only did she have to relearn dance techniques completely different from her years of training, but she also had to meet and get to know a group of girls who had formed relationships already. To top it all off, she was learning a completely new language. As the series progresses, however, she grows more comfortable with her group members and her new environment — now, she's able to hold her own in a conversation and joke about her mischievous habit.
Express Debut
Kazuha's training period of approximately six months wasn't just the shortest training period out of all the LE SSERAFIM members. At the time of her debut, it was reportedly the shortest training period across all of HYBE's groups. When taking into account the time it takes to prepare for releasing a single, Kazuha was likely a trainee for less than half a year by the time she joined the ranks of LE SSERAFIM.
The group's YouTube docuseries shows part of Kazuha's training process, including the first time she met LE SSERAFIM's existing members (Sakura, Chaewon, and Yunjin at that point) over Zoom. "The World Is My Oyster" also shows the challenges Kazuha had to overcome in a short period to keep up with the group's debut timeline. In particular, the singer had a hard time relearning dance basics while training with an experienced group of performers. The fundamentals of ballet and hip-hop are starkly different, and in the docuseries, Kazuha is seen crying when she feels that she isn't doing well enough — after less than one week.
Even LE SSERAFIM's performance director, Park So Yeon, acknowledged Kazuha's road to success as a K-pop idol. "Kazuha had a relatively short trainee period and her debut with LE SSERAFIM was her first time trying K-pop choreography," she said in an interview. "The straight lines of ballet movements are built into her after 15 years of doing them, and it must've been really hard for her to break out of all of them at once."
Introverted Extrovert
Shortly after LE SSERAFIM's debut, a series of Instagram Stories were uploaded to the group's official account revealing the members' MBTI types. Shockingly, Kazuha was LE SSERAFIM's only extrovert with an MBTI type of ENFP. According to the 16 Personalities site, the ENFP personality type (called the "Campaigner") is curious, enthusiastic, outgoing, and perceptive. Fans were surprised to find out that the group was completely introverted, aside from their resident ballet dancer. Kazuha's quiet and calm demeanor were seemingly contradictory to her extrovert label, but as she was still learning Korean during the group's early promotions, perhaps Kazuha was unable to fully express herself.
Fast forward less than half a year and Kazuha's new MBTI test results revealed that she had changed into an introvert. This was confirmed in an episode of LE SSERAFIM's Day Off, LE SSERAFIM's variety series on YouTube. As the group discussed MBTI personality types around a dining table, Kazuha revealed that she had changed to INFP. Jokingly, Sakura commented that it might have been because she spent too much time with LE SSERAFIM's four Introverts. As the five-member unit continues to grow as artists — and Kazuha becomes increasingly comfortable with Korean — there's no telling if LE SSERAFIM will remain a group of introverts.
Want to get to know the rest of LE SSERAFIM? Check out our 7 Things series and learn more about Chaewon, Sakura, Yunjin, and Eunchae.