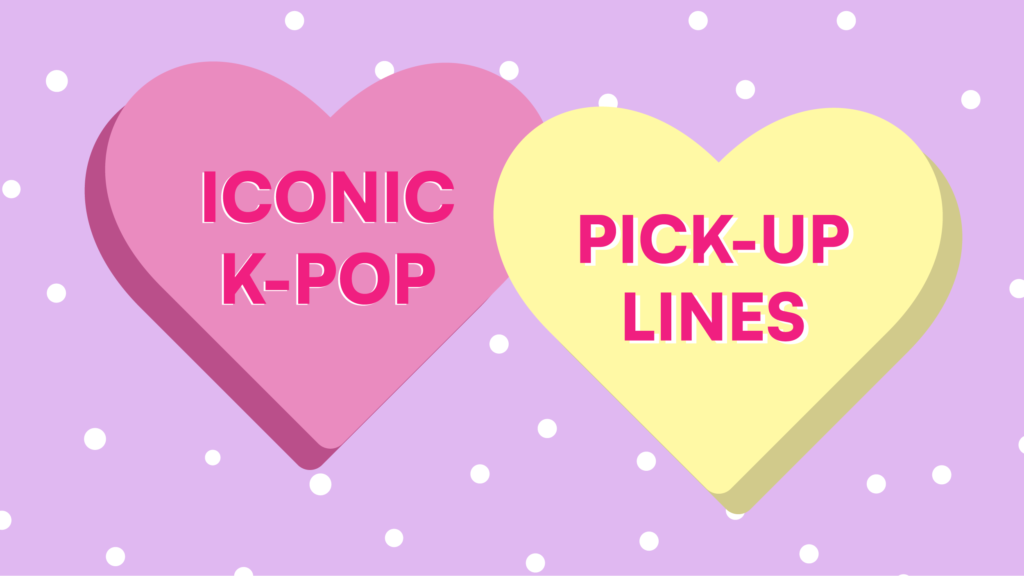 What's a better way to celebrate Valentine's Day than using iconic pick-up lines already tried and tested on your idols! Pick-up lines are prominent in the K-pop community, whether that be from fans to idols, or idols testing their own pick-up lines on other idols. Check out nine of our favorite iconic pick-up lines in K-pop below!
"If you were a transformer, you'd be Optimus Fine"
This pick-up line was hilariously used when Stray Kids' leader Bang Chan decided to go live via the V-Live app. STAY used this witty reference to the popular Transformers film series and Bang Chan burst out in fits of laughter. Soon after, he asked STAY if they had any more pick-up lines and pretty soon the comment section was flooded with flirty comments.
"Are you a camera? Because every time I look at you I smile"
In a fancall from NCT 127's Favorite album, a fan dropped this iconic line. Twitter user @ladyyang_x shared their one on one fancall experience with NCT 127's Jaehyun. Jaehyun gave them a sweet smile and responded that he would definitely love to be a camera as well!
"Research revealed that if the sun had features, it would have been you"
This is not the first time female soloist Heize had commented on pick-up lines under Taeyeon's Instagram posts. Heize has always been a huge fan of Taeyeon and fans love seeing the interactions between them! The two had officially met for the first time back in 2018, where Heize called herself a "successful fan!"
"Do you know why Hershey's chocolate failed? It's because you're too sweet"
NCT 127's leader Taeyong is no stranger to using pick-up lines and on episode 410 of Weekly Idol Taeyong proved once again just how quickly he can come up with them. On this episode, members were matching and assigning soulmates to each other. Taeyong had to appeal to both Doyoung and Jaehyun so one of them would pick him as a soulmate. The room had turned into chaos when Taeyong left the members speechless with his pick-up line. Mark even exclaimed the pick-up line was impressive.
"Do you have a twin? No? Then you must be the prettiest in the world"
Right after TWICE's release of their Taste of Love album with the title track "Alcohol Free," the nine membered group had a fan sign where ONCE could pour all their love. On a one on one fan call with Dahyun, one particular ONCE used this pick-up line to which Dahyun turned away from the camera to laugh.
"Are you from Disneyland? Because there are two princesses here!"
Doyoung of TREASURE's pick-up lines never fail to send Teume into a frenzy, and this pick-up line is no exception! This particular scene unfolded on episode 56 of TREASURE's own reality series, TREASURE MAP. The boy band was given the task to act as baristas and waiters at a cafe. Doyoung couldn't resist using this pick-up line, which left the two girls excited and flustered.
"NASA is seriously doing something wrong. Of course, there's a lot to study about the Solar System but there's something even bigger inside her eyes. It's deeper, it's like the universe"
ITZY's Ryujin, popularly dubbed as the ultimate girl crush, made hearts flutter once again. Only this time it's a pick-up line to her fellow member Yuna. The clip is from the behind-the-scenes video of when ITZY had guested on 1theK Originals' DOLympiad. The members had to give silly comments/ compliments to the next member. Fans adored this interaction and praised how smooth Ryujin was with her pick-up lines!
"Love starts with L … and ends with you"
Perhaps one of the more recent interactions that Twitter is freaking out over, BamBam used this heart-fluttering pick-up line on Red Velvet's and Girls on Top's Wendy when he guested on her own radio show Wendy's Young Street. Both idols squealed in laughter after the line was said and fans were squealing along with them!
"I brought my boyfriend with me today…"
Are you really on K-pop Twitter if you never heard of this pick-up line being used? The line usually goes by a fan telling the idol that they brought their special someone along. The idol usually responds with something like "Really? Where?" Then the fan pulls up a mirror to show the idol their own reflection! The pick-up line itself is very creative on its own part but it's been used so many times that Jacob from THE BOYZ knew what the fan was going to say.
Want more Valentine's Day related content? Check out our Valentine's Day gift suggestions here.