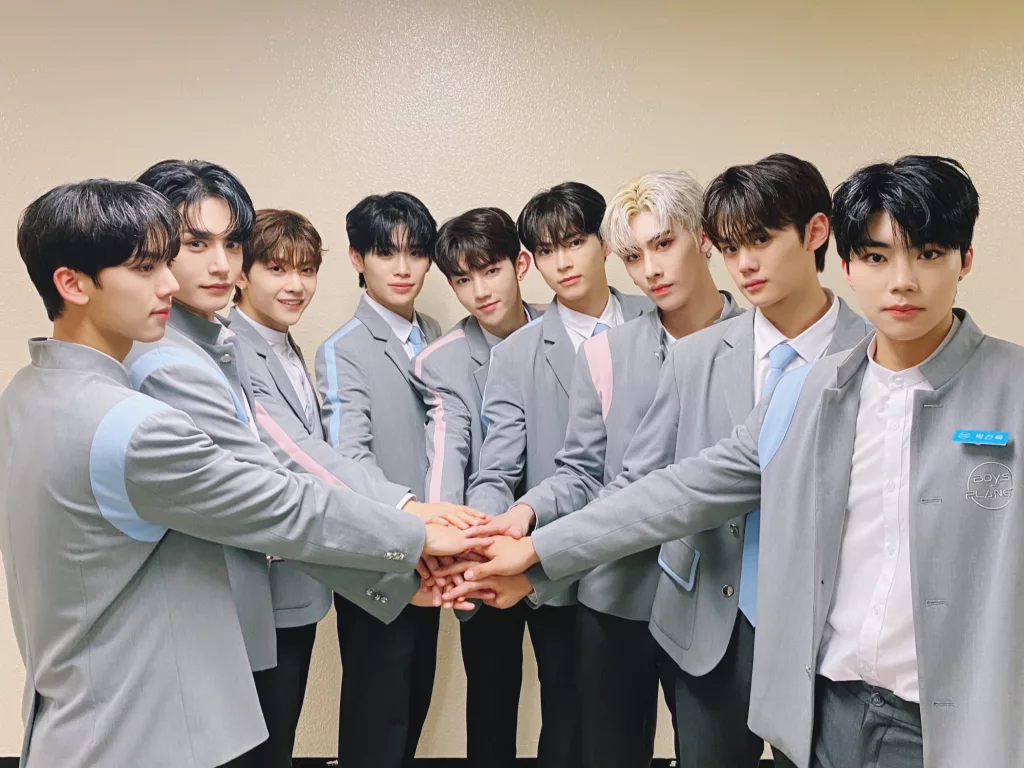 After two months of airtime, Mnet idol survival show Boys Planet finally came to an end on April 20. The audition program held their live finale, hosted by former Wanna One's Hwang Minhyun, at the Jamsil Indoor Stadium. More than 5000 fans attended to see the formation of the final debut group, ZEROBASEONE (ZB1).
To end their journeys at the Planet Camp, the 18 finalists were divided into two groups of nine to perform new original songs, "Jelly Pop" and "Hot Summer." The "Jelly Pop" team, comprised of Zhang Hao, Seok Matthew, Lee Hoetaek, Park Gunwook, Park Hanbin, Kum Junhyeon, Jay, Na Kamden, and Yoo Seungeon showed their cute and bubbly charms with a funky pop song. Meanwhile, the "Hot Summer" team, consisting of Sung Hanbin, Kim Jiwoong, Kim Gyuvin, Han Yujin, Kim Taerae, Ricky, Keita, Lee Jeonghyeon, and Yoon Jongwoo showed a more fatal and charismatic side through the sizzling track. The finalists also performed their theme song "Here I Am" and a final ballad song titled "Not Alone."
An Awaited Sequel
Boys Planet is the second installment of Mnet's Planet survival series, with the first being Girls Planet 999. Girls Planet 999 aired in 2021, and the show divided 99 female trainees into Korean, Chinese, and Japanese groups. The all-female ensemble culminated in the debut of girl group Kep1er. Meanwhile, Boys Planet divided male contestants into the "K-Group" for Korean trainees and the "G-Group" for international trainees hailing from different regions in Asia and America.
Originally slated for a 2022 release, Boys Planet was first teased during the 2021 Mnet Asian Music Awards (MAMA), but the show was ultimately pushed back to 2023 due to production issues. With COVID-19 restrictions easened and lifted, fans of Boys Planet were able to support their favorite trainees through watching their performances throughout the show live.
The Shining Boys
To determine the show's winners, there were two rounds of voting for the finals. From April 13 to April 20, Korean and international fans voted for their favorite trainee on the Mnet Plus app. On finale night, fans were also able to vote during the live broadcast, which counted as two votes. Votes were then converted into points after being weighted, with Korean votes weighing 50% and international votes weighing 50% as well.
True to their theme song's Korean title ("난 빛나," trans. "I Shine"), the debut team members were dubbed as the most shining boys for garnering the most votes and support worldwide. The first member to be announced was NEST Management's Kim Jiwoong, an actor and former idol, who placed 8th, with a score of 1,338,984 points.
Yuehua Entertainment's Kim Gyuvin placed 7th, with a score of 1,346,105, the first of four Yuehua trainees to make it to the final lineup. Up next was Kim Taerae, a trainee from Wake One Entertainment — the same company managing Kep1er and ZB1 — who placed 6th with 1,349,595 points, after dropping to No.11 in a pre-finale interim rank.
Jellyfish Entertainment's Park Gunwook placed 5th with a score of 1,386,039 points, marking his re-entry into the top 9 after dropping to 12th place during the third eliminations. Ricky reached 4th place, making him the second Yuehua Entertainment trainee and first G-Group or international trainee to make it to the final lineup, with a total score of 1,572,089 points. MNH Entertainment's Seok Matthew placed 3rd, with a score of 1,702,174 points, after ranking 9th for the third eliminations.
Candidates for 1st place were STUDIO GL1DE's Sung Hanbin and Yuehua Entertainment's Zhang Hao. Notably, both were the representatives or "centers" of the K-Group and G-Group respectively. Zhang Hao ultimately won 1st place with 1,998,154 points, allowing him to become the first non-Korean trainee to rank 1st in an Mnet survival show.
He maintained a lead of more than 100,000 points from Sung Hanbin, who ranked 1st throughout the entire show but placed 2nd for the final ranking with a score of 1,888,414 points. Boys Planet has made the 1st place position extra coveted by granting the winner a solo song for the group's debut album, as well as the "killing part", or performance highlight, for the group's debut single.
The final member to be announced was Yuehua Entertainment's Han Yujin, which made him the fourth trainee from the Chinese entertainment company to debut in ZB1. Despite not leaving the top 5 throughout the show, Han placed 9th — the last slot in the final lineup — with a score of 1,196,622 points.
Of the nine-person group, there are six trainees from "K-Group," or members from South Korea, and three members from the "G-Group." Zhang Hao and Ricky represent China, while Seok Matthew hails from Canada. As mentioned, about half of the final lineup — Zhang Hao, Ricky, Kim Gyuvin, and Han Yujin — hails from Chinese multinational talent agency Yuehua Entertainment, an unprecedented feat for entertainment companies participating in survival shows.
From Zero to One
The final debut group of Boys Planet is named ZEROBASEONE, which is also abbreviated as ZB1. As explained by Star Master (host) Hwang Minhyun, the name celebrates the "brilliant start," beginning at 0 and becoming born as 1.
As with many survival shows, the final debut group has a limited contract. Similar to Kep1er, ZB1 will promote as a group for 2 years and 6 months. They will also be managed by the same company managing Kep1er, Wake One Entertainment.
ZB1 are slated to start their promotions in May, with their first schedule being a performance at K-CON Japan. There is a lot of anticipation for the group's promotions, especially as the lineup proves ZB1 to be a global group that can be enjoyed by a Korean and international audience alike.
Stay in the loop with ZEROBASEONE by following their accounts on Twitter, Instagram, YouTube, and TikTok. 
Love knowing all about the latest up-and-coming boy groups? Read all about xikers' debut mini album here.