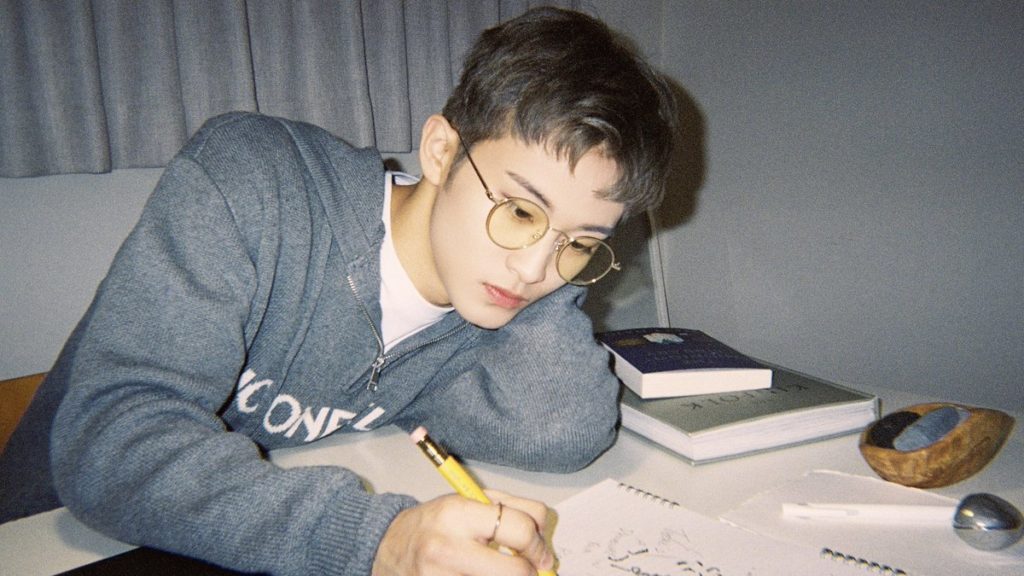 It's not a shock to fans that NCT's Mark Lee has the talent and ability to create his own music. On January 27, SM Entertainment announced that Mark is due to release his first SM STATION solo, "Child." As NCTzens anticipate the February 4 release date of "Molo" (Mark's solo), we've decided to take a look back at some of Mark's previous solos and collaborations. 
Drop ft. Seulgi
In episode eight of the survival show Highschool Rapper, Mark took center stage to rap alongside Red Velvet member Seulgi. The duo performed "Drop," a fun R&B tune that encompassed Mark's talent. On the Highschool Rapper Finale album, "Drop" came in with the most streams, sitting at over 3 million!
Young & Free ft. Xiumin
On July 7, 2017, SM released a STATION with Mark and EXO's Xiumin called "Young & Free." The song has a retro beat and is paired with bright visuals in the music video. The track had a different energy from his previous projects showcasing Mark's diverse sound. The lyrics were written by himself and Jo Yoon-kyung, demonstrating his unique lyric style.
Lemonade Love ft. Parc Jae Jung
Following Mark's appearance on the TV show, The Snowball Project he teamed up with Parc Jae Jung, an artist under Mystic Entertainment, to collaborate on "Lemonade Love." This love song is upbeat with lively raps and complementary vocals. The music video shows both Parc Jae Jung and Mark competing to win over their mutual crush who works at a lemonade stand.
What To Do ft. Henry
Mark collaborated with Henry Lau on the heart-felt pop song, "What To Do." The addictive melody will have anyone dancing along. The song was released on October 26, 2016, for the TV show, Sweet Stranger and Me which aired on October 24, 2016. The official audio on YouTube currently has a little over 70,000 views.
Dream Me ft. Joy
On October 19, 2018, Mark and Red Velvet's JOY released their track, "Dream Me" for the TV series The Ghost Detective (2018). The song showcases a dark and somber vibe, with deep lyrics about love. Fans get to experience a different side of Mark as he sings the song. The music video is currently sitting at a little over 389,000 views.
Talk About
"Talk About" broke NCTzen Twitter when Mark first performed his solo project at SuperM's world tour "We Are The Future Live," back in 2019. The lyrics were written by Mark, showcasing his dynamic lyrical skills as a soloist. Although this is an unofficial project, Markfs (Mark fans) showed Mark lots of love and praise for this song.
Bad Smell
On July 4, 2020, Mark performed "Bad Smell" with NCT 127's Johnny, on Johnny's DJ show, Sunny Side Up. We got to see cooperative work from the duo, with Mark writing the lyrics and Johnny producing the song. Mark explained the inspiration behind the title is that "when you sniff a bad odor, it looks similar to the face you make when you hear good music." The views of the performance are currently sitting at 1.2 million. NCT's Instagram posted photos of the duo, along with additional footage of the duo practicing "Bad Smell" for Sunny Side Up.
QTAH
Along with "Bad Smell", Mark and Johnny collaborated on their song "QTAH" (Quality Time At Home). The NCT Twitter account released the video of QTAH on May 1st, 2020, as a gift for NCTzens to enjoy during the COVID-19 pandemic. Johnny and Mark performed the song on Sunny Side Up, along with releasing a short music video on YouTube. The video was filmed by Johnny, as he followed Mark in a room while he rapped. The black and white filtered music video gives off a laid-back vibe that can help NCTzens relax and unwind. The video ends with Johnny panning to a wall full of polaroids taken of Mark on the set of "QTAH." The views are at 1.6 million views. You can view behind-the-scenes photos of Mark recording QTAH on NCT's Official Instagram page.
Undercover
As we watch Mark grow as an artist, we can see his sound and style of rapping develop. This is highlighted in "Undercover" with NCT's Taeyong. The duo wrote the iconic and intense song "Undercover" and debuted their work for the first time on their first tour, "NCT 127: NEO CITY – The Origin." NCTzens were very pleased with the project and gave it a lot of praise.
The Himalayas
Mark and Taeyong also collaborated on the track, "Himalayas." The two artists partnered together to write the lyrics and compose the song. They first performed the track on The Knowing Bros in August of 2020, giving a short sneak peek to fans. The duo rap lyrics about their success thus far, along with making points of being unphased with the haters, with lyrics like, "All my haters go hella, hella sick. / What you think 'bout that? / What you think 'bout that?"
The video of the performance currently has 2.5 million views.
Vibration
Mark performed his newest project "Vibration" at the "NCT 127 2nd Tour: Neo City: Seoul-The Link on December 17, 2021. The concert was held at the Gocheok Sky Dome, where over 16,000 excited fans were attending. The crowd was taken by surprise when Mark was revealed on the giant screen, seen sitting down with a mic in his hand. "Vibration" is currently sitting at #17 on Genius Korea charts and #4 on the Hottest Concert Songs! Markfs were also very excited to listen to Mark's newest solo project and have voiced their excitement on Twitter.
As we reflect on Mark's past projects in anticipation of "Child", you can stream the  projects on YouTube and Spotify. If you'd like to keep up with Mark and his future activities, make sure you follow him on his Instagram, NCT's Twitter page, and SuperM's Twitter page for all updates!
Want to read more articles about Mark? Click here to read about his teasers for "Child!"