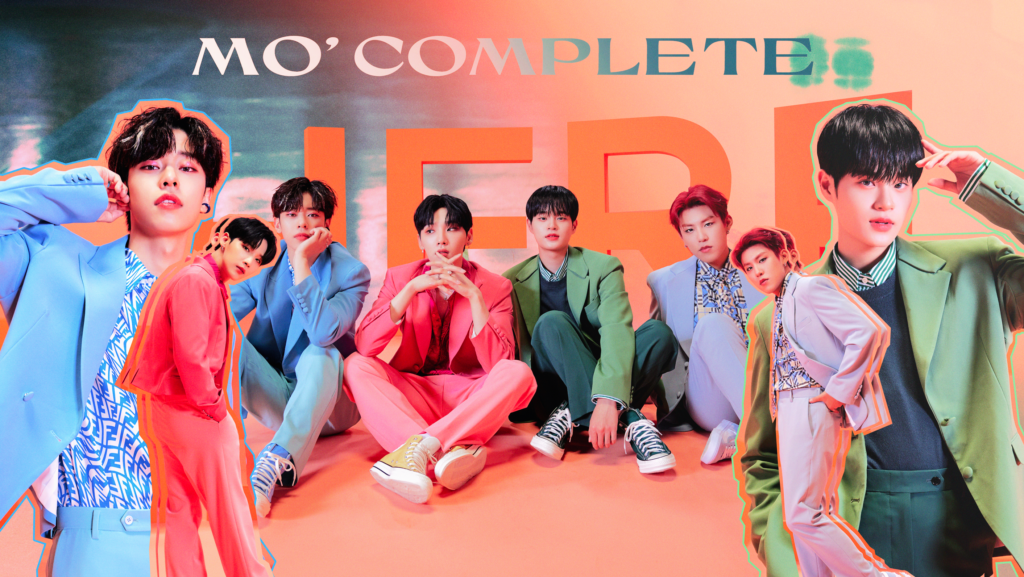 AB6IX is back—and they're ready to paint the town "cherry" red with their second full-length album MO' COMPLETE! As a group of four "all-rounder" idols, each member contributed as songwriters, lyricists, composers, and even choreographers—a challenge they have continued to take on since their 2019 debut EP, B:Complete. Since then, the group has solidified their reputation as an international favorite, not only venturing into variety shows and dramas in their home country, but collaborating with artists including Lizzo and boy group Why Don't We.
This past August, the Brand New Music boy group continued to showcase their genre-spanning artistry with MO' COMPLETE. The album features upbeat and infectious "Cherry," which serves as the toe-tapping title track.

To celebrate the release, AB6IX gave EnVi the exclusive scoop on their new music, individual activities, and everything in between.
A Gemini-Mercury Love
As EnVi is equally addicted to both AB6IX and astrology, the group's special single, "GEMINI," has been in heavy rotation since its release in May. The single's hook "I'm your Gemini / You are my Mercury" uses the astrological sign Gemini's relationship with its ruling planet Mercury to tell a celestial love story between two soulmates.
With that, there had to be a kindred astrology-loving spirit among the AB6IX members, and, surprisingly, it was none other than member Woong. Not only does the team's main vocalist—a Libra, if you're wondering—enjoy astrology, but he has an interest in similar hobbies, revealing, "I've been into fortune-telling and reading tarot cards for a long time too!" To this, member Daehwi revealed he also used to be really into astrology as well.
"You're My Cherry On Top"
The recent single, "Cherry," has AB6IX returning to the fresh and upbeat sound heard in previous releases like VIVID title track "The Answer." The song infuses an exciting funk element into a classic pop sound, complete with a bouncing bassline and lyrics comparing the object of their affection to a delicious cherry. Another common theme in the song's lyrics is the color blue, which is referenced especially in the pre-chorus lyric, "This love is like a baby blue."
"The color baby blue, sky blue, feels like a beautiful and heart-fluttering color to me, and when writing the song, I thought about how people have a tendency to look up at the sky when they're feeling either sad or happy," Daehwi, the main songwriter for the track, explained. "Plus, I feel like love as an emotion includes joy, anger, sorrow, and pleasure, so I wanted to connect the two—baby blue and love."
The celebratory mood of the love song is paired with a dance performance of fun-to-follow moves that give off a carefree, almost disco-like vibe. The point choreography, seen in both the music video and the group's stages, is performed in the song's chorus when the members make the shape of a cherry with one of their hands.
The dance move, while simple, was made to match the light feeling of the song. "'Cherry' has a bouncy and fresh vibe," Woojin, the group's main dancer, commented. "So I think this kind of cute dance move went really well with it."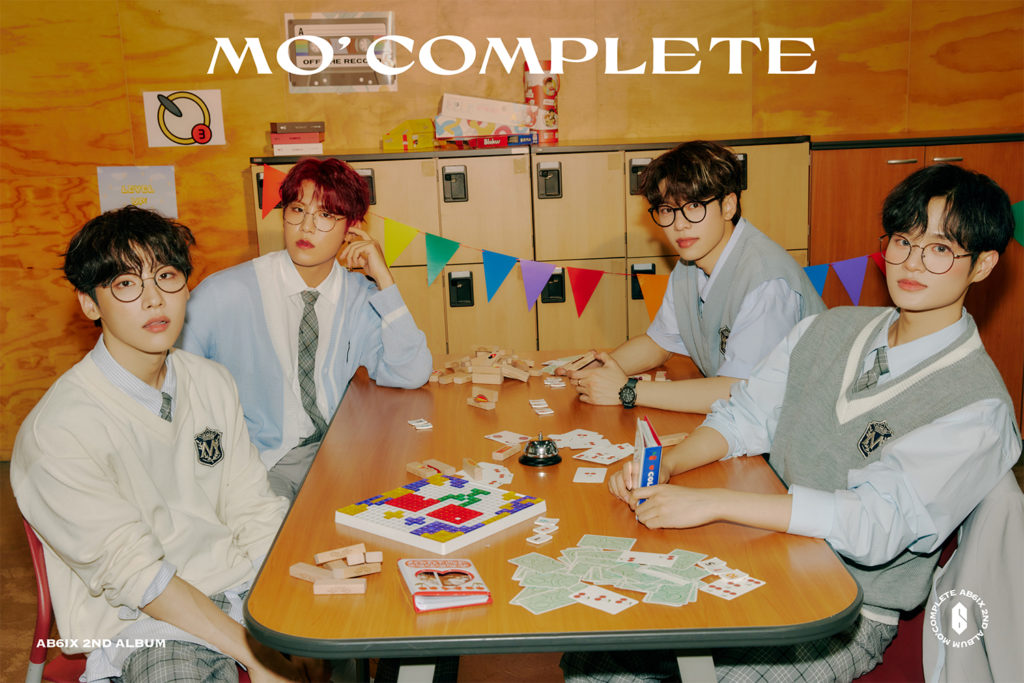 Working On MO' COMPLETE
Back during promotions for AB6IX's first full-length album 6IXSENSE, the group shared the album further developed the musical "sense" or essence of the sound first introduced through debut EP, B:COMPLETE. This time around, AB6IX wants to convey that they've become more mature and, like the album's title indicates, more complete.
Daehwi went on to describe the MO' COMPLETE version of the group as "a definitely more upgraded AB6IX," adding the members are now more developed artists.
"A while back, I used to just write the type of songs I wanted to write," reflecting on the change in his songwriting process since debut. "However, as we started to release more and more albums, I began putting much more thought into making music that both the public and our fans would like to hear."
When asked if there was a song on the album the members considered the "fan song," Woong clarified that, while the track "Heaven" on their album, SALUTE, is a more official one, all the songs they release should be considered fan songs. "We always think of [AB6IX's fandom] ABNEW when making music," he explained.
"Rather than writing a specific song for ABNEW, we want our fans to know we always think of them when we produce music and prepare for stage performances," member Donghyun agreed, adding that he hopes AB6IX's music encourages the people who listen to it, especially during the current hard times.
Donghyun's TV Drama Debut
Among the major activities that the AB6IX members have gotten into in 2021 is Donghyun's televised drama debut. Titled Let Me Be Your Knight, the SBS drama follows a fictional five-member idol band called Luna, played by an all-star cast, including not only Donghyun, but U-KISS's Jun, Wanna One's Yoon Jisung, NU'EST's JR, and actor Jang Dongjoo. To commemorate the drama, the cast not only attended a globally streamed press conference, but also released a music video as Luna for the drama's original song, "Beautiful Breakup."
"The amount of sleep I had went down while we were working on the comeback," Donghyun joked when asked what it was like filming and preparing MO' COMPLETE at the same time.
Thanks to the similarities between his character, Gaon, and his life as a member of AB6IX, he found immersing himself in the role improved his performance as a real-life idol. He mentioned the acting experience helped him in a variety of ways—especially when it came to expressing emotions through music and putting more thought into his movements on stage.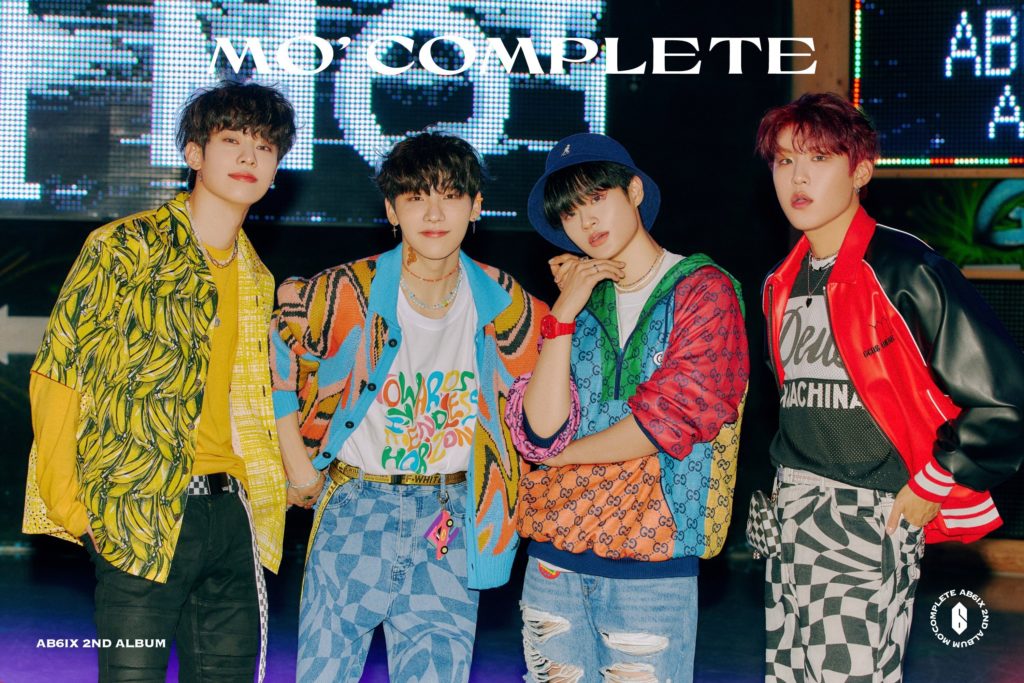 Japanese Debut & Shout-Out to Global ABNEW
On October 29, the group announced their next big global move—making their debut in Japan with their first Japanese-language EP ABSOLUTE 6IX on November 24.
While exact details about Japan promotions have yet to be revealed, EnVi talked to the group about the possible return to overseas touring, asking which countries the members have on their travel bucket lists.
"I want to go all around the world. I especially want to go on the world tour we weren't able to go on earlier," Woojin answered, referring to the group's previously announced 19-city "6IXSENSE" tour, which had been canceled due to the pandemic.
"Rather than choose a specific country to visit, I want to go to every one an ABNEW lives in so I can meet them all," Donghyun boldly confided. "I really hope that can happen."
At the end of the interview, the AB6IX members took time to express well wishes to global ABNEW, who they haven't been able to see in person since the COVID-19 pandemic.
"While we can't meet in person these days, we'll go and visit overseas ABNEW as soon as the situation improves. Hang in there a little bit longer," Woong encouraged, adding, "We love you all so much!" Woojin also expressed affection for international ABNEW, calling the support they give the members "the reason AB6IX can remain energized."
Daehwi shared he misses global ABNEW and looks forward to traveling again soon, commenting, "It's been a while since we've been able to see our international fans, and I'm constantly waiting for that day to come. I hope it comes soon."
Lastly, Donghyun took a moment to ask fans to stay safe until AB6IX's return to overseas promotions, closing the interview with a sincere "Please take good care of your health until the day we meet again!"
Want to keep feeding your EnVi fix? Check out our recent interview with RBW girl group PURPLE KISS here!
Thumbnail by Alex