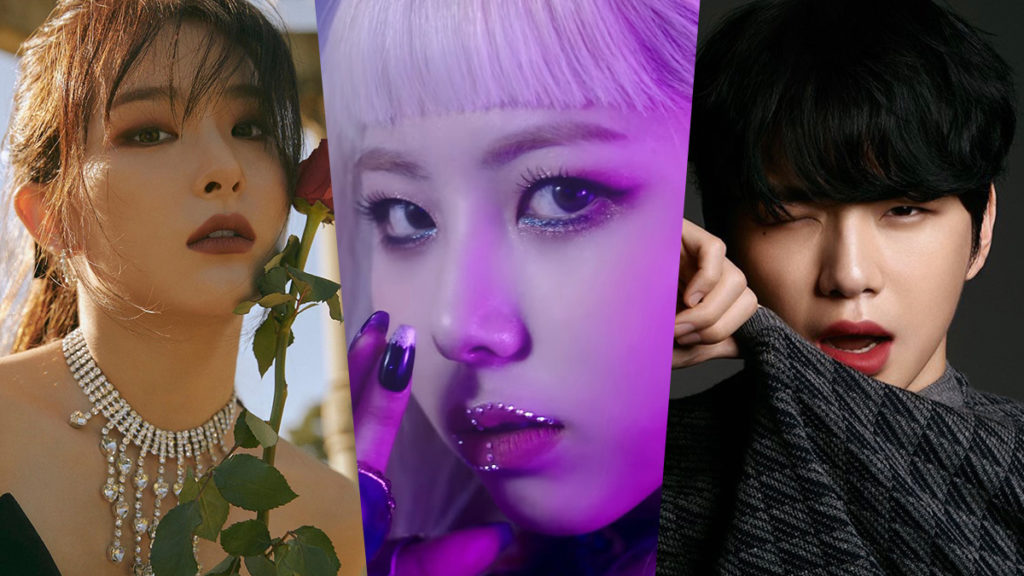 In honor of National Lipstick Day, EnVi highlights some of K-pop's most iconic lip looks. K-pop is no stranger to lush lipstick and unique methods of application, but these looks took it one step further. From dreamy pink lips to gem-adorned lips, take a look at some of our favorites.
SEULGI WITH LIP GEMS AND RAMPUR RED
Red Velvet'sPsycho era ushered in dramatic makeup looks. The visuals at this point of Red Velvet's career could be categorized as haunting, dark, yet ethereal.  Achieved through shining eyeshadow and darker lipstick, these iconic K-pop looks had fans recreating these. One of these looks was Seulgi's Rampur red lip and bottom lip gem. Paired with a simple eyelook, the lips are the centerpiece of Seulgi's makeup.
BANG CHAN'S GO FAUX PIERCING
Stray Kids'GO era showcased a vampy-punk aesthetic. Throughout promotions, leader Bang Chan sent fans wild with a faux lip piercing, which was paired with a pink-toned satin lip color. Most of his stage appearances included this iconic lip combo, which soon became a standard appearance through the entire era.
PURPLE KISS IREH'S GEM LINED LIPS
Purple Kiss's debut music video "Ponzona" is full of iconic makeup looks following the release's witchy concept. One of the most eye-catching visuals is member Ireh's lips lined with gemstones. The use of gemstones in makeup is nothing unusual for K-pop, especially in the past few years. But in "Ponzona," there's a unique flare to it, drawing attention to the lips and making them look almost like a 2D drawing.
MINNIE'S DEEP PINK LIP
MINNIE has been gaining popularity online for her daring looks in the "TOMBOY" music video and stages. 'TOMBOY' took a departure from (G)I-DLE's previous comeback 'HWAA' both sonically and visually. Moving from traditional Korean folk elements to pop punk, the visuals of this new era speak to the growing interest of "Alt" culture. For Minnie, the look is coupled with dark black eyeliner, which gives an extra edge to the look.
KANG DANIEL FOR GIVENCHY BEAUTY
Givenchy, known for its minimalist, yet elegant motifs in both fashion and beauty selected Kang Daniel as their male ambassador. As the brand's first male ambassador, his campaign featured him wearing a bold bright red lipstick. This was revealed on the 18th of September in 2019. The news landed him features in both Cosmopolitan and Elle. Endorsing Givenchy Beauty's latest line at the time, it consisted of products like the Le Rouge Luminous Matte Hydrating Lipstick.
A.C.E'S WOW WITH SEQUIN LIPS
"Higher," one of A.C.E's comebacks in 2021, had some of the most memorable concept photos from the group, who is known for their eye-catching teaser photos. With the siren and little mermaid concept, they had unique and delicate makeup looks, one of them being member Wow sporting stained lips with small sequins across the middle, a soft yet distinctive look to match the fantasy-like concept.
BTS' JIMIN'S MEMORABLE ROSEY LIPS
Park Jimin's plump lips are always the topic of conversation for not only ARMY, but for makeup fans as well. Naturally, when new behind-the-scenes photos and clips of BTS at the 2020 MTV VMA' were released, fans rushed to twitter to praise Jimin's rosey lips. It was quickly discovered that this lip look was achieved with the use of Rohto Mentholatum's Water Lip Tone Up CC SPF 20 lip balm in the shade "Pure Red." In minutes the shade sold out on every website.
Throughout the years, we've seen a surge in the number of creative makeup looks in K-pop. Some of these trends challenge how lip looks can be advanced. On National Lipstick Day, we focus on seven distinct lip looks. Purple Kiss' Ireh and A.C.E's WOW donned sequin for a striking effect, while Kang Daniel and Red Velvet's Seulgi wore striking red shades. These looks will keep us in awe for years to come.

Want to keep up with more beauty coverage? Read here