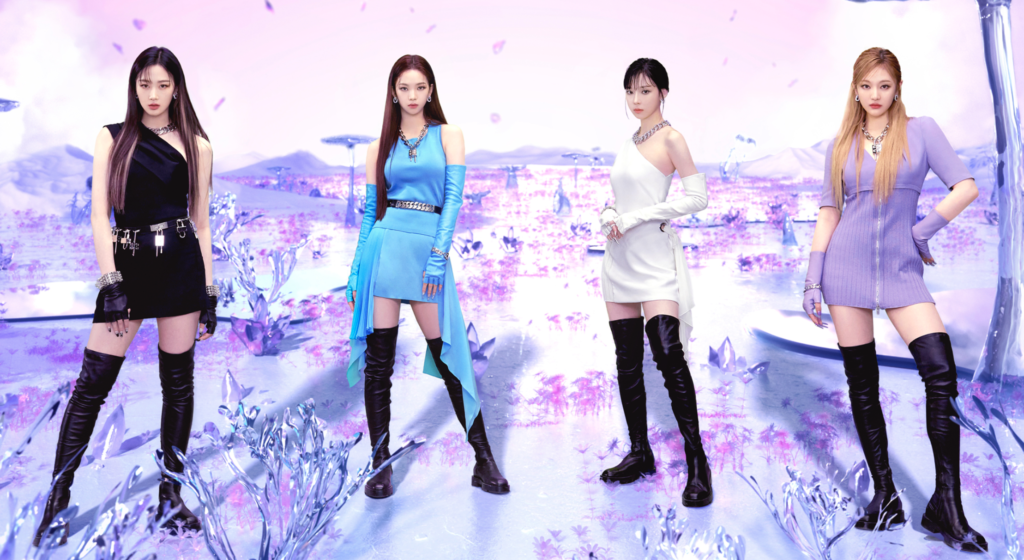 æpsa has undoubtedly taken the world by storm with their debut mini-album, Savage. This era marks a new high for the girl group following in the success of their last single "Next Level." Since the EP's release on October 5, Savage has sold over 300,000 copies and topped multiple international charts, also beating some of æspa's personal records. Today, Billboard revealed that æspa reached a new milestone in their career. Their Savage EP has earned them a Top 20 spot on the Billboard 200 Album chart. Savage also was revealed to be number 2 on the top-selling album chart in the US this week–both accomplished without physical album sales.
On the "Savage" Billboard 200 Album
Nearly a year after their debut, æspa finally debuted their first album, Savage. æspa released the six-song mini-album on October 5, leading with the title track, "Savage." The song has garnered attention globally, reaching over 30 million views in 24 hours. The adventurous track currently has over 94 million views. Savage marks æspa's next steps as artists, levelling up their fame and expanding on the lore from their previous singles.
https://www.youtube.com/watch?v=WPdWvnAAurg
On this week's Billboard 200 chart, æspa's album debuted at number 20. Their Savage mini-album exceeded 16,000 sales and 18,000 units, making it one of the top-selling albums this week. Savage also debuted at 77 on the Global 200 chart. 
On Their US Takeover
æspa slithered to the global spotlight after the success of their hit, "Next Level," a remake of the track from Fast & Furious: Hobbs & Shaw. In July, æspa signed with Creative Artists Agency–their first step towards US expansion. The girl group has since done numerous interviews for ELLE, MTV, and other well-known outlets. 
On Friday, October 15, the quartet made their US television debut. æspa performed "Savage" on The Kelly Clarkson Show, performing alongside their "ae" counterparts in an epic stage.
Previous Billboard Placements
While æspa is seeing a lot of success with Savage, it should be noted that this is not æspa's first time on the Billboard charts. In fact, their debut track, "Black Mamba," landed a spot on the Billboard Global 200 chart at 138. æspa's first single also peaked at number 5 on the World Digital Song Sales chart. æspa's second single, "Forever," reached 11 on the World Digital Song Sales chart.
"Next Level" marked a new height for the group, peaking at 65 on the Global 200 chart. æspa's "Next Level" single also reached number 3 on the World Digital Song Sales chart.
Owning the Korean Music Scene
æspa's music is not only on the Billboard charts. The "Savage" single and album have been dominating the Korean music charts as well. The song has maintained top positions on the VIBE, MelOn, genie, iChart, FLO and Bugs charts. Due to the single's success, æspa have received one perfect all-kill and certified all-kill as well as over 100 real-time all-kills, meaning the song was number one on all major Korean charts at a given time.   
The quartet's high numbers in sales and streams has amounted to more than just chart rankings. They have received four wins from Korean music shows.
여러분~~ 저희가 오늘은 음악중심에서 savage 첫 방송을 했는데요! 정말 영광스럽게 1위를 하게 되었습니다 ㅠㅠㅠ!! 정말 많은 분들의 응원과 사랑으로 인해 이런 멋진 결과가 이루어진 것 같아요 우리 마이들 너무너무 고맙고 pic.twitter.com/Yu2psxeVmy

— aespa (@aespa_official) October 16, 2021
It has been a little over a week since their album came out, and MY can expect more fun promotions from the "Savage" singers. æspa will be performing on more music programs in the following days. They will also be guests on the famous Korean variety program Knowing Brothers. This is just the start of their "Savage" journey.
Want more on æspa? Check out our review of their album here. 
Thumbnail courtesy of SM Entertainment