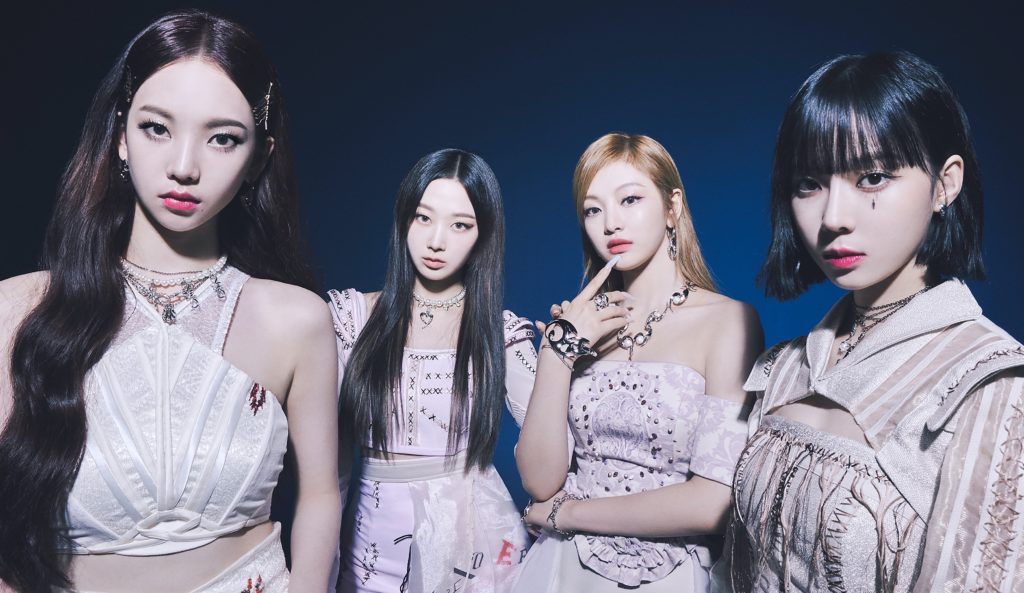 Less than a year into the game, K-pop's "global rookies," æspa, have managed to snake their way into the international spotlight. Members KARINA, WINTER, GISELLE, and NINGNING have covered multiple magazines, become the face of Givenchy, and performed for various gaming events. Their last single, "Next Level," has been floating atop major Korean charts since its release in May. Now, it has competition: æspa's debut mini-album, Savage. 
Released on October 5, the mini-album has six songs in total, including the title track, "Savage." Anticipation has proven to be at an all-time high, with the mini-album obtaining over 400,000 pre-orders and surpassing 112,000 sales on D-Day. Through Savage, æspa creates an experience for audiences. Not only do they deliver next-level music, but the quartet gives listeners more insight into their unique mythological yet technological universe and unveils more of their charms. Savage serves as an introduction to who æspa truly is. 
Raising the "ænergy
"
The album opens with a roll call of sorts. The girls introduce themselves in "ænergy"– the track's title a playful combination of "æspa" and "energy." It is an upbeat pop track with an addictive beat, written and produced by Kill Dave, Pat Morrissey, Jess Corazza, and Yoo Young Jin. It brings excitement, pumping up listeners for the adventure they are about to go on in the rest of the EP.
Aside from the high-energy rhythm, "ænergy" is notable for its lyrics. They highlight æspa's power, synergy as a unit, and the unique combat abilities within their lore. This is critical information for their upcoming battle with the Black Mamba in their title track. 
Attacking Listeners with "Savage"
Next up is the main event, "Savage," written by Kirsten Collins, Jia Lih, Yoo Young Jin, and Hautboi Rich. Both predictable and unpredictable, "Savage" highlights æspa's versatility. The song begins unexpectedly, with WINTER asking, "oh my gosh, don't you know I'm a savage?" KARINA then attacks with a powerful rap, commencing the start of the journey. 
"Savage," like any story, has many twists and turns. It starts with striking raps and trap beats. The pre-chorus transitions the song into a more intense sequence that builds suspense, as though it came from an action-packed video game. Meanwhile, WINTER and NINGNING belt about their "savage-ness." When the beat drops, the girls taunt their enemies to "get me, get me now."  It is then GISELLE's turn to command the song, spitting a new style of rap. Surprise after surprise, it seems, because WINTER, the gritty, soulful vocalist, also has bars. 
The next chorus comes and goes, and then listeners are warped into a new R&B track, broken down by WINTER and NINGNING. The girls chant, "my naevis, we love you," every other line in a playful reference to "Naevis, calling"—their "Next Level" line that has become a meme. "Savage" transitions into the final chorus after a brief dance break arrangement. Like the end of any SM Entertainment track, the quartet engages in a sing-off, flaunting their top-tier vocals. 
æspa tops off the track with lyrics that situate listeners in their world, boasting about how their opponents have nothing on them. 
A Cinematic Music Video
The "Savage" music video is a K-pop equivalent of a box office hit, garnering over 30 million views and 1 million likes in 24 hours. This response is fitting for a video that depicts a climactic battle. At 4 minutes, æspa presents an entire movie, fighting to restore the SYNK that the villainous Black Mamba had previously disrupted. 
"Savage" takes place in the infamous KWANGYA, where the Black Mamba resides. The video switches between different areas within KWANGYA, showing some of the hallucinations created by the Black Mamba. The Black Mamba final boss is characterized as a machine with a snake eye, resembling the Deus Ex Machina from The Matrix Revolutions, the central interface of Machine City. 
CGI animation helps bring elaborate sceneries, memorable characters, and superhuman abilities to life. A surprise cartoon animation shows æspa traveling to KWANGYA thanks to Naevis. The visual effects and animation are only part of the appeal. æspa act out their story with confidence, sporting extraordinary wardrobes that enhance their pure, edgy, and battle-ready sides. And, of course, the girls top the video off with glimpses of intense choreography, courtesy of Kiel Tutin and Bailey Sok.
Ready for Revenge With "I'll Make You Cry"
Revenge has never tasted sweeter, and æspa is ready for it. Their next single is the ultimate girl-crush song, "I'll Make You Cry." It is a powerful EDM song created by the collaborative efforts of KENZIE, Kirsten Collins, Timothy "Bos" Bullock, Brandon Green, and Hautboi Rich. 
The track is about overcoming betrayal with revenge. Through their emotional singing and rough raps, æspa captures their hurt. They decide exact revenge in their abrasive lyrics, vowing to make the other person cry. The theme of overcoming delusions created by another person fits their EP's overall theme of combating evil. After all, the Black Mamba did try to make them hallucinate and control them.
Finding Happiness with "YEPPI YEPPI"
If you have a sweet tooth, then "YEPPI YEPPI" is the song for you. "YEPPI YEPPI" was written by DEEZ, SAAY, and Coach & Sendo. It is a cute and fun EDM song, but not quite in the usual "bubblegum pop" way. Instead, æspa shows off softer vocals and rap but maintains their sound through the heavy bass and irreplaceable vocals. 
In "YEPPI YEPPI," æspa explores their strengths and beauty as people. They sing about being caught up in their own "happy virus" and let the audience know that "you are gonna love me."
æspa Are I-C-O-N-I-C
If there is a phrase to capture the rising artists, it would be "iconic." Written by Yun-kyoung Cho, Sophie Curtis, Val Del Prete, and Timothy Tan, "ICONIC" conveys their power and charisma. In a catchy chorus, they spell out "iconic," making sure the listener knows what æspa is. Although "ICONIC" is a sassy, confident track, æspa also teases some of their angelic vocals. 
Closing With a "Lucid Dream"
"Lucid Dream" closes the album, perfectly slowing down and transitioning the listener out of the album. It was written by Ellie Suh, Kill Dave, Pat Morrissey, Hayley Kiyoko, Paul Phamous, and Marcus Lomax. "Lucid Dream" has an R&B rhythm that suits æspa's skillful vocals. 
In the track, æspa sings about missing someone so much that they feel lost in a dream. In an emotional interlude, GISELLE poses the question, "why am I so attached to you?" She then says, "every time you leave me. I don't know what to do." "Lucid Dream" also fits into the theme of experiencing loss and hallucinations.
What's Next for the "Next Level" Girls?
Since its release on October 5, the Savage EP has been topping Korean charts, currently holding a number one spot on FLO, MelOn, Bugs, and genie. Currently, the song is on its 22 real-time all-kill. This is æspa's first time achieving this milestone— a sweet way to commemorate their debut EP and upcoming first anniversary.
Through Savage, æspa have been able to showcase their versatility as artists and hidden talents. Additionally, they have leveled up since their last single, "Next Level," in both music and storyline. The quartet explored more of their lore in the mini-album, becoming heroines of their tale.
As "daughters of the KWANGYA," as WINTER suggested, æspa are off to a strong start. Through their first mini-album, æspa establishes a solid foundation for their soon-to-be illustrious careers. æspa is not just another group in SM Entertainment, but the company's next big stars. They certainly are a force to be reckoned with.
Want to learn more about æspa's Savage EP? Check out our coverage of their press conference here.