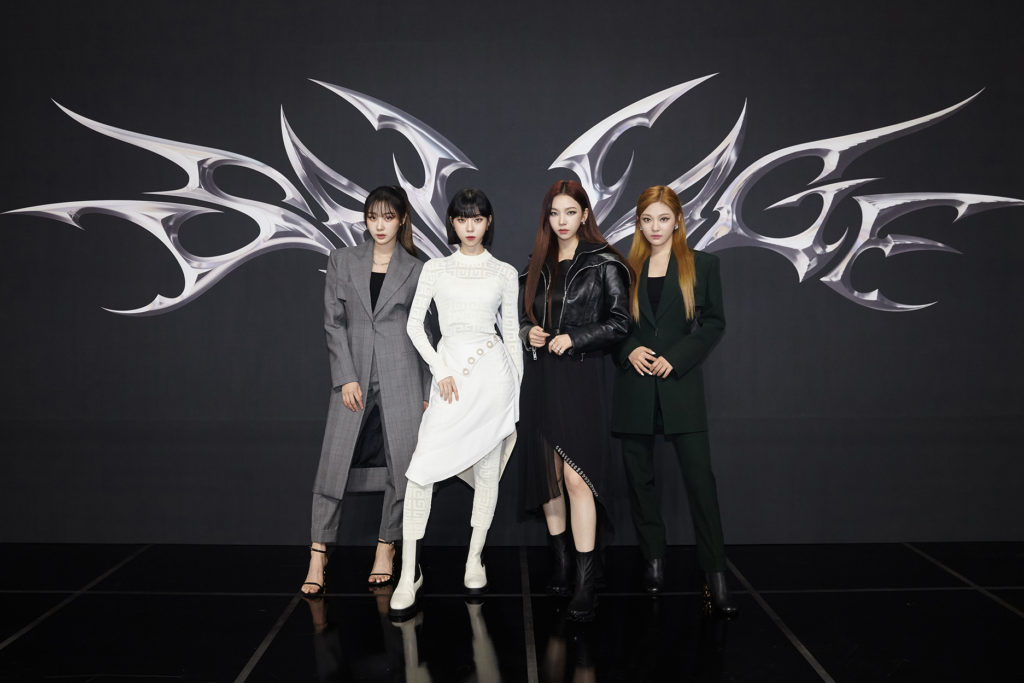 Global rookies æspa released their first mini-album, Savage, on October 5. It was their first comeback since they dropped their hit single "Next Level," which has received global recognition and maintained longevity on Korean music charts. Hours before the drop, the quartet held an exclusive press conference to discuss their debut EP. 
After being introduced by Korean entertainer Jaejae, who has become a regular at SM Entertainment events, æspa arrived on the scene. The four girls— KARINA, WINTER, GISELLE, NINGNING entered the stage in sleek, professional attire, courtesy of Givenchy who they are brand ambassadors for. Each member wore a different color—KARINA in black, WINTER in white, GISELLE in grey, and NINGNING in forest green.
The press conference commenced after swift introductions from the girls, who thanked all for coming and asked for everyone's love and support. 
On the Highly Anticipated Album
Prior to the press conference, SM Entertainment announced that æspa's debut mini-album surpassed 400,000 pre-orders. To say that Savage was anticipated would be an understatement. MY have certainly shown that it was a need.  
Upon being asked about the news, æspa's leader KARINA said, "This is our first time releasing an album, so we didn't expect the response to be as great as it has been. We'd like to thank everyone for their support! It made us think that we should work harder for all the love that we've been receiving."
The album has six songs total, four of which the members discussed in the press conference. The contents of the album are a continuation of the lore æspa previously presented in their previous singles, "Black Mamba" and "Next Level."
Next Level B-sides
The first song introduced was "ænergy." Get it? A combination of energy and æspa. Produced and written with the help of legendary singer Yoo Young Jin, "ænergy" gives MY a glimpse of æspa's mythology. GISELLE described it as a song that explores their combat abilities. Through lyrics such as, "I have xenoglossy power, which is the ability to speak foreign languages that I've never learned before," æspa show off their endless, badass energy. 
Next track discussed was "I'll Make You Cry." Both catchy and intense, this song has unique synth progressions that KARINA describes as a song that won't leave your head. The youngest member, NINGNING, shared that æspa really tried to capture the feeling of betrayal when recording the track. 
Third was "Lucid Dream." Different from the last two tracks, "Lucid Dream" has a more R&B feel. It flaunts more of æspa's unique and powerful vocals, capturing the emotion of missing someone. This track is fitting for the theme of the album: restoring the SYNK to reunite with their avatars. 
Don't You Know? æspa Are Savage
Last but certainly not least was the title track, "Savage." It explores more of the storyline following "Next level." WINTER explained that this song shows battle with Black Mamba in Kwangya. With the help of the infamous "Nævis," the heroines are able to confront the serpent.
GISELLE described the track as "a trap style song where you can feel a strong sense of attack centered on heavy drums and bass sounds." KARINA shared the point lyric, "tsk, tsk, tsk, tsk." It is repeated in the chorus with a very specific pointing gesture. 
"You say 'tsk, tsk' when you are trying to say something along the lines of 'What a shame' or 'You're no match,'" KARINA said. This is fitting for the climactic fight between æspa and the villain, Black Mamba. 
The video visualizes the battle described by the lyrics of "Savage." It is comparable to a Marvel action film, building in intensity with the song. Similar to their teasers, there is a lot of CGI animation. Their avatars make cameos, even joining on the point move of the chorus choreography. 
However, in the midst of the video, there is a surprise. SM Entertainment has finally begun using their CAWMAN genre of K-pop storytelling. æspa now have their own cartoon personas—almost as cute as Powerpuff Girls. 
Celebrating One Year With the Savage Girls
æspa's first mini-album, Savage, came after almost a year since their debut. The quartet have truly made a name for themselves in this short period of time. æspa have managed to lure people into their grasp through the unique mythology and "worldview" that they have created both in music and concept. 
WINTER shared, "Rather than feeling pressured, we were more motivated to improve and show a more mature side of aespa as artists. We became more ambitious so we worked extra hard on our album, Savage. We hope everyone enjoys listening to it!"
NINGNING feels that time flew by fast. However, with time came experience. "I felt so awkward and nervous in front of the camera at first, but now I feel more comfortable and can enjoy performing more! While the four of us had fantastic chemistry from the start, after spending one year together, the synergy is even stronger especially when we're on stage together," NINGNING said.
Workin' It 
With their album, æspa hope to unveil more of their versatility and charms. KARINA explained, "Through our music, we want people to know that aespa's worldview story will continue and expand more with new stories. We worked really hard on this album, so hearing people say 'I knew æspa would perform so well' would make us really happy!"
A year is daunting, but exciting. æspa have evidently skyrocketed in popularity due to the success of their past works. Even so, the "Next Level" singers have maintained their humility.
 At the end of the press conference, KARINA was sure to express her gratitude and let everyone know that the group will continue to work hard. GISELLE seconded the thanks, also asking everyone to be careful of the cold weather and care for their health.  
With Savage, MY can anticipate æspa to show new charms and continue working hard. This is their beginning, and they can only go up from here. 
Want more on æspa? Check out our coverage of their "Savage" music video teaser here.
Thumbnail courtesy of SM Entertainment.