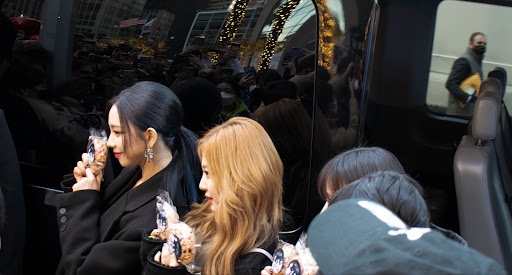 On Wednesday, November 24, aespa made an appearance at their first USA fan event. Their fans, MYs, showed up at a cookie truck wrapped in white with a screen on the back playing aespa's music videos. The event, in collaboration with SM Entertainment, Chip City, and EV Foods, is a fun opportunity for fans to celebrate Korea's best-selling girl group of 2021. Fans were able to grab a free cookie while listening to æspa's music. They also were able to purchase albums from Mandu Apparel who also were present at the event.
Seeing the International Fans
Throughout the event, fans were waiting in excitement to show love to the girls. MYs eagerly lined up, anticipating the arrival of the group. Since their debut with " Black Mamba," aespa has gained worldwide success and acclaim. EnVi spoke with some of the fans and learned so many had gotten into K-pop because aespa. "I really like their music style, and they're super pretty," said Kalliopi, a MY from Queens, New York.
Despite the cold, fans showed up with ornate headbands and albums to show extra support.
The diverse crowd of fans screamed the member's names as they came out of their car. KARINA, NINGNING, GISELLE, and WINTER waved at fans as they held up cookies.
It wasn't hard to notice how big the members smiled once they saw their fans. Karina was even spotted giving hearts through the car window.
The Fans Want More
On social media, fans shared videos of their experiences meeting the girls. Even fans who did not attend the event were excited at all the updates of the groups attendance.
A Bright Future in America
Reaching 20 on the Billboard 200 chart with their debut album Savage, the group is finding great success. Following a highly anticipated performance on the Kelly Clarkson Show, they have marked their spot as a force to be reckoned with. Set to perform at the Macy's Thanksgiving Day Parade, aespa will make history as the first Korean girl group to take the stage at the parade.
Be sure to check out day two of Chip City x aespa cookie trucks at Washington Square Park on Friday, November 26!
Want to read more of our coverage on æspa? Read here!
Thumbnail courtesy of Ellie.