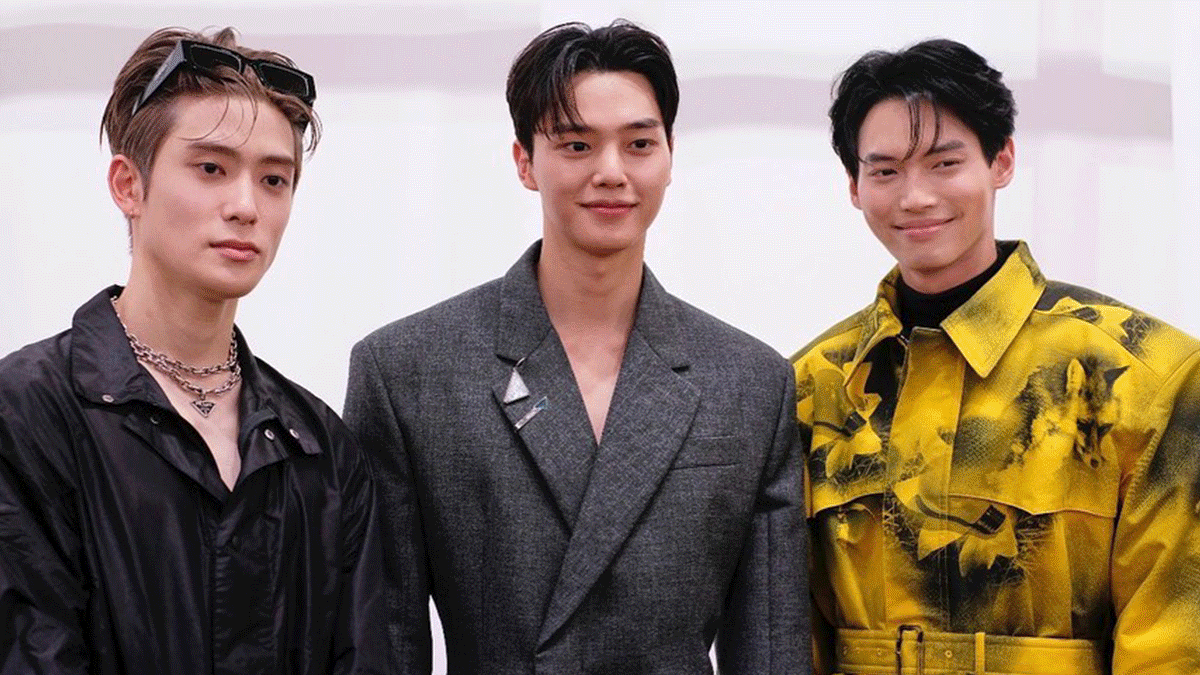 After a few seasons of virtual runways and remote VIP invites, in-person events are back in full force in the fashion industry. Men's and Couture Fashion Week not only saw designers such as Hedi Slimane make their awaited return to the official calendar but also ensured star-studded front rows. And while of course, everybody wanted to discover the trends dominating upcoming seasons, having la créme de la créme of fashion and entertainment reunited made it impossible to overlook the sartorial power showcased by our favorite celebrities. From first-timers such as Prada ambassador Jaehyun and BTS' V to show regulars like CL and Lisa, here's a recap of some of the best celebrity spottings at the fashion capitals during Menswear and Haute Couture Fashion Week.
Menswear Fashion Week
In addition to the viral jockstrap from Thom Browne's return to Paris—which everyone is predicting will follow the same road as the Miu Miu skirt—Men's Fashion Week was full of headline-worthy moments. In Milan, for example, NCT's Jaehyun, Win Metawin, and Song Kang turned up to Prada's show and absolutely stole the spotlight. The Asian stars, alongside the likes of Rami Malek, Jeff Goldblum, and Louis Partridge, contributed to positioning Prada as the top-performing brand on social media that week.
Meanwhile, in Paris, CELINE's return to in-person runways commanded all the media attention for its stellar guest list. However, it was Louis Vuitton that ended up amassing $14.2 million in Media Impact Value and ranking as the top performer of Paris Fashion Week. Below, find out who made it to EnVi's list of best-dressed celebrities during Spring 2023 Men's Fashion Week.
ZICO at Fendi
Newly appointed brand ambassador of the Italian brand, rapper ZICO sat front row at the Fendi show in Milan. The star wore a summer-friendly burgundy look and absolutely slayed the shorts and high socks formula. It was a suitable outfit for his first international event as Fendi's ambassador.
Jaden Smith at Thom Browne
Thom Browne might have presented one of the most anticipated shows at Paris Fashion Week, but the show's VIPs did not go unnoticed. Sitting front row were the likes of Lee Pace, Leo Walk, and Jaden Smith. Smith, who is a regular guest at shows, paid homage to football gear in a shoulder-padded seersucker jacket, white button-down, and contrasting gray trousers.
Gemini at Y/PROJECT
Up-and-coming singer Gemini made waves at Paris Fashion Week. Invited to several presentations, the star showed off his forward-looking style in modern, slightly experimental fits. We, however, are picking his look at Y/PROJECT's show, where he sported a matching set. The jacket and pants ensemble caught attention for the trompe l'œil print inspired by Jean Paul Gaultier's Naked Dress. In addition to his attendance at Y/PROJECT, Gemini was also present at the AMIRI and KidSuper Studios collection unveiling.
HyunA and DAWN at LOEWE
South Korean power couple HyunA and DAWN were among the cadre of celebrities attending LOEWE's fashion show. As brand ambassador of the Spanish brand, HyunA sported a sequined black dress and platform boots. Meanwhile, her fiancé opted for blue jeans and a faux fur coat—without a shirt underneath, for an added effect. Though their outfits were remarkable, it was their hairstyles and beauty that gave other stars a run for their money.
Aleali May at Rick Owens
Known as the "queen of Air Jordans," the fashion designer, stylist, and model Aleali May is a front-row favorite. The creative was present at various shows including Y/PROJECT, Louis Vuitton, and MOWALOLA, but at Rick Owens, she made a case for biker core. We still can't choose between the moto jacket from her upcoming collaboration with Vanson Leathers, and her red Rick Owens boots.
BTS' V at CELINE
BTS member Kim Taehyung—better known by his stage name V—was the protagonist of one of Paris Fashion Week's standout moments. Wearing black leather pants, a black sequined top, a red leather jacket, and a statement necklace, the singer made his VIP debut sitting front row at CELINE HOMME's show. Naturally, as part of one of the biggest boybands in the world, his attendance guaranteed him a spot on several best-dressed lists.
Ryūsei Yokohama at Dior
Japanese actor and former singer, Ryūsei Yokohama offered a lesson on how to dress for the front row at Dior's most recent menswear show. The star wore a pastel-colored suit straight from the unreleased collection—in fact, the actor got first dibs on the opening look of the runway! Ryūsei Yokohama also proved to be worthy of carrying the title of Japan's first Dior Men Ambassador, becoming the top influencer at Paris Fashion Week. According to Launchetrics, the star generated $796K of Media Impact Value during his stay in Paris.
NCT's Jaehyun at Prada
Making his front-row debut, Prada's Darling, Jeong Jaehyun became the man of the hour at the unveiling of the brand's Spring-Summer collection. Dressed in a look that appeared to be a nod to Luz Barhman's Elvis—where Miuccia Prada participated in the costume design—the budding style icon embraced his inner rock star. Needless to say, Jaehyun didn't miss out on the chance to flaunt his style prowess, posing alongside other Prada friends, including Jeff Goldblum, Louis Partridge, and Win Metawin.
Win Metawin at Prada
Speaking of the latest, the Thai screen icon was indisputably the breakthrough star at Milan Fashion Week. The famed actor not only stunned with an avant-garde look, but he also became the top celebrity voice of the Milan calendar. In addition to generating $4,7 million in Media Impact Value, Win Metawin also was responsible for the top social media post that week, generating $1,3 million in MIV with a single Instagram carousel that also featured Prada's South Korean ambassador Jaehyun and actor Son Kang.
BLACKPINK's Lisa at CELINE
Truly the star of the show, Lisa's arrival at Palais de Tokyo for CELINE HOMME's show was followed by a social media frenzy—#LISAXCELINE became the most tweeted hashtag of the event. Although Lisa is rather acquainted with the politics of fashion shows, the global superstar pulled off the routine like no other. Not only was she spotted sitting front, catching up with fashion insiders and making it to the feed of fashion editors, but she also showed her charming personality by socializing at parties and even taking time to pose next to CELINE's Creative Director Hedi Slimane. All of that while wearing the chicest black look: a sequined top and tailored shorts paired up with ankle boots and a Triomphe Bag. Who was doing it like her?
Couture Fashion Week
Just like every summer, Europe received people from around the world for Couture Fashion Week. Starting July 4, brands such as Schiaparelli, Jean-Paul Gaultier, and Alaïa displayed their latest creations. Though Kim Kardashian, Dua Lipa, and Nicole Kidman surprised the crowds by modeling on the Balenciaga runway, the rest of the celebs in attendance didn't fall too far behind. Putting on their finest looks for the occasion, the likes of CL, Emma Watson, and Rina Sawayama dressed to the nines. Ahead are some of the best looks from Couture Fashion Week.
CL at Schiaparelli
South Korea's Baddest Female, CL has sat front and center at various fashion shows throughout her career. Couture Fashion Week couldn't be any different. Adding new items to her resume, the stylish rapper was present at the Schiaparelli and Balenciaga collection unveilings. Though she opted for a full denim outfit for Balenciaga, at Schiaparelli she brought out the drama, dressed in a cone bra, imponent platforms, and high-waisted trousers. CL displayed her style A-game, strategically accessorizing with gloves and statement earrings. She finished off the look by matching her full black look with smokey eye makeup.
BM at Balenciaga
KARD member and all-rounder, BM is among the front-row fixtures every Fashion Week. On his return to Paris, the singer and HUGO ambassador attended the Balenciaga show. In tandem with the brand's aesthetics, the singer sported a total look that consisted of black everything, and a large leather coat thrown on top.
Rina Sawayama at Schiaparelli
Singer Rina Sawayama was at every fashion event worth attending the past week. Kicking off with the Polo Ralph Lauren and British Vogue party, the star was present in the Schiaparelli and Chanel front rows. At Schiaparelli, in particular, the singer injected a bit of fun into her little black dress with striking facial jewelry and striped platform boots.
Song Hye Kyo at Fendi
Filling her role as Fendi's first-ever Korean global ambassador, Song Hye Kyo traveled to Paris for the brand's couture show. Dressed in a short suit set and sitting next to LVMH's Bernard Arnault, the renowned actress proved to be one of Fendi's most treasured VIPs.
Ashley Park at Jean Paul Gaultier
At the presentation of Olivier Rousteing's couture collection for Jean Paul Gaultier, actress Ashely Park embraced whimsigoth with a touch of glam. The Emily in Paris actress wore a black hooded dress straight from the brand's archives and accessorized with diamonds from David Yurman.
Emma Watson at Schiaparelli
Fashion connoisseurs often say "less is more," and that was particularly true for British actress Emma Watson. The megastar, who made her return to the VIP guest lists of Fashion Week at the Schiaparelli show, absolutely stole the limelight. Watson wore ripped jeans, a white shirt tied at the front, and an oversized collar jacket. Although her look contrasted with the avant-garde choices of the rest of the attendants, the actress did not pale in comparison. All the opposite, her rare appearance at a fashion show landed her in the headlines of several publications. Yes, she deserved it.
Hwasa at Valentino
K-pop star Hwasa had a twinning moment with Hollywood actress Anne Hathaway at the Valentino couture show in Rome. Sitting in the VIP section, the MAMAMOO member shared the spotlight with a cohort of fashion elites including Vogue Editor Anna Wintour. For the occasion, Hwasa—just like Hathaway—wore a full-pink outfit that included the popular Tan-Go Platform Pumps.
With the official return to physical events, Fashion Week is experiencing a renaissance and reclaiming its original glory. Come next season, we'll surely witness more of the world's leading style and entertainment powerhouses gathering to celebrate fashion and creativity!
Eager for more fashion coverage? Find out how augmented reality is becoming fashion's newest frontier here.