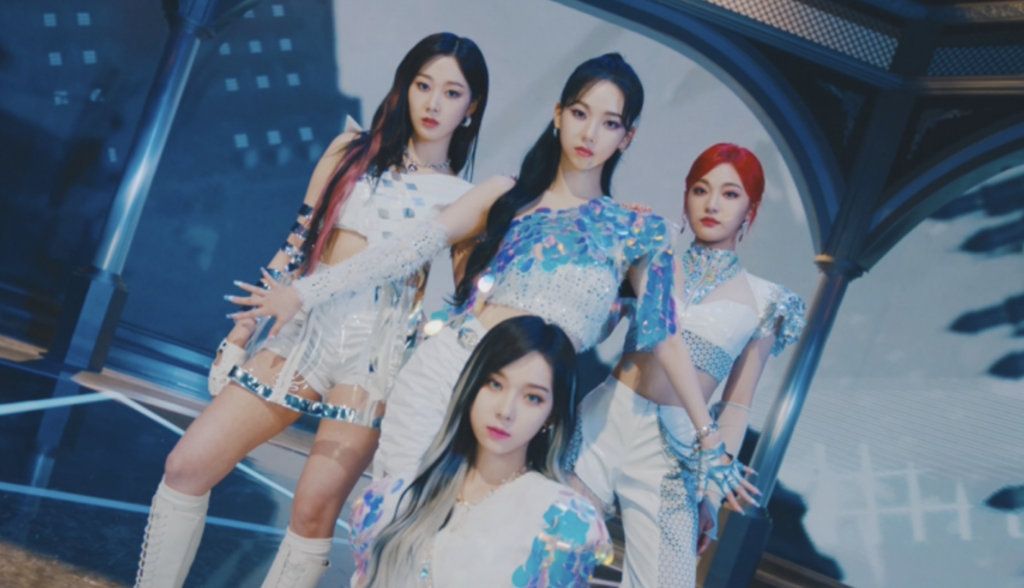 By Valerie Lopez | @valschwarie
Back with a bang, SM Entertainment's "global rookies" æspa dropped their single "Next Level" on May 17– their second comeback since their hot debut track "Black Mamba" and SM ballad "Forever." The four-member girl group— consisting of Karina, Giselle, Winter, and Ningning— returned to the music scene with a remake of "Next Level," a song from the original soundtrack of Fast & Furious Presents: Hobbs & Shaw (2019).
A Next Level Song Only æspa Can Do
Unlike their previous vocal-heavy releases "Black Mamba" and "Forever," æspa took on a classic hip-hop sound with their new single "Next Level," uncovering a different side of æspa and showing their versatility as artists. The members were able to showcase their never-before-seen rap skills and sassy sides through "Next Level." The lyrics of the track reference keywords from their concept, bragging that they are on a whole other level due to their strength and unity as a group. 
Midway through the song, Karina says "Beat drop, Nævis" and the song unexpectedly switches to sound like an R&B song. Not only is this transition unique, as most people expect beat drops to sound more intense, but Nævis in the æspa lore is the being who opens the portals for the various worlds. By calling Nævis, Karina indicates that æspa is entering a new world with an entirely new sound. This section of "Next Level" is most noticeable for Ningning's sweet singing and Winter's soulful, gritty voice. Karina and Giselle also displayed a different style of rap from what they previously have done.  
The song returns to the original flow after Karina says "æspa's next level open P.O.S," and calls the Black Mamba the "villain," a clever allusion to their storyline. Once the song continues with the original sound, æspa sing the unique "ooh ooh wee" and close out the song with one last "Next Level" chorus. 
A Cinematic Music Video
To accompany the unique track about conquering their enemies, æspa also made the video next level. CGI was used to create a futuristic space-like digital environment for æspa, expanding on their previous use of CGI for their past works. 
The video itself has a few noticeable settings. One place is a pod that looks like the inside of a spacecraft. In another scene, the outside of machines are shown racing forward. Previously in Karina and Giselle's images, they posed with sleek motorcycle-like machines, which seems to have teased the racing in the music video. The intergalactic space race gives the viewers the feeling of watching a mix between Star Wars and Fast & Furious— but with æspa's twist— a fitting visual to go with the song from the Fast & Furious franchise.
Other incredible settings include cityscapes and barren mountain environments. At another point, there is a detailed luminous CGI tree similar in style to the plants from the "Black Mamba" video. Throughout the video, there are also other references to the Black Mamba, with various CGI snakes appearing. At the R&B switch up, the members who are singing or rapping are switched out with their æ-æspa counterparts, who seem to seamlessly glitch in and out of the scenes. 
To match the incredible visuals of the music video, æspa's outfits are also otherworldly. They switch between white futuristic outfits, black pleather pieces, jean outfits, and more modern dresses. The diverse outfit choices fit the constantly changing scenes.
A Global Response
True to their status as monster rookies, æspa topped charts and social media trends with the single. The music video had 10 million views in eight hours on YouTube, and within 24 hours, the video had increased to 25.1 million views. In addition, "Next Level" topped the YouTube Music Videos Trending Worldwide chart and debuted at number two on the Worldwide iTunes Chart. On Korean charts Bugs and Genie, the song charted in the top five slots within an hour.  
On the first day of release, æspa had five trends in the top 10 worldwide trends on Twitter.
.@aespa_official 5 related Worldwide Trends:

#1 #aespaNextLevelUnlocked
#2 #에스파_넥스트레벨로_가보자고
#8 giselle
#9 ningning
#10 IGAB pic.twitter.com/VlTIHnpPxa

— SMTownEngSub (@SMTownEngSub) May 17, 2021
One of the trends was "IGAB" in reference to Girls Generations' song "I Got A Boy." Fans of the group were saying that "Next Level" is æspa's "I Got A Boy era." Both songs gave fans the same unique energy. "Next Level" has parts that sound like separate songs in a similar way "I Got A Boy" has sections that sound like separate songs.
In addition to gaining attention from MY, æspa's fandom, and from fans of other SM artists, "Next Level" received praise from the original singer and songwriter Aston, who gave the girls a shoutout on her personal Instagram!
View this post on Instagram
Next Level Teasers
Leading up to their first official comeback, æspa dropped a series of teasers, showing various sides of themselves. In the first set they dropped starting on May 6, the girls posed in epic video game-esque CGI sets inspired by the hit video game franchise Final Fantasy. The next set of teasers with the girls wearing denim outfits were more simple but held the same fierce aura. 
On May 15, the group dropped a 10-minute concept video titled, "æspa ep.1 'Black Mamba' – SM Culture Universe." The video broke down the story behind their debut track "Black Mamba," which leads up to their sequel, the "Next Level" single. 
All of the teasers appropriately hinted at the content of "Next Level," which alluded to æspa's concept through both imagery and lyrics.
Building Excitement for the Future
"Next Level" is just a sliver of everything æspa is able to do. Through the performance of this single, æspa was able to flaunt their top-tier vocals, rap, and dance, while also teasing their concept and acting skills. This single and all the content leading up to it are certainly building excitement and transitioning æspa into an even more grand release:  their next comeback. According to SM Entertainment, æspa will release their first album soon. æspa will surely take their upcoming music to the next level by building upon this epic tale and unveiling an entirely new side of æspa. 
Want more æspa? Check out our review of æspa's SM Culture Universe video here!
Thumbnail Courtesy of SM Entertainment