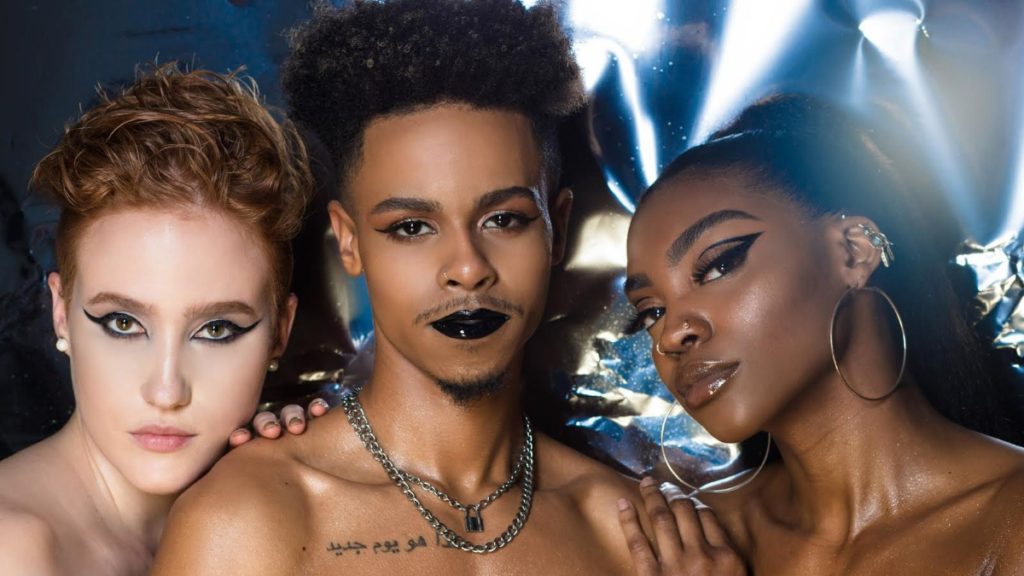 In 2022, diversity in beauty is still growing, and Haitian cosmetologist Francisca François is at the forefront of the movement. As the founder of Aeva Beauty, she gives creators of the darkest skin tones the tools to cultivate colorful and outstanding looks that were previously inaccessible. From multi-purpose highlighters in unique shades to lip glosses that suit every season of the year, Aeva Beauty provides what we all need to stand out, be loud, and live life without limitations. 
EnVi had the opportunity to speak with Francisca via Zoom to discuss how such an inclusive brand came to be and what it means to be a Black woman in the beauty industry.
Too Dark, Too Bold
Francisca was born in Haiti, but grew up in South Florida and has been in America for about 20 years. Unfortunately, as is the case with many Black girls growing up in the U.S., Francisca faced the realities of colorism at a young age. "I was 10, and I was being teased in school. In South Florida, there was this thing in the early-2000's where light-skin girls were the 'it' girls, and everyone else was just not it." Francisca, like countless other young girls, felt society deemed her unattractive for her dark skin. If darker-skinned individuals wore makeup, it could not be bright and bold, for it would only add to their unattractiveness. "Having been teased for my complexion and called names, it really got to me," she says. "So the first makeup product I used was eyeliner because it emphasized my eyes. It made me feel good."
Around this time, YouTube and Instagram became an easily accessible showroom for makeup artists to display their works for immediate public consumption. Young people were able to see how creative they can be with makeup. "After using eyeliner for some time, I started using glosses and eyeshadow little by little."
In a sense, the growth of social media became a bright light for those looking for inspiration. However, colorism still found its way onto these platforms and continued to dim the shine of women of color. "On Instagram [back then], there were women of color wearing different colors, but there was also this gray area where if you were to wear this bright color… It's too bold. Instagram used to be very cruel when it came to women of color, especially the different looks that we would create." 
Nonetheless, she pushed on and continued to create vibrant looks with the tools available, even if they weren't created with her shade in mind. "When it comes to beauty there are no limitations, the only thing holding us back is what society says we should and shouldn't wear."
Overcoming Obstacles
While facing the heaviness of colorism, Francisca notes the lack of positivity in her life growing up. She found herself questioning her purpose in a society that would simply overlook her. "I had to literally find inspiration for myself… You're at a young age, you're a teenager, and that's when you need the positivity of other women around you."
It was at this time of self-discovery that she looked up to her teachers, for they were strong and motivational, and with their assistance made her feel ready for cosmetology school. To further aid in her growth, Francisca was taught by a Black educator who she resonated with. "She was not only strict with us, but she did it in a way of love because she really wanted us to grow. Having people like her around really helped me grow… If I didn't have them, I don't know where I would be." 
After cosmetology school, she started working behind the counter for companies in the beauty industry. It gave her a front and center view into a world that still did not have the tools necessary for people of color. The problem was easy to see, but not so easy to fix. Brands like Fenty Beauty have jump started a change in the industry to benefit people of color and urged all makeup artists and enthusiasts to stand up for what's right. With Black women coming together for this fight for inclusivity, Francisca is becoming the voice for many looking for accessibility as well. 
"The biggest improvement I've seen is women of color taking a stand and not taking 'no' for an answer, not settling for what society says we should and shouldn't be doing, especially when it comes to product ranges," she says. "We're saying we need to see the representations for ourselves, or we're letting them see the consequences of leaving us out completely."
What started as an effort to fix Francisca's personal issue grew into a movement to create a brand with a diverse range of products for every skin color. "Regardless of what you pick out from my brand, it will look good on all complexions, because that was something that I struggled with." 
Laying Down the Foundation
Aided by passion and will, Francisca decided to create an inclusive beauty brand from scratch. However, even with 8-10 years of experience in the cosmetics industry under her belt, she found hindrances in all directions. "One thing I've experienced [with my brand] is that not only do I have to work harder because I am a woman, I have to work harder because I am Black and a child of an immigrant."
What may be acceptable expectations for those with certain privileges in America, would not be acceptable if done by Francisca. "I have to be five steps ahead of the bare minimum." This is a reality that we see for those of many communities, whether they be based on race, age, ability, gender, and more. 
A harsh reality for Francisca to face was just how inaccessible resources in the business realm were, as it wasn't created for people of color. Aeva Beauty is self-funded in every sense as she had to put her own money, time, and energy into creating it. "When I was first starting my brand, I didn't have those resources [showing] how to do different things. I literally had to learn all that [marketing] education myself. And of course, we had YouTube and webinars from other businesses, but just being a Black woman with limited resources, it does hinder the growth of my brand."
She essentially had to create her own lane, and start from the ground up with the little that she had. Meanwhile, a lane has already been created for those of different backgrounds, giving them easier access to business ventures and thus allowing them to grow financially in half the time it takes for a Black-owned business. Statistically, this has been proven true. In August 2020, a study found about 58 percent of Black-owned businesses were at risk of financial distress before the Covid pandemic, compared with about 27 percent of white-owned businesses. But even with the odds stacked up against Francisca, she was able to push through for her beliefs, never forgetting why she was self-educating herself on business topics in the first place. With her inspirational drive, Aeva was officially founded in 2018 and has been experiencing noteworthy growth since, having been featured in Vogue and Fashionista.
Multi-purpose Highlighters for All
Highlighters of non-traditional shades grew in popularity following the introduction of the viral rainbow highlighter in 2016, and Francisca wanted to ensure that people of all shades were included. This prompted the creation of multi-purpose highlighters. While these may be what Aeva Beauty is recognized for today, they were not the first product created. For its founding year, Francisca created a highlighter that would simply complement her skin tone. "Back then, I was very limited to my options when it came to highlighters. I had to use eye shadow for the longest. I was like, 'I'm seeing all these girls wear highlighters, the ones that match their skin tone, but there's just not a great shade for women of color.'" This realization is what prompted the creation of Aeva Beauty's first highlighter, Golden Hour, which would go on to become a best-seller. Women of all colors told Francisca that "they had never used a highlighter so suitable for their skin before this one."
After the launch of the highlighter, Francisca returned to her roots with color and decided to experiment. She posed the question of whether or not colorful highlighters would suit darker skin tones, and if not, how she could make it so that they did. Pink Persuasion was the next highlighter to be produced. "This highlighter is an iridescent purple highlighter that is very unique within itself. You can put it on the eyes, you can put it on the face, and that's one of the things that helped me create our multi-purpose highlighters," she elaborated. "When I first [tested its versatility], I did it as a prototype just to see how people would like it, and they really loved the purple highlighter. They had never seen it before."
Emphasizing on her belief that makeup should be enjoyed for the endless possibilities allowed, Francisca launched the Aurora collection, a Spring highlighter collection featuring five iridescent highlighters. "When it comes to beauty, you should be able to create what you want, how you want without any limitations. That's when I expanded to create some more fun highlighter shades." Aeva Beauty provides 21 affordable highlighters so everyone finds their perfect match for every day looks or fun creations.
"[Women of color] were always seeing [people] of lighter skin tones wearing crazy colors and thinking, 'how would that look on me?'" she says. "I wanted to change that narrative because why does it matter how it's gonna look on you? If you want to try it, just try it. It's about breaking the stigma of 'Black women can't wear purple highlighters.' Says who? Just wear it." Colors should be enjoyed by all for the sheer fact that they look unique on every skin tone.
Affordability, Accessibility
What further sets Aeva Beauty apart is the brand's considerability for the average makeup enjoyer's expendability. Francisca wants people of color to be able to enjoy products suited for their skin tones without having to break their budgets. When creating Aeva Beauty, she posed a question: If beauty products are accessible for those with lighter skin tones, why shouldn't they be for those of darker skin tones? At Aeva Beauty, you'll find that these unique highlighters are $15 and can be purchased online by U.S. and international shoppers. The bargains don't just end there. All products under the Aeva Beauty brand are both 100% cruelty-free and high-quality.
Complexion Palettes
Francisca loves all of her products, but her personal favorites include the My Perfect Match Complexion palettes. These palettes come in three complexions: light, medium, and deep, and consist of blush, highlighter, and contour/bronzer, making them the perfect all-in-one face palettes. "One of the purposes for creating that palette was because I never could find something to contour with," she admits.
Makeup brands have neglected to create these shades over the years, sometimes leaving only eyeshadows as a contour option. With the My Perfect Match palettes, everyone can find a color that suits their skin and accentuates their face. The best part? The pressed-powder palettes are between $40 to $50, making them an affordable single product with multiple uses. Instead of spending money on each of these four face products, any person of any shade can enjoy a palette that has it all for one price.
Your Lips But Better
Another favorite of Francisca's is Mocha, a lip gloss from her Your Lips But Better line that is a true nude. The chocolatey shade accentuates the skin color of anyone wearing it. Glass is a clear lip shade that is available for those looking to just bring out their natural lip color. Looking for a rosy or pink shade? Aeva Beauty also has Coral, a rosy, nude shade, and Amber, a posh shade. All glosses from this line are about $18. On top of their creamy formulas and full coverage capabilities, they are infused with Shea butter to nourish and hydrate lips throughout the day. 
Feline Eyes
Maybe you're all glossed-out and simply need something to accent your eyes or a good tool to help master the graphic liner trend. Aeva Beauty's staple eyeliner pen, FE LNR, is a black matte liner with a flexible tip for easy application. The waterproof liner lasts up to 12 hours and costs $15, making it an affordable and easy option for beginners. The liner is all the rave online, one user stating "I love the pen tip application, it lasted me months, and honestly I've forgotten to take it off before a shower several times and it didn't budge!"
What's Next
Aeva Beauty has become a front-runner for colored highlighters, mastering suitable formulas and universal colors. Now, Francisca and her team are working on eyeshadow palettes for every type of makeup. The community has been asking for "a staple palette for soft-glam, natural, and just a palette that you can grab to create any type of look."
In addition to these palettes, makeup enjoyers can also look forward to colorful liners from the brand as they stick to their mission to make products that will bring out all skin tones. This is what keeps Aeva Beauty a personal brand adored by many. "We are a brand that's built in our community, so all the products we create are kept with our communities in mind… they're very outspoken, they tell us what they do or don't like. So when it comes to the creation of a new product, we ask 'what are the issues that you are having with this? What would you like to see more of and why?'"
Diverse communities can look forward to having their voices heard so Aeva Beauty may continue to formulate products that actually work. As Francisca states, "[We make] sure it's inclusive. If I know it won't work for everyone, I won't launch it." Releasing products that are not dedicated to a range of individuals would go against the brand's mission.
While the products are available online, Francisca does have the goal to be in stores like Sephora and Ulta. This would make Aeva Beauty the first Haitian-owned brand to be in these stores. Representation like this would force the doors open for not just women of color, but for immigrants in the U.S. as well, inspiring others to push forward and create brands that help their communities.
On a personal level, Francisca seeks to help women of color also looking to launch their businesses. By providing insight into her journey, she can help those that also do not have resources. "This year, I'm big on sharing my journey when it comes to my business and helping other business owners out there take the same steps of just going for it, and using the knowledge that I've gained over the last five years to teach other people." She provides this information on her YouTube channel and her podcast, SHE.E.O, so everyone having difficulty with businesses or finding a place in it can have access to essential information for little to no cost.
Remembering Your Why
When embarking on any journey in life, Francisca finds it important to remember your "why." Why did you start this? Why are you still going? What problem are you solving? As Francisca explains, "Even when we have our little failures, what keeps me going is my 'why.' Why I started it, why I'm doing it and what problem am I solving."
Her "why" is to create a brand that provides a diverse market, one brand at a time, while also being inclusive for all because it is created by the community, for the community. In a saturated industry, it is difficult to stand out, but this "why" is what sets Aeva Beauty apart, but also keeps Francisca and her team motivated. "You don't have to have a passion for the product, but have your "why" and [know] what you're trying to solve, so when hard times come in, you'll want to keep going."
For those who need beauty tips, Francisca has some handy ones. It can be easy to stick to mauve and nude colors for makeup. However, Francisca urges that makeup users try out colors and see how differently they shine. "You never know what something looks like on you until you try it. It's just like when you need to buy a dress for a special occasion, you go to the mall and clothing stores to try [dresses] on. You might love it or you might hate it, but when it comes to color, it's unique within yourself. When we wear color, it shines differently, it's vibrant and acts as our complexions. So just go for it, you literally have nothing to lose." 
After experiencing a childhood of being told "no" when it comes to wearing bright colors simply because of her skin color, Francisca doesn't hold back. She's helping other people of color to also break society's expectations by enjoying a colorful world of makeup right at their fingertips. Follow Aeva Beauty on Instagram and shop at their official website!
Looking for more beauty products? Check out our list of beauty brands made by women of color here!