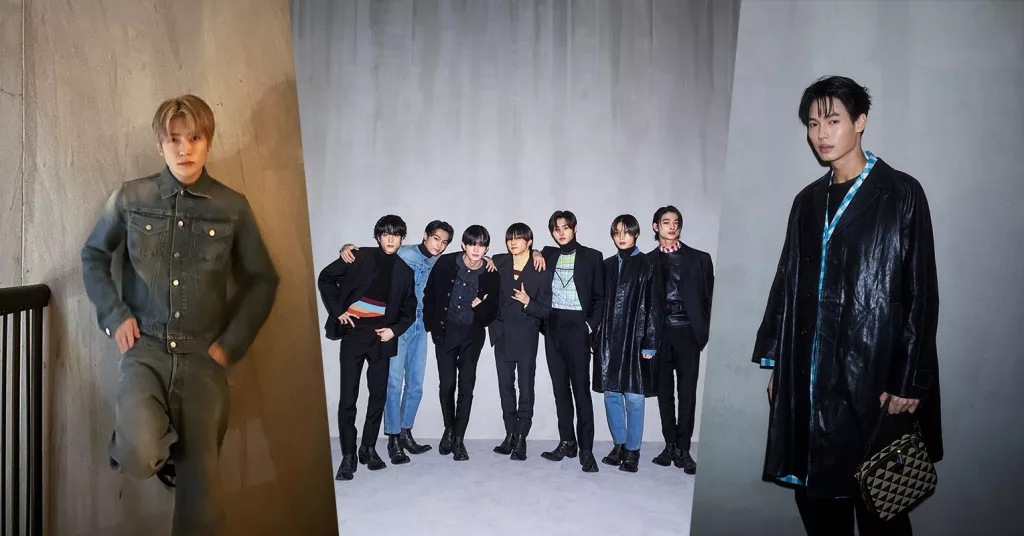 After topping Lyst's most recent quarterly report, Prada is officially the hottest brand in the world. According to the fashion technology company, the Italian luxury house moved to the top spot of the Lyst Index with searches up 37% in the last quarter of 2022. In addition to noteworthy associations and trendy catwalks, Prada has been creating a buzz with its most recent moves. From a star-studded Spring Summer campaign to a scene-stealer front row during Milan Fashion Week, here's a recap of everything we loved about Prada in January 2023. 
A Star-Studded Spring Summer 2023 Campaign 
Spring Summer campaigns are rolling out and Prada went all out for the upcoming season. On January 10, the Italian luxury brand revealed its SS23 campaign, which features a spectacular lineup of stars. Vincent Cassel, NCT's Jaehyun, Louis Partridge, Hunter Schafer, and Letitia Wright took center stage in a campaign lensed by Prada's long-time collaborator, David Sims. 
View this post on Instagram
Unfolding in the same universe as Nicolas Winding Refn's Touch of Crude film, the campaign explores divergent stories through glimpses of scenes from an unknown script that combines classic elements of Hollywood and European movies. "The campaign further evolves this ongoing interrelationship, fashion photography echoing the language of cinematography, a fusion of creative ideologies that is fundamentally Prada," wrote the brand in a press release.
A Thai Darling Joins The Family Ranks
It is not a secret that Thai celebrities are quickly becoming the new it fashion stars. From local events to the front rows of international Fashion Weeks, these super stylish celebs have enticed the industry. Prada has been no exception and in one of their first major communication moves in 2023, the Italian brand announced the appointment of Thai icon, Win Metawin, as brand ambassador. 
View this post on Instagram
Though the news didn't come up as a surprise to anyone who's followed the actor's career, the appointment sealed a long-time and well-documented friendship with Prada. Now, Win Metawin is part of an exclusive group of stars representing the Italian fashion brand — a group that includes the likes of Hunter Schafer and Vincent Cassel nonetheless.
A Roof-Raising FW23 Men's Collection 
Aptly titled "Let's Talk About Clothes," Prada's Fall Winter 2023 men's collection explored the fundamentals of fashion. Reinterpreting and modernizing the classics with a Prada signature, co-creative directors Miuccia Prada and Raf Simons presented a selection of looks that heavily relied on tailoring but offered a twist through clever and unusual fabric and silhouette choices. 
View this post on Instagram
But perhaps, the spirit of the collection was better embodied by the set design. Conceived by AMO, at Fondazione Prada, the space was reengineered to add a rising ceiling that altered the scale of the runway. "This process echoes the garments themselves, elongated or abbreviated. They demonstrate a reconstruction of meaning, of identity, activated through a minimal gesture," Prada explained.
A Scene-Stealer Front Row 
Further establishing its status as the hottest brand of 2022, Prada hosted the show with the hottest front row of Milan Men's Fashion Week. Attended by industry insiders, celebrities, and fashion power players, the event drew large crowds outside Fondazione Prada. It was, however, the presence of Thai star Win Metawin and K-pop group ENHYPEN that was largely to thank for the fan frenzy. 
View this post on Instagram
Dressed in items from the SS23 collection "Prada Choices," the popular stars stole the spotlight upon their arrival and set the internet ablaze when their fans took to the Internet to praise their looks. Win Metawin, who's Prada's newest ambassador, rubbed shoulders with Miuccia Prada and documented his encounter with Prada's co-creative designer on Instagram. On the other hand, ENHYPEN made a color-coordinated front-row debut with black and denim outfits that fans couldn't stop gushing about. 
A Powerful Digital Front Row
Despite fully returning to physical front rows, the fashion world continues to tap into celebrity and influencer social media posts to promote fashion shows. At Prada, this digital front row is always a star-studded affair so the presentation of its latest collection did not disappoint. 
View this post on Instagram
According to the influencer marketing platform Lefty, Asian stars dominated the list of Top Influencers during Milan Men's Fashion Week. While some of those celebrities were in attendance at shows, the likes of Prada ambassador Jeong Jaehyun, actor Song Kang and TWICE's member Sana brought high engagement for Prada without even being present. Jaehyun, in particular, gathered $4.5 million of Earned Media Value for the brand after taking to Instagram to share a full denim look. 
More To Look Forward To
Last December, Prada Group announced that the businessman Andrea Guerra would be recommended as Chief Executive Officer at the board meeting of Prada S.p.A., held on January 26. While the same press release confirmed that Miuccia Prada would continue to oversee the creative direction of Miu Miu and Prada — alongside Raf Simons — the announcement opened a new chapter for the Italian brand, which has slowly started to transition into new leadership. 
With plans of  Lorenzo Bertelli — Miuccia Prada's son — eventually taking the helm of Prada Group, business, and fashion insiders look forward to the Italian brand's moves in the upcoming months. However, as things are, Prada is set to continue making numerous rounds in the world of fashion, as the world's hottest brand.
Interested in fashion? Check out how Asian stars are leaving an imprint in the world of luxury fashion here.