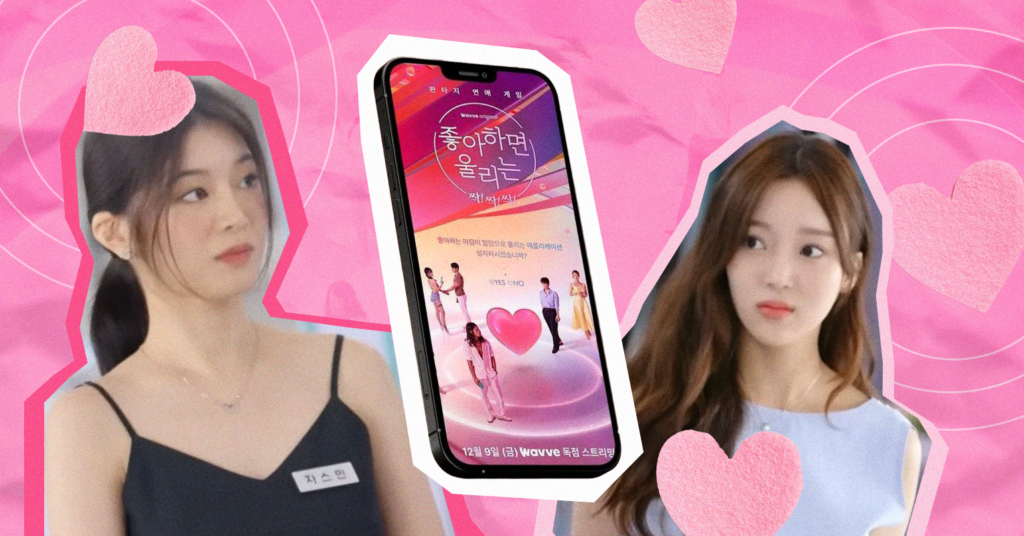 The hottest variety trend is stirring in romance with K-dating shows that are quickly gaining virality for bold romantic endeavors, cringy flirting moves, and real life plot twists. Riding the ongoing wave of Single's Inferno Season 2's (2022) booming success, Love Alarm Clap! Clap! Clap! (2022) is the latest K-dating variety show going viral for all the right reasons—one being that it has given us the dating representation that we need!
Based on the idea of an app that is designed to let people in close proximity know if they like each other, eight participants partake in this tech-savvy social experiment game to win the game of love with a bonus cash prize. Having popular hosts Hong Seok Cheon, Chuu, Jung Jin-young, and Lee Eun-ji weave in sweet and fiery commentary, the show is sure to stir up some romantic passion within viewers. With the last episode releasing on January 27, this new dating show is the perfect addition to your to watch list.
#lovealarmclapclapclap
Love Alarm Clap! Clap! Clap! is inspired by the webtoon Love Alarm (2014), with Netflix releasing its drama adaptation in 2019. Authored by Cheon Kye-young, the world of Love Alarm is developed around an app that rings an individual if a person they like steps within a ten meter radius of them. Akin to Tinder with a dystopian twist, the Love Alarm app is intended to make romance efficient and accessible as a considerably less risky version of initially pursuing someone. Using this as the main concept for the show, the love alarm aspect adds on to the excitement of watching the participants attempt to fall in love. With love on the line, Love Alarm Clap! Clap! Clap! makes the romance game a little more complicated—incentivizing contestants by granting a cash prize for the person who accumulates the most hearts through the app.
Adding tension to the romantic field, Love Alarm Clap! Clap! Clap! takes a page from Single's Inferno by eliminating the use of personal information that may alter first impressions. Participants are required to utilize nicknames for each other and are forbidden to ask each other questions about their jobs, age, or educational background. With 4 male contestants—Deer, Tarzan, Tinkerbell, and Ahn Saeroi—and 4 female contestants—White Rose, Jasmine, Gumiho, and Cha Cha, the eight-person cast is filled with diverse individuals. With the rise of Korean LGBTQ+ shows like Merry Queer (2022) and His Man (2022), Love Alarm Clap! Clap! Clap! brings in participants with different sexual orientations. In the first episode, Tinkerbell surprised viewers with his cute personality, leading viewers into thinking that he liked Jasmine, but instead expressing interest in Deer.
As South Korea's current legal system still does not acknowledge same-sex relationships, there are no present laws designed to protect LGBTQ+ communities from discrimination. With dating shows becoming a way of bringing in more public support against higher government and societal norms, the increasing influx of LGBTQ+ community member appearances through media is a method of normalizing queer communities in South Korea. By shattering the stigma of LGBTQ+ representation in media, particularly on broadcasted TV, positive public attention and non-discriminatory imagery could be a huge step in moving towards legal and social equality.
#wlw
In a wild moment that had Episode 11 change a love triangle to a love square, cast members Jasmine and White Rose have dominated the #wlw hashtag that has been trending on TikTok and Twitter. Previously in Episode 10, Jasmine expressed that she does find girls like WONYOUNG from IVE pretty. When it came to showing her love, Jasmine expressed her feelings subtly through actions, stating that "just by taking care of [White Rose] or helping her out… I want to ring White Rose's alarm daily." With Jasmine's confession to White Rose in Episode 11, viewers were left shocked at her romantic ploy—leaving behind Deer and Tinkerbell in attempts to get cozy with White Rose. With the last episode set to release, White Rose's response to Jasmine's pursuit has many viewers hoping for a happy ending.
Likewise, Gumiho openly expressed that she was bisexual in her introduction. When asked if she is "open to dating women," she answered "yes" confidently with a bright smile and followed it up with "as long as the other woman isn't uncomfortable with it, I would be happy to date them."
#lovegame
With a strong psychological game infused in the romantic game, new rules and games are implemented in the show to spice things up. Allowed to send a single anonymous message to an individual per day, contestants are encouraged to use both their mind and heart to their advantage. So, is this a run for money or a run towards finding real love? As the audience gets reeled into the situationships and complicated love triangles, the dating show gets more exciting as the finale nears. With unanswered questions and a heart-wrenching cliffhanger, make sure to tune in for the last episode of Love Alarm Clap! Clap! Clap! on January 27 through wavve.
Want to read more about K-dating variety shows? Check out our article on Soulmates in Seoul here!