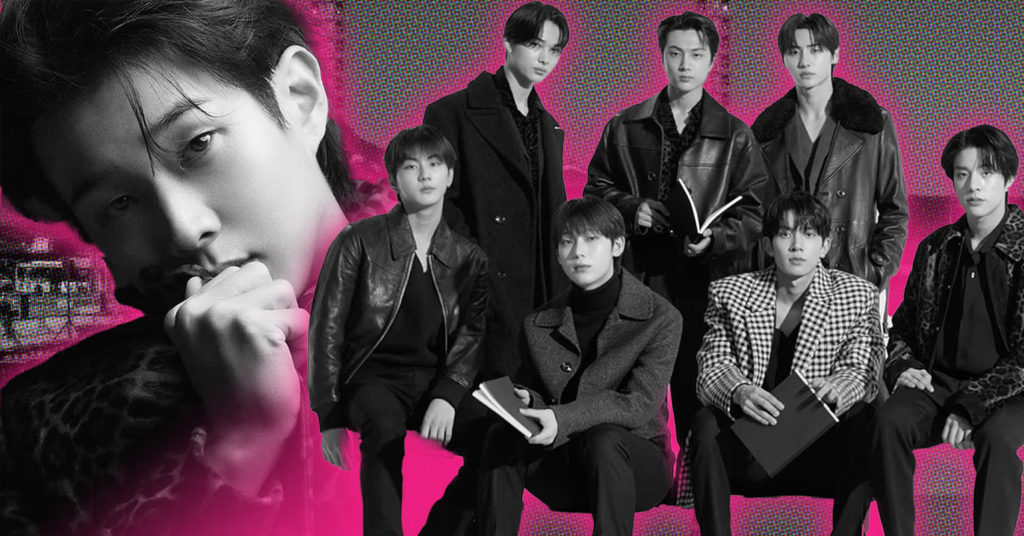 Amidst Seoul Fashion Week, French fashion brand AMI staged its first international fashion show since the outbreak of the COVID-19 pandemic. The brand hosted its presentation in the Gwanghwamun Square of Seoul, a cultural landmark located in front of the Gyeongbokgung Palace. The area that was once known historically as the site of royal administrative offices was transformed into a perfectly sleek and lustrous catwalk. In attendance were some of South Korea's biggest stars including SEVENTEEN's Jun and THE8, Lee Hi, and (G)I-DLE's Soyeon.
The Show
First revealed in Paris during men's Fashion Week in June, AMI reprised its Spring/Summer 2023 collection for a special show in Seoul, South Korea. The original runway garnered quite the buzz as the first show to take place at the Basilica of Sacré Coeur in Montmartre. The massive media coverage and cleverly chosen invitees allowed AMI to generate an Earned Media Value (EMV) of $5.4M, solidifying their place as one of the top ten brands in the SS23 Menswear season.
The collection itself was centered around the brand's signature cool Parisian aesthetic and effortlessly chic vibe. This collection included various preppy looks featuring crisply tailored outerwear, a variety of argyle and striped knitwear, touches of leather and a pop of gingham.
Regarding the destination show, Alexandre Mattiussi, AMI's creative director shared, "Seoul and South Korea are very much a part of our extended f.AMI.ly. I will never forget the warmth with which our Korean friends have welcomed us when we first started, how quickly they have embraced AMI, its Parisian spirit and codes. […] This show is a way to thank our Korean friends for their fidelity."
The Attendants
With strong ties to South Korea and the entertainment scene, AMI's front row was a star-studded affair. From international names such as Élite actor Manu Rios and TikTok star Vinnie Hacker, to South Korean icons from the screens and music industry, the show was a parade of celebrities. Among the attendants were actors Park Hae-soo, Yoon Kye-sang, Park Ji-hu, and Hwang In Youp, who wore a full-length coat with an AMI varsity sweater underneath.
K-pop idols such as THE8, Jun, Soyeon, Sooyoung, and Lee Hi were also present. SEVENTEEN's THE8 showed up clad in a brown coat from AMI's FW22 collection paired with a black two-piece suit while Jun dressed in a wool coat on top of a printed button-up and leather pants. (G)I-DLE's Soyeon strutted into the event in a cutout white dress glamorously styled with a matching fur coat. Meanwhile, songstress Lee Hi (a long-term friend of the house) used a bandeau top layered with an orange button-up and oversized blazer.
The Ambassadors
AMI has long been tapping into the power of South Korean stars. Last year, the brand appointed K-pop group ENHYPEN as their first-ever house ambassadors. Since then, the band has collaborated on different projects with the French brand. For instance, ahead of AMI's runway in Seoul, ENHYPEN participated in a promotional video, anticipating the show.
View this post on Instagram
Additionally, for the coveted event, AMI introduced Parasite (2019) actor Choi Woo-shik as a Global House Ambassador. As per AMI, The partnership between the brand and the Korean star — also known for his roles in Our Beloved Summer (2022), and Train to Busan (2016) — marks "a new step toward strengthening [the] friendship between Paris and Seoul."
AMI's Founder and creative director added in a press release, "I am proud and delighted to welcome Wooshik Choi as AMI's ambassador. He's an exceptional actor, with a unique ability to bring a wide variety of characters to life. I look forward to collaborating with him in the coming months." Choi Woo-shik echoed Alexandre Mattiussi's words anticipating that they "have already discussed some exciting upcoming projects."
View this post on Instagram
The Store
AMI's first destination runway and Choi Woo-shik's appointment as House Ambassador follow the opening of AMI's biggest flagship store in the world. Last September, the Parisian brand inaugurated a four-floor store in Garogu-sil, one of the leading shopping districts of Seoul. The 300-square-meter space is filled with various shopping experiences, offering menswear, womenswear and accessories.
View this post on Instagram
The Market
With all the activations taking place in Seoul, it is abundantly clear that South Korea is a relevant market for AMI. The brand's CEO, Nicolas Santi-Weil explained the importance of the Asian country in their expansion plans. "It's a major step for us, given the importance of Korea in our business. But, it's beyond numbers, because of Korea's soft power. We have been looking at the market since the beginning — they are trendsetters," he said.
View this post on Instagram
Santi-Weil also noted that South Koreans were early adopters of the brand. In fact, before AMI even ventured into womenswear, more than 40% of its loyal customers were women. Now that the brand has expanded its product range, the brand plans to continue fortifying its presence in Korea. There are already upcoming store openings in the works.
With South Korea rising as one of the largest commercial hubs in Asia, AMI is not the only brand betting big on the country. Brands like Dior have previously presented special fashion shows in Seoul.
Interested? You can read everything about Dior's journey into the hearts of South Koreans here.