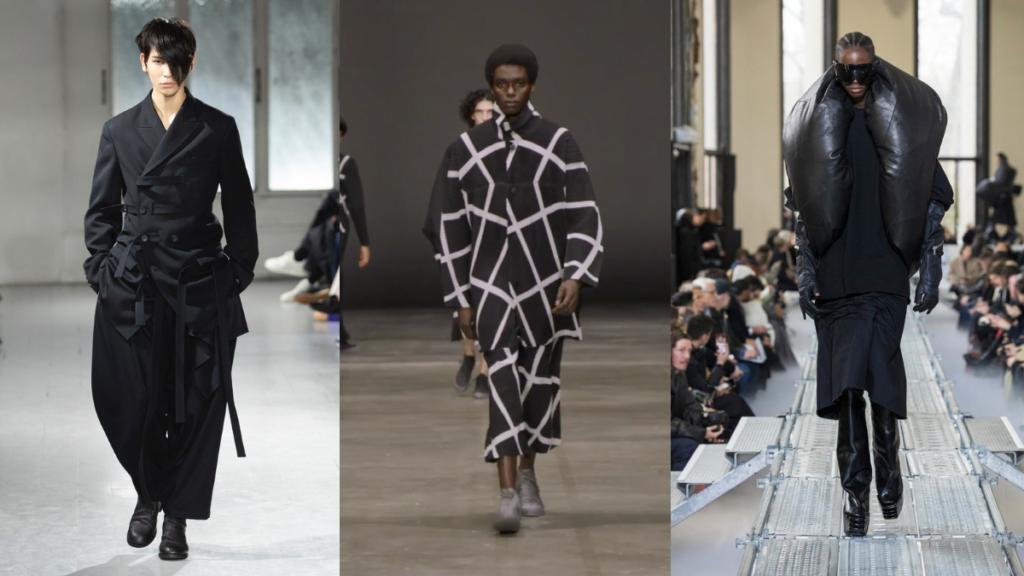 Paris Men's Fashion Week is in full swing, drawing the eyes of fashion lovers around the world. On January 19, Yohji Yamamoto, Issey Miyake, and Rick Owens presented their Fall/Winter 2023 menswear collections. Read on for the must-have details.
Yohji Yamamoto
Tokyo-born Yohji Yamamoto is recognized for his avant-garde approach to fashion, which often comprises oversized silhouettes and loose-fitting clothing. His Fall Winter 2023 collection — dominated by dark, brooding colors — was no different. Staying true to his image, Yamamoto created a cozy, yet elegant line that played with various textures. To contrast the sleek, sharply cinched waistline of one blazer, for example, he introduced a series of vintage color schemes and prints, some of which resembled a steampunk visual. Though not overly bright, Yamamoto's collection was certainly not devoid of color. The darker hues he selected added depth and complexity to the layered outfits, embodying an adventurous winter closet.
Issey Miyake Homme Plissé
The late Issey Miyake established his presence in the fashion world through his use of architectural shapes and movement. Perhaps most notably, Miyake is admired for the pleating techniques he incorporated into collections starting in the early 1990s and his unabashed approach to creating change within the industry. Creative designer Satoshi Kondo continued to build on Miyake's legacy with the brand's FW23 collection, which featured bold colors and, of course, Miyake's iconic pleats. The collection contained a range of pieces suitable for both freezing-cold and just-breezy conditions.
Rick Owens
Fashion's Lord of Darkness Rick Owens returned to the runway with another gothic collection. This time, Owens also drew inspiration from Victorian silhouettes, with accentuated shoulders and defined waists that made for notable looks. Also dabbling on the other end of the spectrum, Owens introduced dramatically oversized pieces, including padded accessories he referred to as "duvet donuts." Statement boots and various leather gloves completed Owens' classic aesthetic. Tyrone Dylan, who regularly opens Owens' shows, once again led the charge for the new collection.
Paris Fashion Week is home to some of fashion's most provocative, innovative, and buzz-worthy collections. With four more days of runway shows in store, the industry looks forward to seeing what the runways hold for 2023.
Want to read more about Paris Men's Fashion Week? Read about Louis Vuitton's Fall Winter 23 collection here!