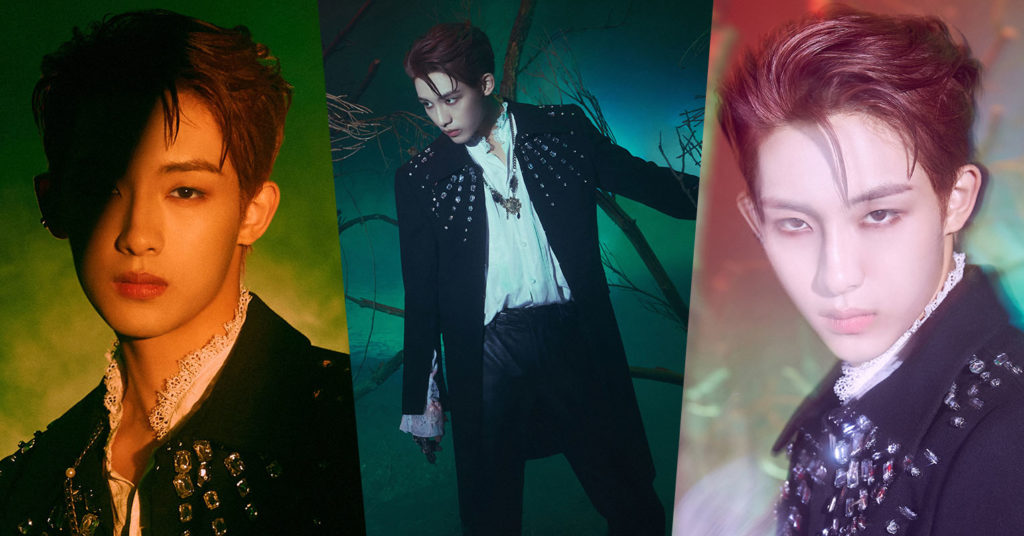 On December 28, 2022, WayV returned with their fourth mini-album, Phantom. After nearly two years of sub-unit, solo, and related projects, the group reunited to showcase their talents once again. To celebrate the new comeback, EnVi has put together seven facts about Winwin to familiarize new fans with him.
Traditional Chinese Dance and Performance Major
Winwin, real name Dong Sicheng, was born on October 28, 1997 in Wenzhou, Zhejiang. Though Winwin is the lead dancer in WayV, he has an extensive background in traditional Chinese dance. In 2015, Winwin was accepted at the Central Academy of Drama, where he majored in performance and acting. He ranked 10th among over thousands of other students who took the entrance exam.
As seen through NCT and WayV contents such as SM_NCT# 3. 7th Sense and Rainbow V, his dance background serves as a graceful touch to his career as an idol. In 2016, he was introduced as an SM Rookie with less than 6 months of training and showcased his traditional Chinese dance skills to a snippet of "The 7th Sense."
Variety Shows and C-dramas
In WayV's Dream Launch Plan in 2019, Winwin expressed his desire to showcase his acting skills in the future. A few years later, WayZenNis (fans of WayV) will finally get to witness Winwin's talent in his upcoming dramas 25 Hours of Love and Ru Yue.
Aside from dramas, Winwin has also starred in several variety shows during his time in China. These shows include Star Chaser Season 2, The Summer Talk, and Keep Running. Starring as both a returning cast member and guest, Winwin shows his variety skills with each appearance. Though he is known as a more reserved member in WayV, he proudly participated in outdoor activities from water sports to camping with his co-stars.
A fan-favorite of Winwin's appearances would be in an episode of My Brilliant Master (2019). Along with four Chinese artists, he participates in the search to establish an optimistic outlook on life. The show outlines the artists coming together from different professional fields and overcoming their differences. Winwin also participated in an original soundtrack titled "My Brilliant Master" accompanied by a music video. Throughout the montage, we see each member bring a smile to the elders through tasks such as eating, shopping, and performing.
Princess Birthday Party
Dressing up as elegant Disney princesses for Winwin's birthday, WayV created a "Bad Alive" Princess Version dance practice. Followed by a princess-themed dinner, each member dressed as a different character, while Winwin remained as the birthday celebrant. The rest of the members were acting as their given characters and carried out conversations that reflected each plot line. Though it is unknown who proposed the idea, Winwin seamlessly got into his role as "Winderella."  
High Fashion Muse
Throughout his career in both China and South Korea, Winwin has paired up with many high fashion brands as an ambassador. Notably, he has geared up with brands such as Longines, Valentino, Gentle Monster, Jimmy Choo, and Bottega Venta. Although spotted in different styles and brands on his Instagram account, Winwin described his sense of fashion as simple with a "white t-shirt, outerwear, and small accessories." 
Alongside his individual brand deals, he also teamed up with fellow WayV member Ten to become an official brand ambassador of Charlotte Tilbury in China. In comparison to his monotonous fashion style which incorporates many gray tones, these brand deals have given Winwin new looks to experiment with. While venturing into acting and fashion in China, Winwin established his own studio for his activities overseas on September 30, 2021. However, SM Entertainment confirmed that Winwin will be continuing on as a member of WayV moving forward as well. 
WINformation and WayV-logs
Introducing other WayV members' charms in his own way, Winwin hosts his own YouTube variety show titled WINformation. With each member, he engages in several activities such as basketball with YangYang, cooking with Kun, and arm-wrestling with Xiaojun. Winwin's effortless humor is visible through his MBTI test, banter with Hendery over being "prince-like," and the flexibility battle against Ten. WINformation aimed to familiarize audiences with Winwin's dynamics with each member.
During the last two years in China, Winwin filmed many WayV-logs that documented his activities. Beginning with his quarantine series, WayZenNis caught a glimpse into Winwin's day-to-day lifestyle. From impulsively cutting his bangs to working out, he shared key points of the necessary quarantine. Later on, Winwin's night walks, glamping episodes, and sports vlogs were met with great support from WayZenNis as he continued to share his experiences. His love for nature, reading, and quiet activities was showcased through each vlog as audiences were better familiarized with his favorite pastimes.
Chased Down by the Company
Similar to many of his peers, Winwin's SM Entertainment casting story does not differ from most. Afraid of the casting agents outside his high school campus, Winwin intentionally gave the wrong phone number to staff members in 2013. However, the company did not give up on recruiting Winwin into the company. After two years of continuous offers, Winwin finally gave in to an audition. In the WayV-log Turn Back Time with Winwin, he showed fans where he was scouted and reminisced on the events that unfolded. "At the time, I thought I was just an ordinary middle school student," he said when looking back at the spot he was casted. 
Winwin's talents are vastly spread throughout the group's discography. His positions in the group are lead dancer, sub-rapper, and sub-vocalist. His raspy vocal timbre remains a key component to WayV's music in songs such as "King of Hearts," "Good Time" and "Let Me Love You."
Fear of Bugs
In the seventh episode of WayV's variety show Dream Plan, all WayV members were served insects for dinner, but Winwin was quick to turn down his plate. In an earlier episode, Winwin was fearful of the bugs while working out in the farms to collect fruit as well. Overall, Winwin's immense fear of bugs was on display throughout the outdoor-based variety show.
To keep updated with the comeback, don't forget to follow WayV on Twitter and Instagram.
Want more WayV content? Check out our piece with 7 Things About Ten here!