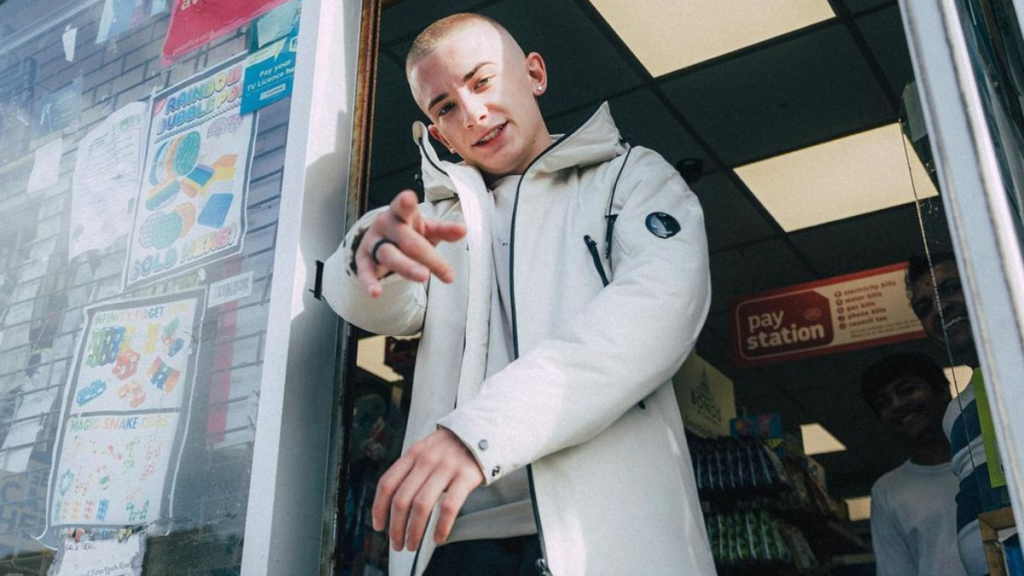 On March 18, British rapper Riley Davies, best known as ArrDee, released his first mixtape, Pier Pressure. It consists of 14 tracks, a mixture of previously released singles, and some new songs. To celebrate the release, he held a virtual press conference, where he spoke to journalists about the details.
ArrDee was very relaxed throughout the conference, appearing in a black hoodie and casually twisting in his chair. The 19-year-old has only been releasing his music since 2021 but has already gained a large following due to his energetic tracks and cheeky mannerisms. However, ArrDee clearly has little to hide as he answered every question honestly, making an effort to connect with the attendees. 
Pier Pressure
ArrDee was born and raised in Brighton, UK–a town known for its wide cultural spread–and this makes up a large part of his identity. This is evident with videos for past tracks such as "6am in Brighton" and "Oliver Twist," filmed on the Brighton seafront. Additionally, ArrDee reminds his fans where he's from yet again, with the mixtape's name taking inspiration from the Brighton Pier.
When describing the mixtape, ArrDee explained it was very personal. It was a medium where he wanted to "unveil more layers to himself not only as an artist but as a person" to listeners of his music who have yet to familiarize themselves with him as an individual. However, he added that the mixtape still included fun and upbeat songs and real rap with "proper lyricism."
Even though it all "fell into place" compared to his singles, ArrDee said that the biggest challenge about the tape was keeping it "as versatile as possible, whilst ensuring that all the tracks work together and pop off properly." He briefly referenced the difficulty of working for the UK audience as listeners expect a certain sound if a song is to do well.
"Fruitella" is one of the new additions to the mixtape. A sweet, upbeat track with reference to the European sweets Fuitella and Starbursts and Smarties, ArrDee raps about the newfound attention he has gained since entering the limelight. Another new track is "Pandemic," a hard-hitting track about a young boy involved in crime. Its theme is something that ArrDee has wanted to write about for a long time, having witnessed its impact firsthand.
The mixtape has already reached #1 on the Spotify Charts Top Debut Albums UK and #7 on the Top Albums Debut Global, peaking at #2 on the UK official charts.
"Come & Go"
The virtual conference was on the same day as the release of the "Come & Go" music video, which was showcased to the audience. Throughout the video, ArrDee can be seen standing by the doorway of a house where a party is being held as guests walk past, symbolizing people coming and going through his life. People always want to know him; however, never stick around.
Body Ain't No Biggie
Some of ArrDee's highest achieving previously released tracks on the tape include: "Flowers (Say My Name)," which peaked at #5 on the UK Official Charts. "War" was a collaboration with two-time Brit Award nominee Aitch, and peaked at #6 on the UK official chart. Also included is "Body – Remix," the UK's first drill music number one, and a viral TikTok hit by Tion Wayne and Russ Millions on which ArrDee featured.
TikTok has been a huge contributor to ArrDee's success. The rapper shared that although he would like to say otherwise, as a developing artist, he now has variability in the back of his mind when being involved in the business side of his music. ArrDee does his best to push it out when writing and recording as music is more than that, such as "passion and magic and so much more beyond the internet." Circling back to add that "being in the limelight certain songs at least need to go viral so to stay in people's heads and mouths."
During the conference, ArrDee was asked what his mum's favorite song on the tape was; he revealed, with a smile, that it was probably "No Biggie," along with another track that did not make the cut. She has always been a big believer in his work, and he affectionately refers to her as his number one supporter, even bringing her on stage at the Wireless festival, where he got the crowd to sing her happy birthday.
What's Next?
Asked if he was interested in learning music production skills, ArrDee replied that he had made previous attempts but wasn't very patient. He added that when he's making music and looking for beats, "there's just something that clicks in his body that [says] that beat is the one." He further commented that he attends all his video editing sessions and would like to get involved in the editing process. Finally, he added that listeners might even see him pick up his old guitar for future releases.
When asked about future collaborations, ArrDee spoke about Lola Young, who he worked with on the track "Who Woulda Thought" and how she was a "superstar in the making." Then, with a chuckle, he admitted that he had other artists in mind–but would hold those close to his chest rather than sharing it with the world just yet.
Pier Pressure is now available on Spotify and Apple Music. Follow ArrDee on Instagram and Twitter to see what he does next.
Want to read up on more rising talent? Check out EnVi's article on Sally Sossa here.