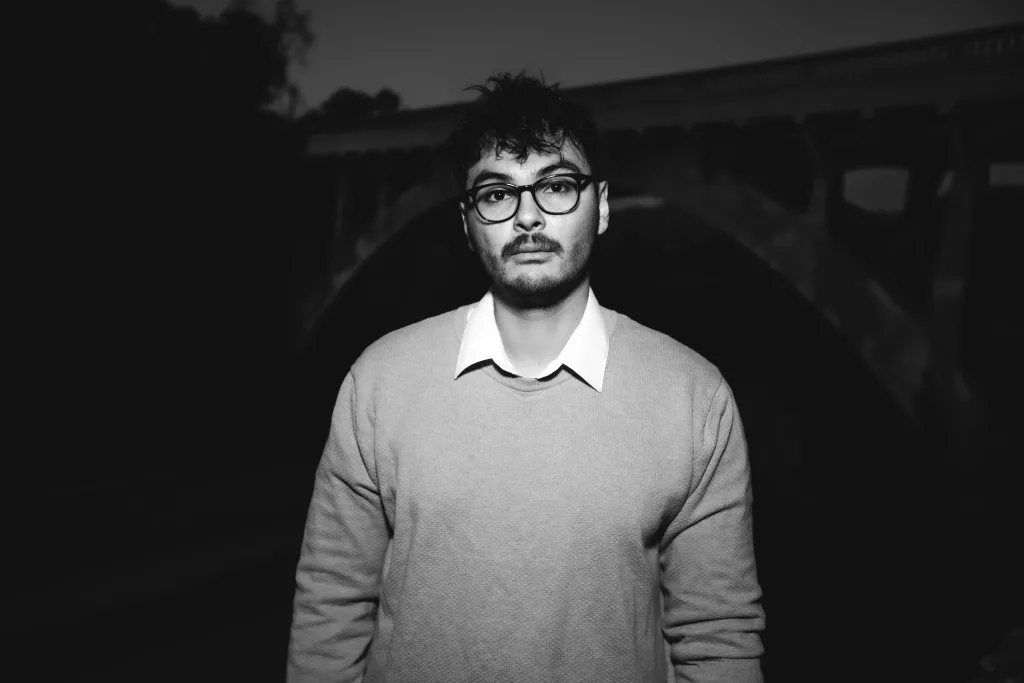 Olen, the energetic and contemplative alternative pop singer-songwriter, has made another comeback. The artist had been in touch with music his entire life, but officially debuted in 2015 as a drummer and singer. As a member of a band, he released several singles, an album, and toured nationwide. Now, on a solo path, the singer is creating a new name for himself. Olen spoke with EnVi over Zoom about the creation of his latest single "Low AF" and the next chapter in his journey as an artist.
On Falling in Love With a Friend
"Low AF" is a relatable love song with a playful beat, featuring piano and minimal percussion. "I guess it's about somebody who knows you on every level," Olen told EnVi, "even knows all the stupid stories that you've told over and over again." In the song, Olen reveals his own "random intricate details" with lyrics like "I'm depressive, and you know that my parents met in Minnesota", and "Got a bee sting on my right hand / Summer's hot living in quicksand".
The love interest in this track is a person who knows the ins and outs of your every phase and mood. Olen described the theme as seeking something more with "that someone" that you know so well, "especially what it's like when they're super down, when they're on top of the world, and I guess it's just about wanting a love that is accepting of all of that, and all of you."
Released alongside the song, is a lyric video showcasing Olen roller-skating in sunny California. After the filming of his solo debut single "Got a Name," the singer and his production crew played with props which resulted in the visuals for "Low AF". Olen smiled as he recalled the moment. "I just brought a bunch of random crap that we could take photos with, and I brought my rollerblades and pads and a helmet," he said, "and I was just kind of being a doofus and skating around a neighborhood in Los Angeles."
If given the chance to expand on the video, Olen would want to continue with the rollerblading concept. "It would just be cool to have a whole thing where I'm rollerblading in a bunch of different areas like Venice then Hollywood". In his dream production, the artist said he would also work with Aaron Eisenberg. The creative has directed the music videos for some of the singer's biggest hits such as "Portland," "DOA," and "Human Touch."
"Low AF" was also a collaboration with long-time creative partners. The song first came into fruition years ago in Olen's garage– as many do, according to the singer. Later, he performed it for the first time live on tour with his former band. After getting passed onto producer Ryan Spraker, who has made several other songs for the musician, the song went through countless changes for years, in order to become the final product.
"Every Song Is a Snapshot of Where Someone Is in Life"
Since debuting in 2015, Olen no longer takes his craft for granted, knowing "what else [he] could be doing." Both as part of a band and solo, the musician has had his fair share of ups and downs. No longer doing music full time, opportunities to pour himself into his passion are all the more precious. "I'm in a coffee shop in Cedar City, Utah, on the way to play a show in Provo tonight," the singer told EnVi, "I just feel really fortunate that I get to do that."
Through his music, Olen hopes to create something "larger than [his] life." His solo debut single, "Got a Name," encapsulates the feeling of finding the self. "I've kind of realized I don't 100% know what's going on, who I am," he said, "but I am trying to figure it out the best I can, and I guess that's what we're all doing."
Now having released "Low AF," Olen is continuing with the sentiment of creating music that meets us where we are and speaks to common life experiences. "I think that every song is a snapshot of where someone is in life," the singer said, "I just hope people can enjoy, listen to it, and get out of whatever circumstances or moment they're in."
On the Rise
"Low AF" is the second single as part of Olen's to-be-released debut EP, SoCodependent. In the meantime, the artist has wrapped up a tour across the West Coast, opening for acoustic pop band Cinders. The musician confessed that live performances are where he feels "alive." "It's just having energy and getting to play music, it's just the best feeling in the world." Olen even hopes to one day perform in the Philippines, honoring his heritage.
Although he feels "a little late to the party," other plans for the singer include building his platform on TikTok to help push new music. You can follow Olen on TikTok, as well as YouTube, Spotify, Instagram, and Twitter.
Want to learn more about emerging artists? Check out our Artist Spotlight with Alex Angelo.