K-pop star AleXa is back in vogue (wink, wink) in her most recent endeavor: the release of her first mini album, Girls Gone Vogue. The soloist, who competed in both Rising Legends (2017) and Produce 48 (2018), officially debuted in 2019 with "Bomb." Since then, AleXa has released hit after hit, building a loyal following as she continues to explore futuristic, dystopian concepts. In an exclusive interview, EnVi spoke with the singer over Zoom about her dance journey, her favorite trends, and her hopes for the upcoming new year.
Clap Your Hands Now…
"Back In Vogue," the title track off AleXa's most recent comeback, was a surprising twist in her discography. "It's 100% something new," she said, nodding vigorously. "We wanted to try something that the audience has never seen before with AleXa."
AleXa's newest single is pure pop nostalgia, transporting the listener back to the 2000s with its melodic synth and old-school hip hop groove. The soloist perfectly embodies this year's renewed love for all things retro through the track's music video's soft focus, bejewelled outfits, and, of course, the touches of voguing in the choreography.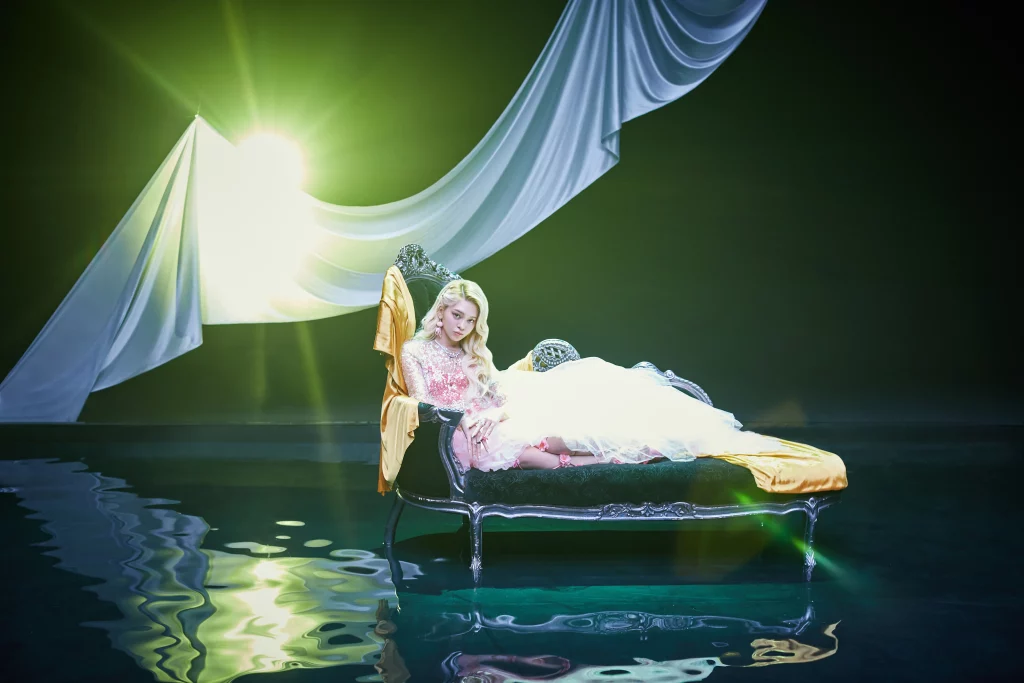 Building Her Dance Lexicon
Jeri Slaughter and Paul Morente, founders of L.A.-based House of Sam, choreographed "Back In Vogue." The company has worked with legendary artists like Christina Aguilera, Bad Bunny, BTS, and Jennifer Hudson, among others. They were also responsible for choreographing AleXa's winning "Wonderland" performance on NBC's American Song Contest.
In the five years since AleXa's first on-screen appearance in Rising Legends, the soloist has undeniably grown as a performer. "I will definitely say…we've improved since our Produce days," she said, mimicking that Debby Ryan meme, "At least, I would hope so!" AleXa's dance lexicon has expanded to include a variety of genres, and there's no telling where AleXa might go next. "That's the joy of being a dancer," she gushed.
"Back In Vogue" features more voguing than any of AleXa's previous releases, and understandably so. The choreography adds a new style to AleXa's existing dance portfolio, proving her versatility as a performer. But the track's main goal was not only to highlight this intricate style of ballroom dance.
"I've seen comments like this, like 'Where's the voguing? There should be more voguing,'" AleXa shared, laughing. "While I agree — the song is called 'Back In Vogue,' of course — there are multiple definitions for 'vogue' itself."
It's Not What She's Wearing (Oh Wait…Yes It Is)
Her take on 2022's most popular trends shows that she knows her stuff when it comes to what's in vogue. AleXa's favorite outfits from the set of "Back In Vogue," for example, feature some of the year's hottest items. The first was one of the performance outfits, where AleXa wore a white button-up shirt, black shorts, "the corset with all the bangles and accoutrements on it" — she was gesturing as she described the look — and thigh-high black boots. Corsets are everywhere this year, from streetwear collections to high fashion runways, and the jewelry detailing makes the outfit all-the-more unique.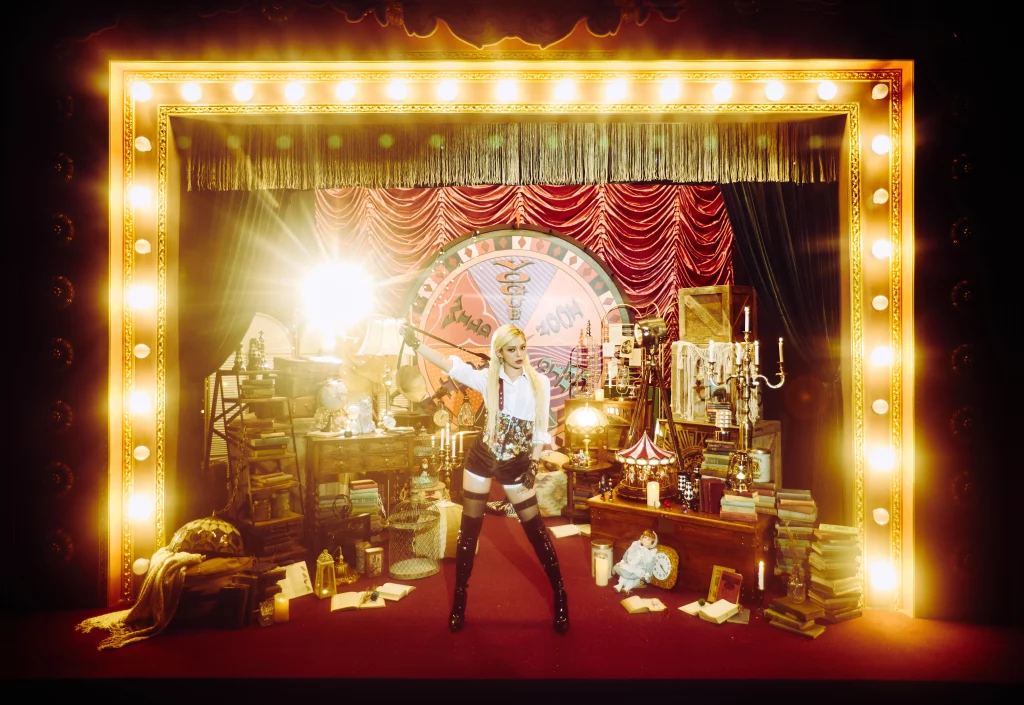 Alexa's second-favorite outfit didn't get as much time in the limelight as the singer thinks it deserved. It was a delicate, semi-sheer black dress, decorated with an abundance of pearl embellishments and paired with velvet gloves. The look takes details from eras past — think: the Roaring Twenties, the 1960s — and amplifies them in an elegant manner.
What's In Vogue for AleXa?
Reflecting on this year's trends, AleXa took a moment to acknowledge her jam-packed year. "I'm just like work, work, work, work… What has been trending this year?" she mused. But after a few seconds, her eyes lit up in realization.
Her favorite trend? "I will say, as an owner of those sequin butterfly tops, I really liked those. Butterflies in general really came back as a trend, I think," she observed. And she's right — butterfly motifs go hand-in-hand with the Y2K aesthetic, one of 2022's biggest fashion revivals.
As of late, the soloist also has been enjoying the return of platform shoes. "I feel most confident when I'm wearing heels," she said. Clocking in at a petite 4'11", AleXa explained that she enjoys wearing heels both for the functionality and the confidence they give her. "I prefer being at least a little bit…average height, if you will," she laughed. Wearing heels inherently adds confidence to your strut, AleXa noted. "You gotta walk with your back straight, chest out, just…confident you know. It just amplifies whatever confidence you have."
This love of exaggerated platform soles has resulted in a long wishlist of shoes for AleXa. "I've got like…five different websites open on my laptop with six or so pairs of shoes in the cart," she confessed. "So…pray for my wallet."
AleXa also spilled on her least favorite trend: "I personally would like it if high-waisted jeans and high-waisted shorts went away," she admitted, clasping her hands. "They don't work for me personally; I don't enjoy high-waisted things."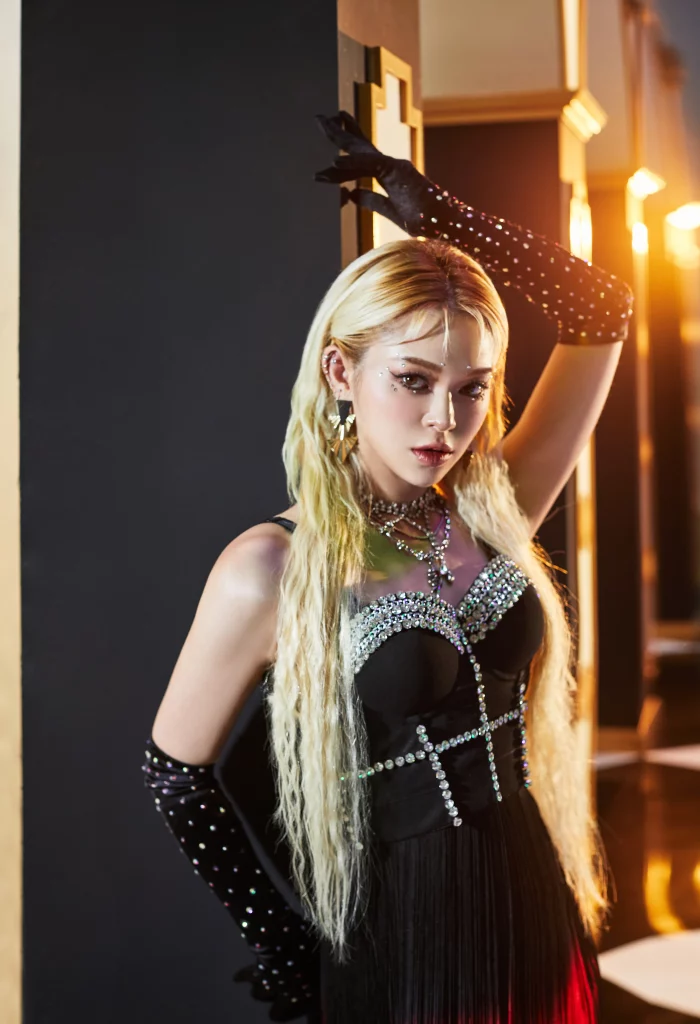 Looking Forward to 2023
In terms of the next year, AleXa has a few goals in mind. Although the idol star has just wrapped up her first series of U.S. shows, she already has touring on her mind again. In the coming year, AleXa shared, she'd like to tour more countries. "I mean…world tour, I guess, would be the term I'm looking for," she said, "But that's very broad."
Her second goal was straightforward: better health. Considering AleXa's busy year, with everything from competing in American Song Contest to releasing music and completing an eight-city solo tour across the U.S., it's no surprise that the singer wants to take some time for herself.
"The third thing…," she pondered aloud for a second, adding a singsongy "la ta ta ta ta" as she thought, "…would be [to] make more of my own music." Looking around behind the camera at her apartment, AleXa pointed out that she recently bought a lot of recording software to experiment with. "It might be from the producer side, might be from the lyric side, but hopefully, we'll have some organic songs by myself coming out next year."
With so many things to look back on from this year, and a clearly exciting year ahead, AleXa continues to demonstrate her potential as a fourth generation K-pop powerhouse as she soars to new heights with each comeback. "There's always room to grow, always room to improve upon yourself in whatever aspect that you want to display to an audience," she said, humble as ever despite her growing success. Following the exciting showcase of a new side of AleXa in "Back in Vogue," EnVi looks forward to her future ventures.
AleXa's first mini album, Girls Gone Vogue, is available on all streaming platforms. Keep up with AleXa by following her on TikTok, Instagram, and Twitter!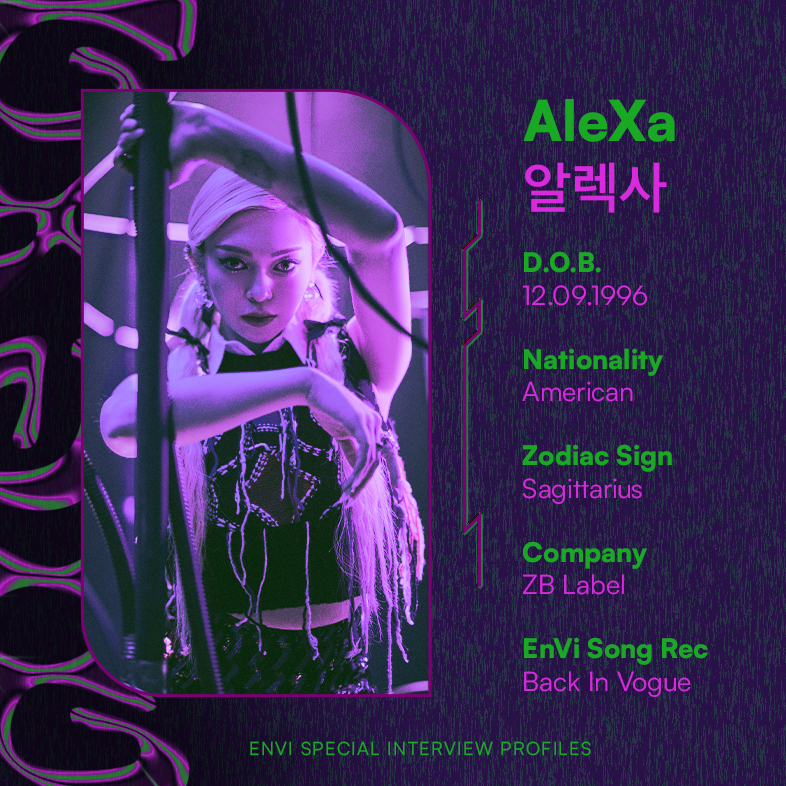 Want more fashion content about your favorite K-pop idols? Check out EnVi's article on balletcore and BLACKPINK's Jennie here!