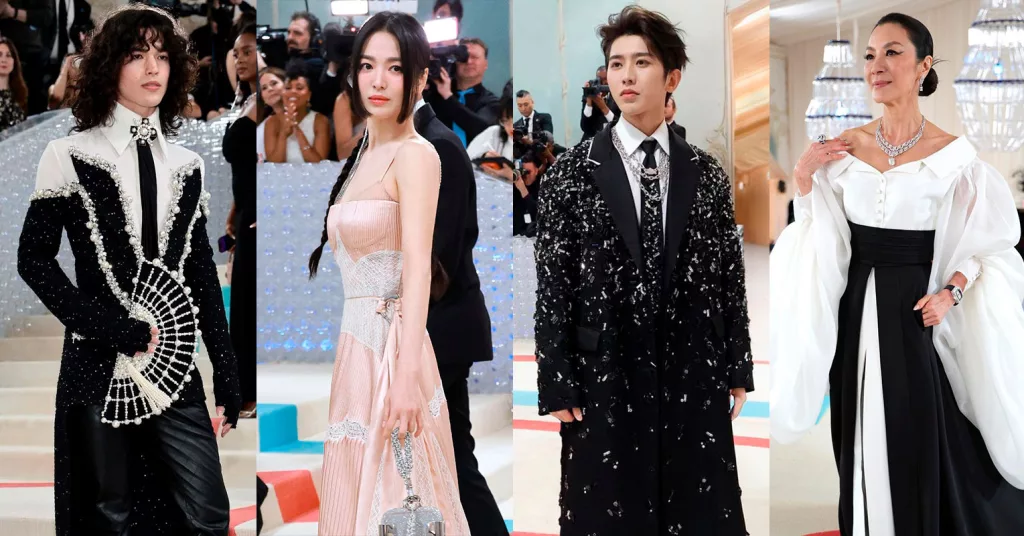 America's biggest fashion night, namely the Met Gala, took place on May 1. This year's fundraiser event paid tribute to Karl Lagerfeld's extensive work catalog, inviting stars to dress in his honor. Of course, the theme was open to interpretations and stars walked the red carpet dressed in anything and everything, from literal takes on the dress code to more experimental and personal looks.
While stars like Jackson Wang and Cai Xukun — better known as Kun — referenced key points from the late designer's signature look, others like Sora Choi and Ashley Park sported other designer's revisions of Lagerfeld's style. Ahead, EnVi rounds up some of the most compelling looks by AAPI stars at the 2023 Met Gala.
Sora Choi in Thom Browne
As one of the industry's most sought-after models, it was about time that Sora Choi made her Met Gala debut. For the occasion, Sora teamed up with Thom Browne and sported the dress that the designer custom-made for Vogue's May cover, in tribute to Karl Lagerfeld. The top half of the dress consisted of a suit-like design — Browne's forte — made of tweed and camellia prints embedded throughout. The suit was complemented with a crisp high-neck white shirt and black tie, another Lagerfeld signature combo. However, the talking point of the look came from the frocks of grid-patterned tweed that cascaded around the model's body, with distressed white edges and gold chains to add a Chanel stamp.
Cai Xukun in Prada
Considered one of China's biggest "celebrity super-influencers" Cai Xukun made waves as he stepped out for the Met Gala in a Prada ensemble. The look featured black pants, a traditional white shirt, and a broken-glass effect coat. The star nodded at Karl Lagerfeld's personal style, wearing a black tie with silver chain necklaces. Kun added his personal touch of tradition by displaying a folding fan with Chinese calligraphy.
Jackson Wang in Louis Vuitton
Marking his Met Gala debut, Magicman Jackson Wang walked the stairs of the Met in a Louis Vuitton look. Jackson, who flaunted an official association with Fendi for years, sported a pair of tailored trousers and a short military-style jacket with heavy frogging on the front and cuffs. The monochromatic ensemble was accompanied by heeled boots, leather gloves, and a galore of Cartier jewelry that included a classic Tank watch, a Panthère de Cartier ring, and Juste un Clou earrings. Jackson took the star-studded event as a chance to rep three of the brands he is an ambassador of — Louis Vuitton, Cartier, and even Hennessy.
Song Hye-Kyo in Fendi
Fendi's ambassador and celebrated Korean actress Song Hye-Kyo surprised with her Met Gala debut, but she certainly did not disappoint. The superstar wore a pale pink two-piece ensemble that channeled boudoir fashion with elements such as bustier details, lace, and thin satin fabrics. The actress matched the look with a long braid, rosy makeup, and a silver clutch for an unforgettable first-timer look.
Ke Huy Quan in Dior
Taking the theme to a literal level, the Everything Everywhere All at Once star, Ke Huy Quan sported a classic pinstripe two-piece suit. The look, courtesy of Dior, channeled Karl Lagerfeld and was paired with a matching silk tie, accessorized with a CD Brooch and chains dangling across his chest, very á la Karl. Accessories played a big part in the star embodying the man of the night, with black fingerless gloves and black sunglasses — essential Karl pieces — completing the look.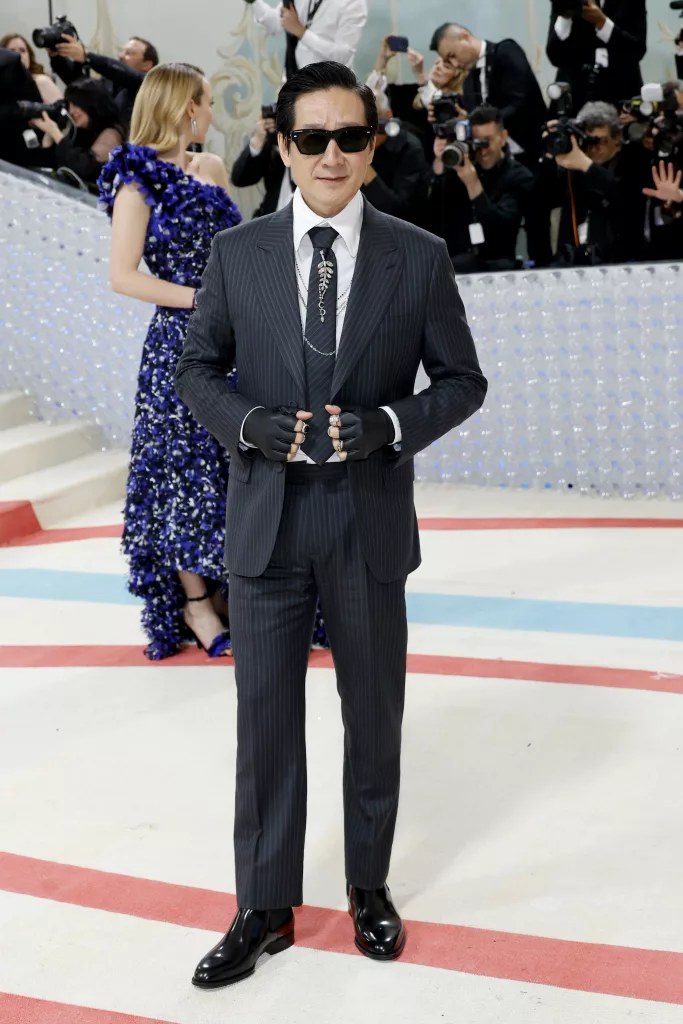 Ashley Park in Michael Kors
Emily in Paris star Ashley Park has mastered the art of dazzling on the red carpet and the Met Gala was not any different. For the event, Ashley stunned in a bold Michael Kors gown. The body-hugging fishnet dress featured a high neck, a subtle train, and tons of shiny jewel embellishments. Park topped off the look with a silver set of jewelry, fingerless gloves, and a classic Chanel chain belt. The actress took care of every detail including her manicure that, as per her nail artist, Naomi Yasuda, was inspired by the biker chic aesthetics and included grommets.
Conan Gray in Balmain
Another star that kicked it out of the park was singer-songwriter Conan Gray. Conan is known as a star that champions androgynous and binary-defying fashion and tonight definitely marked a new fashion peak in his stylebook. The musician donned an elevated white button-up that was layered with a plunging bustier-like piece that extended into a train and fell down to his feet. The pearl-lined bustier also extended into a pair of gloves. The look was then completed with a pearl-embedded fan and tailored leather pants, giving a fun, youthful and spunky flair that perfectly matched the star's personality.
Michelle Yeoh in Karl Lagerfeld
This year, the Oscar-winning actress Michelle Yeoh took a twist on traditional menswear for her Met Gala look. Michelle wore a black and white gown that started off with an off-shoulder neckline reminiscent of an oversized white shirt. The gown took an opulent turn and allowed the voluminous sheer sleeves to become a highlight. The bottom half of the look gave a more masculine feel with a black train that started at the waist and beautifully fell behind her while a slit opened up the front to reveal black leather embellished boots. Topping it all off, Michelle sported a beautiful set of Cartier jewelry along with a stunning Richard Mille timepiece.
He Cong
Chinese model He Cong took the event as a chance to jam-pack references to the classic Karl Lagerfeld look. The model went for a white shirt and large black skirt ensemble by Sacai. She then added a twist to the typical Karl corbate with a long tie held with a silver brooch and accessorized the look with fingerless gloves and statement earrings. Additionally, He Cong opted for eye-cat makeup accentuated by a classy red pout. The model tied it all together with a high ponytail and a black clutch.
Liu Wen in Tory Burch
Keeping it classy, simple, and chic, Liu Wen arrived at the stairs of the Met in one of the quieter looks of the night. Wearing an off-shoulder black mermaid gown, the model definitely proved that less can be more. As a nod to this year's theme, the bottom end of the gown features layers of tulle with plenty of silk organza camellias spread all over. Paired with sheer black elbow-length gloves and a classic red lip, the model looked like a vision of nostalgia at this year's Gala.
Another Asian star donning a perfectly in-theme look was BLACKPINK's Jennie. Read everything about Jennie's Met Gala debut here.