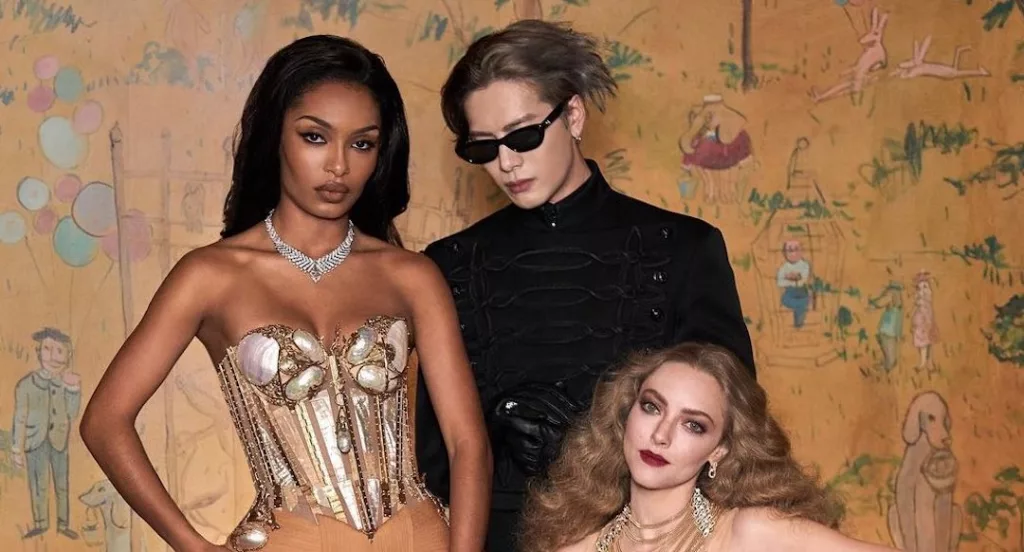 On May 1, the Met Gala returned in full swing, celebrating the life and career of the late German designer, Karl Lagerfeld. With stars observing the theme "Karl Lagerfeld: A Line of Beauty," the gala was filled with beauty statements. In between dark glasses, diffused blush, and glossy eyeshadow, stars brought some popular beauty and hair trends to the Metropolitan Museum of Art. With so many memorable looks to choose from, EnVi rounds up some standout beauty moments from the 2023 Met Gala. 
Jackson Wang: The Signature Karl Beauty Look
All eyes were on the singer, entrepreneur, and fashion darling Jackson Wang as he appeared on the red carpet in an all-black ensemble by Louis Vuitton. To offset the pitch-black monochromatic outfit, the artist kept his beauty routine minimal with clean skin and a natural peachy lip. Taking a note from Lagerfeld's beauty routine, Jackson emulated the fashion icon by sporting a pair of statement glasses and pushed-back silver hair. While staying on theme for the event, Jackson's modern, cat-eyed frames served as the focal point of his natural makeup routine and echoed beauty trends spotted during Men's Fashion Week.
Jenna Ortega: Wednesday-Core with a Sprinkle of Chanel
At this year's Met Gala, Jenna Ortega, known for her breakout role as Wednesday Adams, was spotted in an outfit that can only be described as spooky-chic. Thom Browne dressed the young actress in an ornate black blazer, and a dress set with gold chains. This look fell in what people have coined as "Wednesday-core" and was paired with an equally Wednesday-approved makeup look. Jenna's smokey winged liner, heavily contoured cheekbones, and nude lips gave the perfect chic rendition to something straight out of the Tim Burton series. While still staying true to her blunt straight-across bangs, her half-up hairdo introduced some Parisian elegance to the look.
Song Hye-Kyo: A Vision in Blush
Fendi ambassador and Korean star Song Hye-Kyo arrived at the Met Gala as a vision in blush. The critically acclaimed actress was spotted with warm-toned eyeshadow and blush lightly diffused all around the eye area for an angelic look. The shade applied across her orbital bones was the perfect elegant take on the over-blushing trend happening in makeup right now. Additionally, the peachy makeup was complemented by a glossy coral lip, long braids, and strands of hair framing her face.
Jennie Kim: Embodying Chanel
BLACKPINK's Jennie Kim has been synonymous with Chanel for quite some time now, but 2023 became the perfect year for her Met Gala debut. Her classic mini dress look, inspired by Chanel's 1990s runways, took force with Jennie's modern iridescent makeup. From glossy lilac eyeshadow to her terracotta lip gloss, Jennie's makeup was all about giving the idol a super-natural glow. To stay true to the legendary fashion house, Jennie accessorized her chic headband braid with a camellia pin, adding the perfect Chanel signature.
Michelle Yeoh: A Modern Take on Regal Beauty
Appearing in a breath-taking, oversized sleeves top and a black-split skirt, Michelle Yeoh graced the red carpet in an outfit fit for a queen. The Oscar-winning actress wore a chic bun, dramatic winged liner, and a glossy nude lip to enhance her features while perfectly balancing the drama of the regal gown. Since the outfit and jewel-encrusted accessories were quite the scene stealer, this makeup look was the ideal impactful touch to this maximalist look. 
Olivia Rodrigo: Making a Case for Baby Bangs
Grammy Award-winning star Olivia Rodrigo is no stranger to the glitz and glamour of the Met Gala. However, the "drivers license" singer did not play safe and debuted a brand new hairstyle on the red carpet. Offering a contrast to her avant-garde gown by Thom Browne, she opted for a classy hairdo that featured the it beauty statement of the moment: baby bangs. Channeling the classic Audrey Hepburn hairstyle, Olivia complemented her glam with a minimalist makeup look with YSL Beauty products and a black manicure by the nail artist Yoko Sakakura.
Cai Xukun: The Voluminous Swept Back
Chinese superstar Cai Xukun made his Met Gala first showing in a statement crystal-embroidered coat. However, he preferred to keep things simple on the beauty front with a rosy pout and subtle nude eyeshadow. The upgrade was on his hairstyle: a voluminous take on the classic swept back that put his face in full display. Trendy and timeless in equal parts, this hairstyle further bestowed Kun with a modern-chic appearance, totally attuned with Prada — the brand he represented at the event.
Amanda Seyfried: Old Hollywood Glamour
American actress Amanda Seyfried has made old-Hollywood glamour her red carpet signature. In yet another classy move, the star sported a stunning Oscar de la Renta mini dress with cascading metallic strands. Amanda entrusted hair stylist Renato Campora and makeup artist Genevieve Herr with the task of taking the look to another level. The result? An ode to old Hollywood courtesy of a deeply saturated raspberry lip, violet smokey eyes, and voluptuous curls. 
Alia Bhatt: Rosy Fantasy
Bollywood actress Alia Bhatt made her Met Gala debut this year, but she absolutely knocked it out of the park by honoring the iconic Chanel bride. To complement her custom-made Prabal Gurung gown, the makeup artist Puneet B Saini went for a rosy smokey eye, blushed cheeks, and nude lips. The emphasis was on her well-defined eyebrows and kohl-rimmed lids, taking all attention to her eyes. The last touch to Alia's killer look was an effortless half-up, half-down hairstyle. 
Janelle Monáe: A Pop of Color 
American singer and actress Janelle Monàe is a regular attendee at the Met Gala, always showing up and showing out in intricate, theme-appropriate outfits. The 2023 Met Gala was no different, with the multihyphenate walking the red carpet in a two-part homage to Karl Lagerfeld's legacy crafted by Thom Browne. To match her monochromatic looks for the night, she painted sleek black and white graphic eyeliner on her lids. The touch of white in the inner corner complemented her dramatic lashes, making her eyes pop. Completing the look was bold red lipstick — a Janelle Monáe staple.
Emma Chamberlain: Dreamy Baby Blue
Emma Chamberlain adopted an Upper East Side, Blair Waldorf-esque look in honor of Chanel's preppy aesthetics. The pastel blue ensemble, courtesy of Miu Miu, featured a bejeweled midriff paired with silver jewelry. For the night's makeup, the content creator-turned-fashion-influencer put a spin on the timeless smokey eye. Various shades of blue were seamlessly blended to create a shimmery blue look with a darker tone brushed on Emma's undereye. A simple nude lip and bold, groomed eyebrows tied everything together. For an extra Blair Waldorf flair, Emma sported a padded headband placed toward the back of her head.
Yara Shahidi: '90s Inspiration
Yara Shahidi wore a 2000s Jean Paul Gaultier dress to the Met Gala, but the inspiration for her glam came from a decade earlier. The makeup artist Nikki Wolff, responsible for Yara's beauty, shared on Instagram that the brown ombré lip and skinny brows were a modern take on runway looks from the 1990s. Using Dior Beauty products, the look also featured perfect winged eyeliner, nude eyeshadow, and long lashes for prominent-eye makeup.   
The Beauty Round-Up
With Karl Lagerfeld as the man of the evening, looks at the 2023 Met Gala spanned from subtle nods to his token pair of frames to emulating designs from the fashion brands he helmed. In particular, many A-listers donned fits that channeled the legendary fashion house of Chanel. In many cases, beauty looks retained a simple quality, adding chic accents and accessories such as sunglasses and hairpins, but the theme was open to interpretations, allowing stars and their makeup artists to get creative and present their own spins on the theme. 
Interested in more Met Gala coverage? Check out how Asian stars offered a fashion masterclass at the event here.