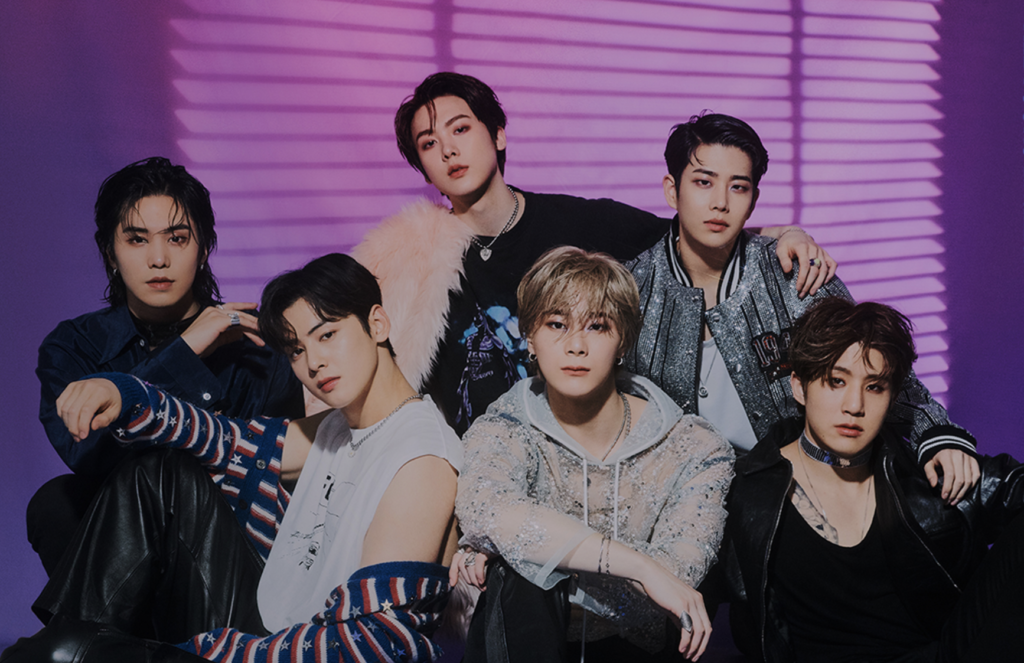 Astro is back on the stage as one for their second album, All Yours. The 10-track album features a range of songs by MJ, JinJin, Eunwoo, Moonbin, Rocky, and Sanha. With a mix of pop, rap, and ballads, the awaited album has something for everyone and a captivating music video to top it all off. 
View this post on Instagram
A Contender for Number One 
Title track "One" opens with Moonbin's suspenseful whisper as the beat builds. The refrain begins just after with "we come as one" echoing throughout the song. Along with it, the music video features the six in various looks complete with purple suits as a nod to their fan colors.
With the group, a powerful force of acclaimed artists helped create the song. This includes Astro's own leader JinJin and rapper Rocky as well as JJ Evans, one of the creators of EXO's "Universe," Willie Weeks who worked on Monsta X's "Love Killa," Val Del Prete credited on Cravity's "Break All the Rules," Ellie Suh, the writer behind Itzy's "Cherry," and Lee Jae Ni, a collaborator behind IN2IT'S "SnapShot." 
"Dear my universe"
All Yours starts off on a softer note with "Dear my universe." With a serene melody and heartfelt vocals, the lyrics sing to the deep loyalty of a meaningful relationship. Behind those words are rappers JinJin and Rocky with Park Woo Sang who has frequently worked with MAMAMOO on tracks including "Hip." Park also composed and arranged the song with Skinner Box. 
"Butterfly Effect"
The following track, "Butterfly Effect" shares a story of grit and determination packaged in a sweet pop song. In collaboration with JinJin, these lyrics were created by Hwang Yoo Bin who has frequently worked with SM Entertainment on projects such as True Colors by U-Know of TVXQ and "Jopping" by SuperM. Other artists credited include Royal Dive, another SM Entertainment favorite with Raider just recently collaborating on "GTA 1" with NCT's Taeyong, and $ÜN who worked on Monsta X's "Find You."
"
Someone Else
"
Performed by trio MJ, JinJin, and Moonbin, "Someone Else" features an upbeat intro chased by a catchy rhythm. Between MJ and Moonbin's vocalizations, JinJin showcases his flow as a rapper in this song. Behind the scenes, the track was created by Penomeco and Damian from NCT's "Make A Wish" as well as Flow Blow who worked on Pentagon's "Shine," Louise Frick Sveen, a creator behind "Naughty" by Red Velvet's Irene & Seulgi, and Albin Nordqvist, credited on NCT 127's "Chain."
"SNS"
Performed by Eunwoo, Rocky, and Sanha, "SNS" is the other unit track. This bubbly pop track is fitting for a spring comeback as the song details enjoying a vacation with someone special. Rocky and Royal Drive are again credited on this song along with JOMALXNE and iHwak who both recently contributed to GOT7's "Last Piece." 
"All Good"
Next up is "All Good" with a smooth rhythm and vocals to match. This song will have you "feeling alright" with all six members delivering. The track was created by composers Sam Carter, nomasgood, and JinJin. The group's leader also wrote the lyrics with Rocky and Flying Lab's Kim Chan, Chaoreuda, and Ju Seo Jin.
"All Stars"
Composed by musician Alawn, and creative duo The Proof, "All Stars" is a playful song ending with a positive feeling that "everything is okay." The cheerful lyrics in this track were written by JinJin and Rocky as well as Hwang Eun Bit, Hwa Im Hyun, Zupiter, Oh Ye Jin, and Jeong Chaeyeon of Flying Lab.
"Our spring"
Heartfelt and passionate, "Our spring" maintains the album's energy. With a suspenseful start, the song builds into strong vocals and rap. Highlighting these strengths, JinJin, Rocky, OBROS, and nomasgood collaborated to create the track. 
"Stardust"
Slowing it down, "Stardust" is a melodic ballad backed by the piano, emphasizing the members' voices. This was created by JinJin and Rocky with writers Rick Bridges from NCT 127's "Kick It" and Kiggen from Vixx's "Super Hero."  
"Gemini"
Ending the album with a soft but powerful ballad, "Gemini" was created by the group's eldest MJ, Samin, and Park Sang Min with rap lyrics by JinJin and Rocky. The song shows off the members' vocal range and versatility with changing tempos and a momentous melody. 
Busy Boys
All Yours is the latest project by the Astro members to come to their fans, Arohas. Over the past year, the idols have been creating content across different platforms and media outlets. MJ played the lead of the musical Jamie and debuted with his trot group Super Five.  At Dive Studios, JinJin has begun his podcast with cohost Kino of Pentagon. Eunwoo starred as the male lead of the hit show "True Beauty" and sang an OST for it called "Love So Fine." He has already lined up his next acting gig playing an exorcist priest in "Island." As a sub-unit, Moonbin and Sanha released their EP In-Out featuring the single "Bad Idea." Arohas may have also recognized their familiar faces in "True Beauty." On YouTube, Rocky has gifted fans with his original choreography and dance covers of fan-favorite K-pop songs. 
With this second album, the group will be appearing on various music shows and programs throughout this promotion cycle. After having just celebrated their fifth anniversary together in February, Astro and Aroha now have this new comeback to enjoy together.   
If you enjoyed this article, you can read more about HOSHI's solo mixtape "Spider"!
Thumbnail Courtesy of Fantagio