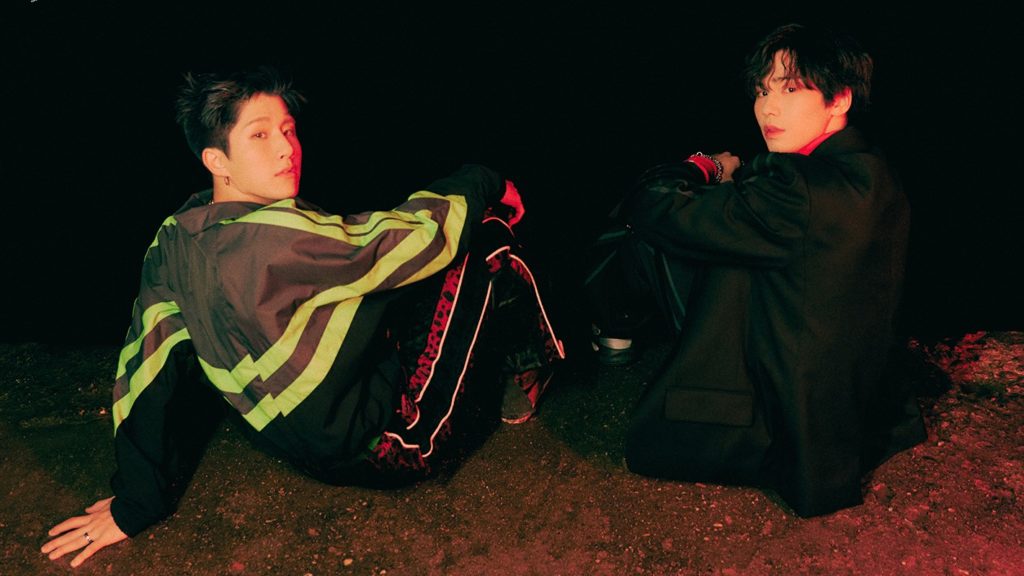 On January 17th, ASTRO's JinJin and Rocky made their subunit debut with their new mini-album, Restore. Showcasing each member's undeniable versatility, JinJin and Rocky remind us to "Just Breathe" as we navigate life during quarantine.
ASTRO, consisting of members MJ, JinJin, Cha Eunwoo, Moonbin, Rocky, and Sanha, are not strangers to subunit and solo debuts. In 2020, Moonbin and Sanha teamed up for their EP In-Out with their hit music video, "Bad Idea." Towards the end of 2021, MJ showered fans with energy in his trot-style solo release, "Get Set Yo." Cha Eunwoo took the K-drama world by storm as both an actor and OST singer. It was only a matter of time before JinJin and Rocky's talents were brought to the limelight.
Restore
For their first mini-album, ASTRO's main and lead rappers JinJin and Rocky, also known as JinRock, brought to life feelings of isolation and longing in their five-song tracklist consisting of "Just Breath (숨 좀 쉬자)," "Lazy," "Lockdown," "Complete Me," and "CPR."
The entire mini-album was written, composed, and arranged by JinJin and Rocky themselves. Taking part in all aspects of the production process from creating to promoting, undoubtedly left fans impressed by the duo's originality, dedication, and talent.
"Just Breath (숨 좀 쉬자)"
Reaching 1 million views within the first 24 hours of its release, Rocky describes "Just Breath" as a "funky, dance, pop that reminds you of a musical." Taking place in a messy living room setting, the music video appears with both members rocking tracksuits and disheveled hair. Within the first minute of the video, JinJin and Rocky sum up the majority of what a typical day in quarantine looks like.
Separated by an audible breath, the duo is transported to a red outdoor street tent where they flaunt their impeccable dancing ability. ASTRO's fans, Aroha was left in awe of Rocky's flawless moves and strength.
Upbeat, funky, and humorous, "Just Breath" is undeniably addicting and is sure to cheer Aroha up. JinJin and Rocky embody how it feels to simply take a breath, let loose, and enjoy the small moments of life. Through the uplifting lyrics they tell listeners, "always remember that / it's gotta be hard / but if we do this together / we'll overcome any hardships."
"Lazy" and "Lockdown" with JinJin
Balancing out the bright nature of "Just Breath," the EP's first two B-sides show the relatable struggles of quarantine. Featuring Weki Meki's Choi Yoojung, "Lazy" confronts the frustrations of procrastination and simply not wanting to do anything. Yoojung's soft and smooth vocals blend with JinJin's strong and raspy voice giving a pleasing pop and playful melody. "Lockdown" successfully portrays the feelings of being trapped, frustrated, and stuck through its relatable lyrics, deep baseline, and addicting beat.
"Complete Me" and "CPR" with Rocky
Rocky poured his heart and soul into his two solo songs: "Complete Me" and "CPR." "Complete Me" reveals a fun layering of percussion and electronic sounds highlighting the duality of Rocky's singing and rapping ability. Contrasting with the upbeat nature of "Complete Me," "CPR" is a ballad that leaves listeners breathless with Rocky's crystal-clear vocals and wide range. The song takes listeners on a heartfelt journey describing the feelings of falling out of love and not knowing the reason why. 
Sneak Peeks and Performances
One day before their music video release, JinJin and Rocky left Aroha squirming in anticipation after giving a sneak peek of their title track. The pair let loose in an office setting while jamming out to "Just Breath." Their manager walks in on the chaotic scene, paralleling the viral CCTV video of a girl dancing to ITZY's LOCO while at work.
With their "Just Breath" music video release, the duo, along with MC BIN (Moonbin), hosted an online fan showcase of Restore. The live featured games, a rap battle, and solo performances of "Lazy" by JinJin and "CPR" by Rocky. Starting with an introduction to their mini-album, JinJin and Rocky ended with an energetic duo performance of their title track, "Just Breath."
JinJin and Rocky's EP "Restore" has certainly put a spotlight on the duo's talent. From songwriters and rappers to lead vocalists and dancing machines, JinRock surely did not disappoint. Starting the year off on a high note, we can't wait to see what ASTRO will bring both as a group and as individual members in 2022.
While waiting for more to come, join in on JinJin and Rocky's #RestoreChallenge and listen to Restore on Spotify.
Want more ASTRO? Check out our coverage of Sanha's first TV drama appearance here!