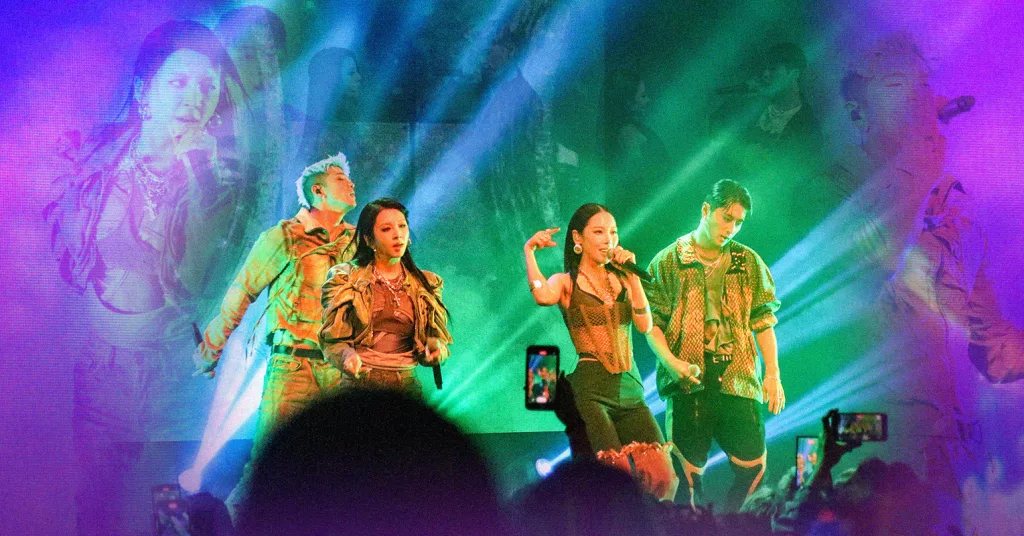 Close your eyes and think of some of the most perfect summer comebacks—who do you see? Chances are, every K-pop fan has a go-to summer song; after all, summer is one of the most anticipated seasons for music releases. But while the roster always seems to be packed during this time of year, with many groups aiming for a spot on the list of summer anthems, others have just naturally become synonymous with the season, and mixed group KARD is no exception.
In an exclusive Q&A, EnVi caught up with BM, Somin, Jiwoo, and J.Seph backstage in Chicago for their "PLAYGROUND World Tour," where we talked all things fun in the sun, including childhood memories, dream vacation destinations, and why summer is such a special season for KARD. As each member walked into the dressing room area—some in their stage outfits and others in stylish streetwear—I was reminded of what makes KARD appealing: they're just effortlessly chic and one of a kind.
What Time Is It? Summer Time!
EnVi: Welcome back to Chicago! Since we're smack dab in the middle of summer right now, let's take a trip down memory lane for a bit. What were some of your favorite summer memories when you were growing up?
Somin: One of my favorite memories was when my mom would make bingsu, which is shaved ice in Korea. I also remember cutting up watermelons in the summer and going to the waterpark—there's one called Caribbean Bay, it's pretty fun.
Jiwoo: I remember a carpet made of bamboo pieces threaded together, and sitting on that in front of a fan was a cool memory.
J.Seph: I remember going to a small lake where you can swim, and jump off rocks…some of them have fountains, but I specifically remember going to one with my family and we would go fishing together with a net and catch 30 fish at one time.
BM: And for me, what did I do in LA? I think I just remember going to the mall a lot with my friends with no intent to buy anything, but just to window shop, flirt with some girls sometimes, eat popcorn, go to the movies, and just do regular LA stuff.
EnVi: Interesting, did you ever have any summer flings?
After doing some translating, BM quickly relays the group's answers.
BM: So all of them don't, but I think I've had a couple…yeah (smiles).
EnVi: Any stories you feel like sharing?
BM: I mean, it was when I was super young, but they didn't go for too long. There were just a couple of one-time movie hangouts, but we definitely did some stuff in the movie theaters…lips locked—you know, all the usual stuff.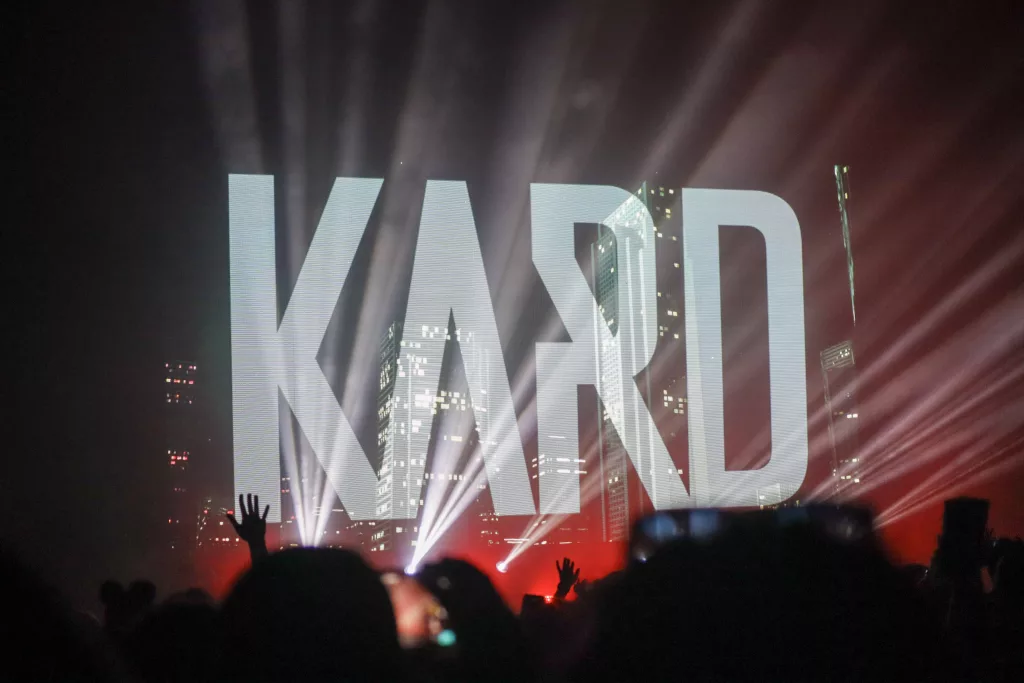 EnVi: So did you ever have to work summer jobs in high school or anything?
BM: Not in high school, I don't think. Jiwoo and Somin were busy with their trainee time, so they weren't able to work.
J.Seph: I delivered pizza before, and I worked at a convenience store, as well. I also worked at KBBQ restaurant and an internet cafe, but that was when I was really young.
BM: Oh, you were a pizza boy—nice! I think the only time I worked was when I taught English in Korea…not during the trainee process at first, but after a while when it was getting a bit shaky, that's when I started working and going around to houses and teaching two kids at a time.
Jiwoo: I did work at a chicken shop for a while.
Somin: And I worked in a cafe after high school.
BM: Yeah, wow, I guess we all worked after high school.
Summer Style Evolutions & Regrets
EnVi: I feel like we've all made some questionable fashion choices when we were younger, but can you describe what your summer wardrobe looked like when you were 15?
Upon hearing the question, Somin gasps as if a few hidden memories had just been unlocked.
BM: Ooh, I was heavily influenced by G-Unit—just any hip-hop track that was coming out back then, I was heavily influenced by so I was wearing the triple AAA white tees down to my thighs and really baggy Dickies.
Jiwoo: I've always been interested in fashion, even then, one of my biggest influences was 2NE1, so I took after them a lot regarding style. I dressed a little bit baggy and hip-hop.
J.Seph: There's a brand called Teeny-Weeny that I wore a lot and my choice of pants was Dickies, as well.
BM: (to J.Seph) Were they baggy?
J.Seph: Very baggy (laughs).
BM: Yeah, that's when baggy was really in.
Somin: I loved my pink Chuck Taylor's and dressed a bit simple—just a white tee and for my bottoms, I was very into denim.
EnVi: Do you regret any of those choices you made?
Jiwoo: I remember having those two rubber bands that you would intertwine as bracelets (laughs). I thought it was cool at the time, but looking back, it was a little bit whack.
EnVi: Remember the Silly Bandz too?
BM: Oh man, those Silly Bandz—I used to get them a lot at Hot Topic. Anything I bought from Hot Topic at the time I think is a regret now, except for some things. I like their graphic tees, like the tour ones, those are cool…but the accessories, I don't know.
J.Seph: There's been a time when I wore a very long yellow tee, the tall tees, my pants were skin-tight black skinny jeans, and my shoes were rainbow-colored Adidas high tops.
Jiwoo: Skinny jeans now are just so…(she exhibits her disdain with an unpleasant face).
BM: Watch someone bring it back though, fashion is very funny.
Somin: I regret wearing sweats that weren't really short-shorts, but shorts to right below the knees…I wore a lot of pink back then too.
BM: Pink is a good color though, especially right now because of the Barbie movie.
EnVi: Are you planning on seeing Barbie?
BM: We are, but we're gonna wait 'til we get back to Korea so we can have the subs.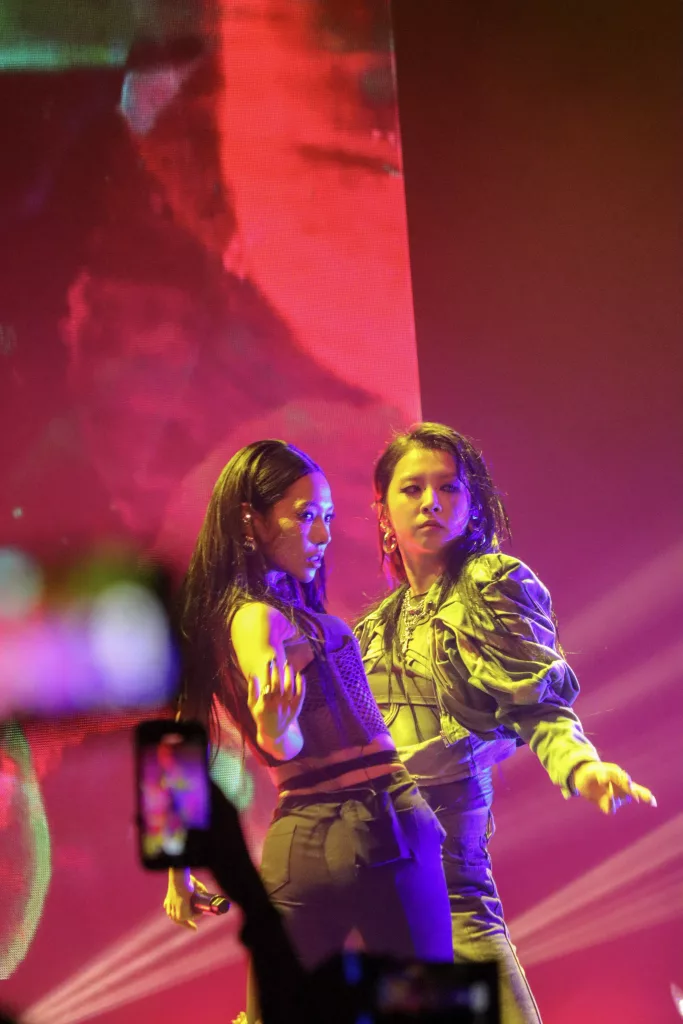 No Sleep 'Til Summertime
EnVi: So we talked about our childhood summers, but what about now? What have been your favorite summer memories as an adult so far?
BM: Touring for me, it's definitely the biggest part of my life right now. It's such an extraordinary thing, like, not everyone gets to make music and take it out to perform in front of tens of thousands of people, and see tens of thousands of faces in such a short amount of time. Touring is and is gonna be one of our biggest memories.
Somin: Me too.
Jiwoo: And comebacks—every summer, we come back. We never have summer vacation because we're always touring around this time or coming back (laughs).
BM: It's not all just work though, it's very fun and there's a lot of passion going around that we give out and get back at the same time.
EnVi: Does that mean you prefer having summer tours over touring in other seasons?
Jiwoo: I actually like touring in the fall because it's not too hot, not too cold. When we go to South America in the summertime, it's actually winter over there, so I've experienced both but I like the fall the most.
BM: I think I'm the same, I like fall…I think we're all the same.
EnVi: Because a lot of KARD's music is naturally tied to summer, what's one song of yours that you feel perfectly defines summer and why?
Somin: "Hola Hola" because it's very fresh and it did come out in the summer, so it has a very tropical vibe, as well.
BM: I like "Bomb Bomb" because it's just more heat for the summer so it's like fighting fire with fire.
J.Seph: "Hola Hola" because we shot the music video during the summer and it includes a bunch of sights that you normally go to in the summer.
Jiwoo: I'll say some B-side tracks like "Whip!" and "Good Love" because they have a very good vibe to drive to.
Ride On the Wind
EnVi: On a relatively hot day, like today, what are your summer must-haves to help cool you down?
Jiwoo: I don't really like getting tan, so I like keeping on long sleeves and very thin fabrics.
Somin: J.Seph and I don't really like going out on a day that's too hot—we would rather stay at home and chill with the AC.
BM: I think I'm the same, but if it's fashion-related, I need to have beaters. I try to carry around two or three in case I get really sweaty.
EnVi: Any brand recommendations for summer wear?
Jiwoo: I actually received this shirt yesterday as a gift, it's a brand called Ksubi and I really like this other clothing brand called Fucking Awesome.
BM: That shirt is fucking awesome too!
Jiwoo was wearing a black oversized long-sleeve with bright neon graphics, which she later revealed during the concert, was a gift from a store employee who turned out to be a fan of KARD's.
BM: For me, I just keep my beaters with the original Hanes and those do me okay (proudly smiles).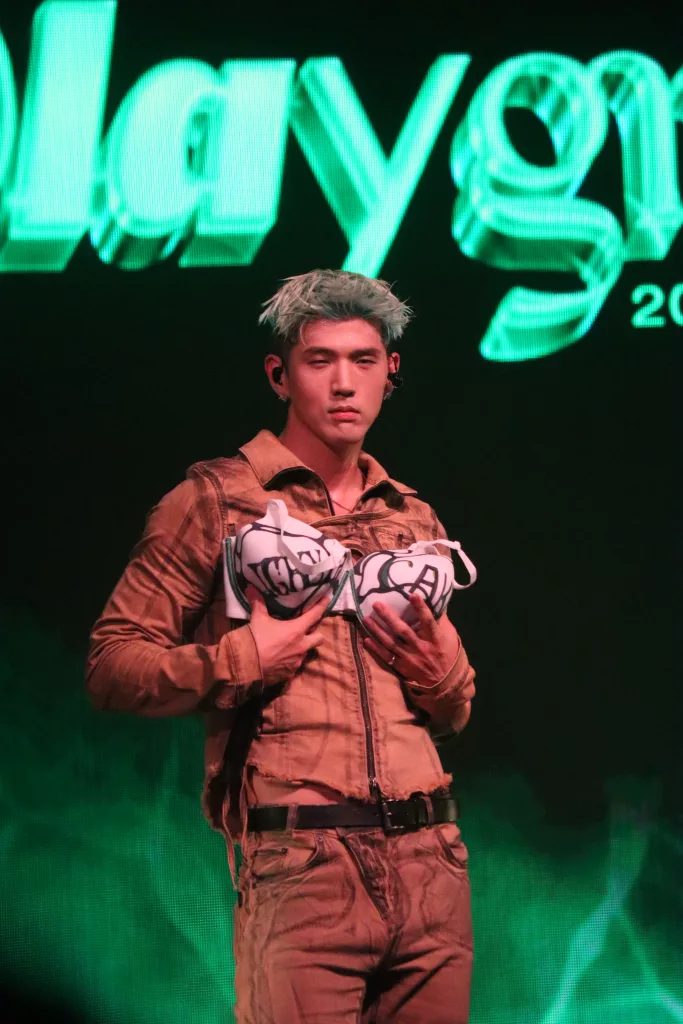 EnVi: What's your go-to summer beverage?
Jiwoo: I just want an ice-cold beer. There's something in Korea where there's draft beer, but on top, the foam, it's a layer of ice, that's how cold it is.
J.Seph: I'd really like an ice-cold white wine.
BM pauses to think of an answer before Somin and Jiwoo chime in on what they believe is his favorite.
BM: Pink lemonade? Oh yeah, Simply Lemonade…light. I don't necessarily like the light lemonade, but I prefer it because it's fewer calories. Simply Raspberry is my #1 go-to—I just carry it around, it's so good.
Somin: He gets the big ones too (laughs). For me, I'd say iced coffee or the Dragon Drink from Starbucks.
BM: Shout out to Starbucks, maybe you should do something with Somin.
EnVi: And with you—your hair is kind of Starbucks-colored right now.
BM: Oh yeah, you're right (BM briefly looks at his green hair in the mirror and the others giggle.)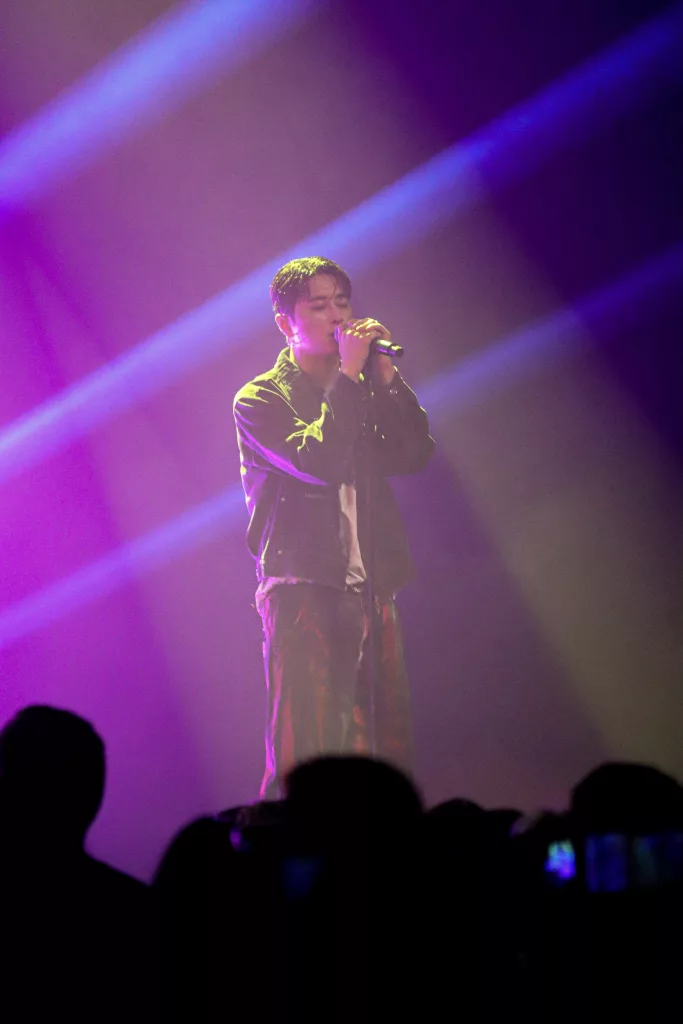 EnVi: How about food?
BM: Tacos for me, I love tacos. My favorite go-to place is King Taco when I'm in L.A. and they just have meat, tortilla, and a gang of cilantro and onions, with red sauce on top and I'm good.
Somin: Cold buckwheat noodles.
Jiwoo: There's a soup made of beans and it's very cold…
BM does his best to translate and describe Jiwoo's favorite Korean bean soup, hinting that it may include radish but bashfully admits his translating is a bit limited.
J.Seph: I like to eat raw fish (mulhoe in Korean) mixed with vegetables and a little bit of soup mixed with gochujang (red chili paste).
EnVi: I might have to try some of these on my own time. Any dream locations you'd like to spend the summer that you haven't visited already?
BM: For me, it's Greece, I really wanna try going to Santorini on the side of the mountain where the little rooms are. I saw a couple of vids where the hot tub is connected to the house and you just have your personal hot tub—that's a place I really want to visit.
Jiwoo grabs her phone behind her and shows me photos of Copenhagen on Google.
Jiwoo: I think Copenhagen looks beautiful in the summer, so I'd love to go there.
Somin: There's an island in Spain I want to visit—I'm going to look it up.
J.Seph: I want to go to Boracay again (laughs). I've been there before but that's definitely a place I want to revisit.
Somin chimes in with her response after spending some time searching it on her phone.
Somin: Majorca in Spain—I'd love to visit one day.
EnVi: Great choices, all of those sound so relaxing and peaceful. Well, my last question for you is, what kind of sounds and smells do you associate with summer?
J.Seph: I think of mosquito repellent because it's a #1 must-have and the mosquitos in Korea will definitely get you.
Somin: Lemon, for me. I like the smell of citrus in the summer.
Jiwoo: There's a bug in Korea that's really loud—it's like this sound (referring to the soft buzzing sounds of the dressing room we're in) but turn up the volume times ten, and it's a sound that you hear from those bugs in the summer.
EnVi: That sounds a lot like cicadas here.
BM: Oh, I think it's the same thing! Cicadas is the English word for them. But for me, for smell, I think of wet cement like it's so musty, my goodness (laughs). And for sounds, just the sounds of air conditioners and fans.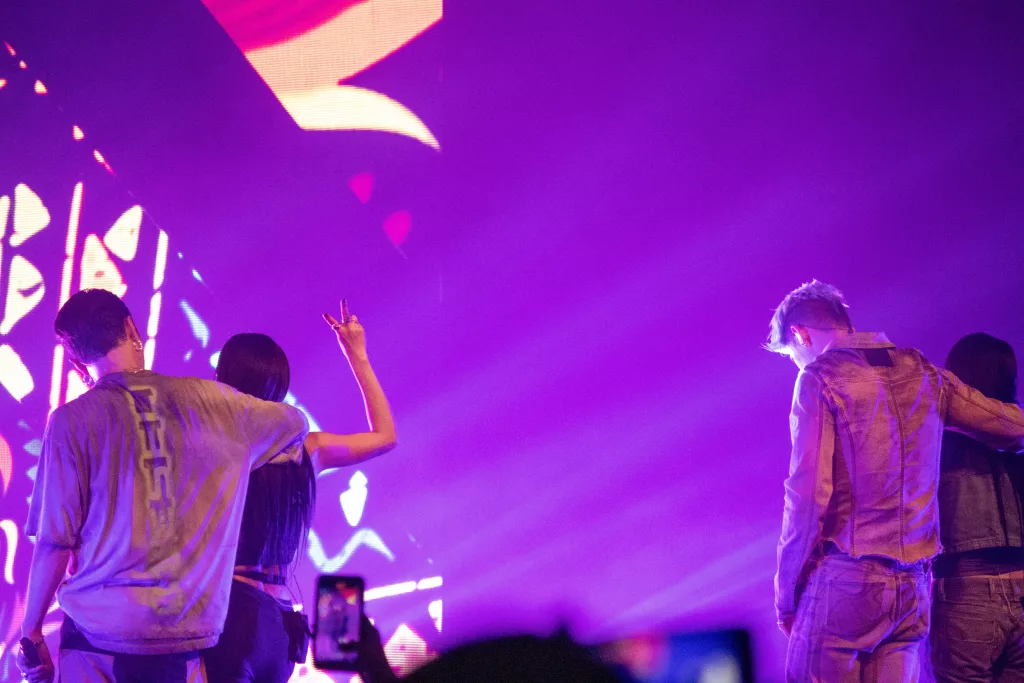 As we graciously wrap up the interview, approximately 40 minutes before showtime, the quartet exits to make their final preparations and wardrobe changes. By the time I see them again, they're greeted with another warm, inviting sound that deserves a very special mention: the thundering cries of their fans as the group opens the show with their latest single, "ICKY," expertly coating the stage with blistering allure and ready to make Chicago their playground. And they do.
Listen to KARD's ICKY EP on Spotify and Apple Music!
Looking for more KARD? Check out our recent interview on the making of ICKY here!