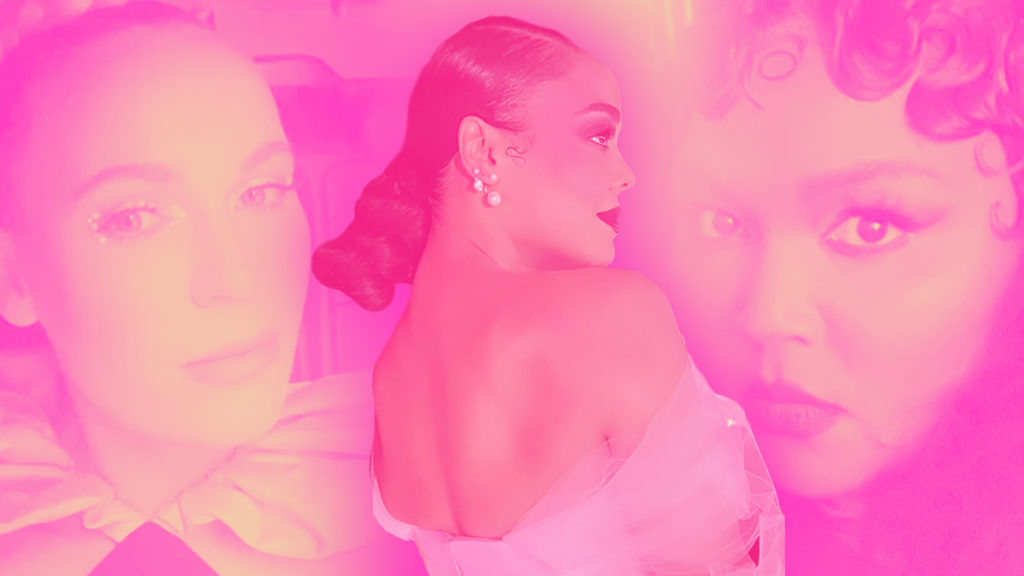 The Met Gala is one of beauty's biggest nights. For many, this night brings the chance to share creative visions of style and beauty. Held at the Metropolitan Museum of Art in New York City, the yearly event features glamourous stars each decorated with intricate makeup, hair, and jewelry to accent their outfits.
Following this year's theme, "Gilded Glamour," some stars like Chloe Kim, showed up in romantic style makeup, while others like Janicza Bravo opted for bolder, colorful looks. When it came to hair, a variety of styles were presented on the star studded carpet, ranging from more structured and shapely designs to sleek and refined styles. EnVi breaks down how these standout looks pay tribute to the age known for innovation and prestige while also referencing trending styles of today.
Tradition Meets 21st Century Innovation
These celebrities arrived with sleek buns and wavy hair, traditional styles that continue to be staples even in the 21st century.
Billie Eilish
Billie gave the classic high bun a new look with "y2k" inspired bangs poking out of the front of it. The choppy take complemented her gilded age attire with a chic look.
Vanessa Hudgens
Vanessa stunned onlookers with a refreshing twist on a go-to hairstyle. Her bun featured well-shaped twists decorated with single rhinestone chains throughout.
NCT's Johnny Suh
Johnny's hair resembled the classy look of slicked back styles worn by men from the gilded age. To make the look more suitable for the new age, gel was used to achieve a wet-look, with a few strands pulled out to grace his forehead and achieve an "edgier" look.
Smokey Red Eyes
Stars showed up in gold, silver, and black, but these celebrities caught our attention with their unique red-toned looks.
Sophie Turner
Sophie arrived with long, wavy auburn hair and a smokey eye to match. Featured under thin brows specific to the early-20th century, rusty brown eyeshadow was dispersed from her lids and to her crease. Combined with dark-chocolate brown liner on the water line, this look brought out the fierceness of her blue eyes.
Tessa Thompson
Tessa wore a berry-toned red eyeshadow look with her extravagant pink dress. The smoked-out shadow extended beyond her eyes, upward to her temple and downward to the tops of her cheeks, creating a gorgeous red-to-pink gradient effect. The look was completed with a striking deep red lip.
Frosty Blue Looks
While the Gilded Age is known for featuring gold-eccentric looks, these stars opted for icy blue tones to contrast, yet still remain within the lavish theme.
Janicza Bravo
Sporting an electric blue eye blended with aqua and cerulean, Janicza stood out from the crowd. The brave look was complemented with an orange-tone red lip and gold accents along her suit.
Caroline Wozniacki
Caroline stunned onlookers with a refreshing sky blue eye complemented by several circular rhinestones at the inner and outer corners of the eyes. The frosty look matched her dress perfectly.
Gilded Accessories
Gold, luxurious statement pieces took the form of jewelry and accents for some. These brave stars may have shifted the attention away from their hair and makeup, but still dazzled.
Paapa Essiedu
Paapa wore a teal colored velvet suit to this year's Met Gala, but what really stood out were the gold and stoned chains worn over it. The emerald stones were uniquely shaped but accented his suit beautifully.
Melissa King
Another attention-grabber was Melissa King, who wore gold rings and intimidating finger covers. The large rings were of differing lengths and textures, but perhaps the most interesting were the two finger covers on her right hand, attached to a wrist cuff, that extended long beyond her ring and pinky fingers. These covers were adorned with multiple ruby stones and sharp nail tips.
Isabelle Boemeke
Isabelle's gothic look complete with graphic black liner and facial piercings was brought to completion with long black nails covered in chunky jewels. Her leather corset acknowledged the theme of the night, but these studded nails took inspiration from the nail art trends currently dominating the beauty industry.
Ashton Sanders
Ashton blew viewers away with his interpretation of the theme, sporting a denim ensemble trimmed with metallic gold and shocking zombie-esque contacts. The look was completed with matching gold fingerless gloves and, more interestingly, gold spectacles to honor the entertainment scene of the gilded age.
Lizzo
Lizzo's stunning black and gold ensemble was completed with a bold maroon lip and structured waves in her hair. The singer also wore extra long, pointy black nails with swirls of gold standing out from them. Once again, nail art proves to be a simple yet clever addition to any look on the red carpet.
Vivid Colors
Tapping into the colorful part of the gilded age, these celebrities dazzled in lively hues.
Normani
Normani sported a minty colored eye look with shimmery white placed at the inner corners. The thin black liner and dispersed lashes added a subtle dramatic feel, but did not overshadow the peachy blush and purposefully placed beauty marks on her cheeks. As makeup artist Priscilla Ono stated, the refreshing color adds a modern twist to gilded age makeup.
Kiki Layne
On the opposite side of the color spectrum, Kiki Layne went with a bubblegum pink ensemble. Complete with a pink, red, and silver stoned necklace, her look featured small pink leaves across her lids. This unique eye makeup, achieved by Billie Gene, added a chic spin to elegant pink fashion.
Making a Statement
For years, many celebrities have taken the time to address important issues while at world-renowned events, and tonight's Met Gala proved to be no different. These celebrities each told a vital story through their fashion choices.
Gabrielle Union
The night saw icons like Gabrielle Union wearing a bright red head piece. Hanging from her slicked back hair, the piece signifies the blood that Black Americans put into building the wealth of America. On the carpet, she used her piece as a remembrance of the dark history of racism in America.
Quannah Chasinghorse
Quannah "blue" us away with her elegant sea-colored chiffon gown at this year's gala. The dress was complemented with a frosty blue eye look to match. What stood out was the inclusion of Indigenous jewelry worn in tribute to her ancestors. The creator, Lenise Omeaso, an Amskapi Pikuni woman from Montana, stated "each bead tipi upon her necklace represents her community's love and support." While the event was intended to honor the luxurious gilded age, Quannah ensured that all remember it as a simultaneously dark one for indigenous people, who were being forced to abandon their culture, traditions, and families to become "Americanized."
Bold Head Pieces
Extravagant headpieces are no stranger to the Met Gala. Celebrities showed up with daring and stylistic pieces to display while honoring the era of wealth.
Teyana Taylor
A discussion on headpieces would not be complete without one of the biggest headturners of the night. Teyana Taylor's metallic headpiece was accented with amethyst and lavender stones that matched her galaxy-esq gown and purple dream eye makeup.
Jessica Chastain
Jessica's head-to-toe Gucci piece grasped the attention of all. The glittering ruby colored dress complete with a matching head wrap trimmed with diamonds made for a look completely dedicated to the genre of brilliance.
Winnie Harlow
Artist Iris Van Herpen, the creator Teyana Taylor's futuristic headpiece, is also responsible for crafting Winnie Harlow's angelic crown. The "White Swan" piece channels the growing trend of graphic liner and art in the beauty industry while paying tribute to Swan Lake, a historical ballet that premiered during the gilded age in 1877.
Dripping in Gold
Ravishing looks graced the red carpet all night long, but a select few decided to stand out in glittering gold. From thighlighter to impressively shaped neck pieces, here are the glamorous gold looks of the night.
Megan Thee Stallion
The H-town Hottie graced the red carpet in a gold sequin Moschino gown created by Jeremy Scott, the creative director of Moschino. Scott shared that Thee Stallion's gown was inspired by the intricate flourishes and carved moldings of a Gilded Age mansion. With its mesh cutouts, thigh-high split and cape made of gold leather, laser-cut to look like feathers—the rapper's gold ensemble was jaw-dropping.
Cara Delevigne
Cara arrived with liquid gold painted across her chest, arms and feet. Taking a literal meaning to the term gilded, the model dazzled eyes as the metal shimmered under gold jewelry. Her eye makeup featured gold and silver flakes all along her lids that were shaped into a pointed tail at the outer corners.
Chloe Bailey
Chloe graced the red carpet in a beautiful sequin gown with interesting bulb-like curves. The dress was accessorized with a grand metallic gold necklace portraying the shape and texture of birds wings. A mouthpiece attached to the necklace was also shaped like a butterfly, adding to the prestigious feel of the entire look.
Dark Times
While the gilded age is mostly known for being a time of economic boom in the late 19th century, the era was also known to be one of corruption as the imbalance between the wealthiest and poorest Americans grew. As the saying goes, "not all that glitters is gold." Here are the stars who took a more unconventional route to honor the age by portraying the darker side of glamour.
Jordan Roth
Jordan turned heads in his abstract and circular shaped black suit. To make the look well-rounded, he wore a matte dark purple lip. The producer's eyebrows were thin as to not distract from the bold smokey eye that accompanied his just as abstract and large bun.
Karlie Kloss
Karlie also opted for a black smokey eye with thick liner on her water line. The liner was just barely dispersed outward, bringing about a certain intensity to Karlie's gaze. Silvery shadow highlighted her sharp brow line and her matte lipstick in a dark brown shade tied the entire look together so that it was not overwhelming.
Alton Mason
Alton's jaw-dropping cape of the night was complemented by a sharp cat-eye. His black liner extended outwards and upwards to the tail of his brows, but what made the look captivating was the preciseness of the long inner corner liner. With the minimal smokiness of the liner, cheekbones defined by a rustic blush, and a simple lip, the power of this eye is one to remember.
A Touch of Red
The night saw both subtle and dramatic makeup, but these stars portrayed glowy looks topped off with a hint of the classy romantic red.
Chloe Kim
Paying homage to snowboarding at the Met Gala, Chloe Kim styled her hair similarly to her looks on the slope. Commonly known as "slut strands" within the sport, women snowboarders are able to identify themselves in action despite their outer gear. In an interview with InStyle, Kim sought to redefine the label into "beauty strands," which she proudly sported at the Met Gala. The loose bun highlighting these two strands beautifully complemented the Giambattista Valli Couture gown.
Michelle Yeoh
Donning an emerald green dress at the Met Gala, Michelle Yeoh was an embodiment of Gilded Glamour. The simplicity of Michelle's slicked-back straight hairstyle wonderfully juxtaposed the dress itself. Completed with a stunning necklace, she became a representative of elegance and simplicity, proving that less is more.
Silver Stunners
Showstopping looks decorated with silver pieces graced the red carpet. These stars shined bright and gave a unique meaning to the gilded age.
Fredrik Robertsson
Frederik quickly grabbed the attention of onlookers in an avant garde silver piece featuring shiny bonelike structures dispersin from his outfit in all directions. To pull the arts attire together, Frederik's makeup artist, Linda Hallberg, gave him a silver-to-black gradient eye. The crease was cut with pearls gradually increasing in size as they moved towards the outer corner and then diminished once again as the movement continued under the bottom lash line and back to the inner corner. This swooping motion added an impressive contrast to the strict movement of Frederik's body piece.
Alicia Keys
Alicia Keys paid tribute to New York City and its impact on the world of music by wearing a long black cape trimmed with a bedazzled replica of the city's skyline. The look was topped off with 10 silver foam circles made to look like CD's placed throughout her ponytail.
Want more Met Gala coverage? EnVi breaks down NCT's Johnny's debut on the red carpet!