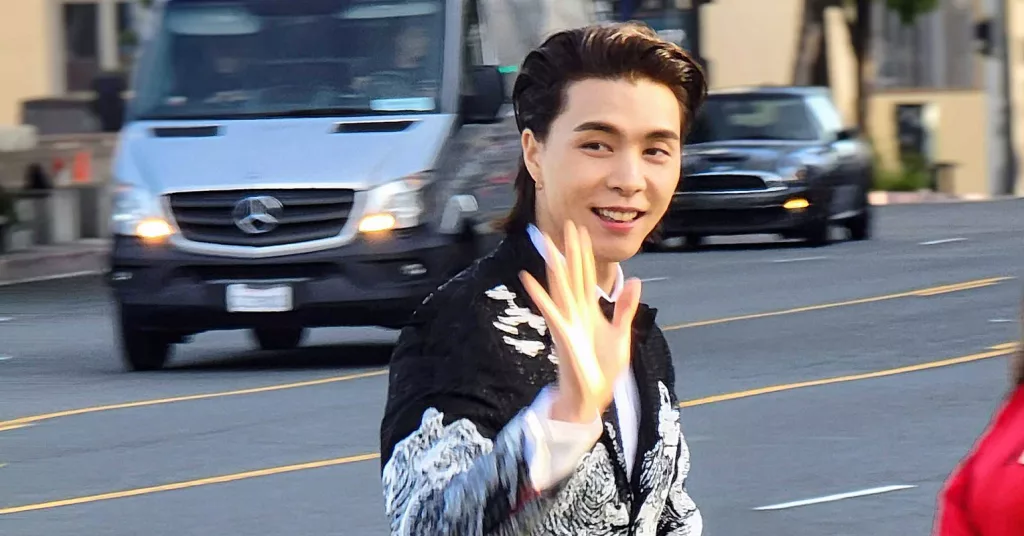 On May 6, NCT's resident fashion enthusiast, Johnny Suh returned stateside to make an appearance at the Gold House 2nd Annual Gold Gala. The K-pop idol is a growing influence in the global scene, having attended his first Met Gala in 2022 and gracing New York Fashion Week earlier this year. Joining a night that celebrates Asian excellence, Johnny hit the red carpet offering a fun, effortless take on suiting.  
Effortlessly Stylish
Always a fashion connoisseur, K-pop star Johnny Suh flaunts an effortless, boy-next-door style on a daily basis. However, he seems to favor dapper fashion on the red carpet, often suiting up and opting for tailored looks at high-profile events. Johnny's outfit of choice for the 2023 Gold Gala — which honors Asian American and Pacific Islander Heritage — was not any different. For the occasion, Johnny selected one of Thom Browne's Pre-Fall 2023 designs. Adding a twist to the classic black suit, Johnny wore a sport coat and cuffed trousers that featured motifs reminiscent of toile de Jouy.
The color-coordinated look also included an Oxford shirt, a black bowtie, and stacked-sole shoes with Thom Browne's signature Four Stripes. To tie it all together, the Asian-American icon paired his fit with a slicked-back hairstyle that further added to his heartthrob charm.
Johnny is no stranger to adding fun spins to suited looks. Back in February, the idol was present at Thom Browne's Fall Winter 2023 fashion show, sporting a similarly playful take on classic menswear. Prior to his Fashion Week debut, Johnny also attended the 2022 Met Gala, opting for a "New Gentleman" approach to the event's "Gilded Glamour" theme.
Gold Bridge
The Gold Gala, hosted by Gold House, celebrates Asian Pacific creatives from around the world. First held in 2022, the Gold Gala became the most-viewed Asian Pacific gathering in North America. For its second installment, the Gala takes on a "Gold Bridge" theme to reflect Gold House's upcoming goals and aspirations for 2023. "2023 marks the year of the Gold Bridge: a year of building legacies that connect, inspire, and unlock infinite opportunities," the organization shared in a tweet.
In addition to bringing together influential figures and organizations from global Asian and Pacific Islander communities, the event will honor 100 impactful individuals on the 2023 A100 list. Honorees were drawn from a diverse group, including actor Ke Huy Quan, actress Sandra Oh, Netflix Chief Content Officer Bela Bajaria, Vogue China's Editor in Chief Margaret Zhang, K-pop girl group NewJeans, Chinese singer Jackson Wang, and more.
Johnny's Impactful Year
Much like the other influential Gold Gala attendants, over the past year, Johnny has proven to be a force to be reckoned with in the entertainment scene. Whether through his group activities or his solo appearances, Johnny has made waves around the world, achieving important milestones and attracting attention across fields.
As a member of NCT, the singer and performer has toured around the world, not only promoting his group but also elevating the status of Korean and Asian music. Meanwhile, in his solo schedules, Johnny has shown beyond any doubt the rise of Asian stars in the world of fashion.
And numbers attest to Johnny's influence. In February, the Chicago-born idol racked up $529K of Media Impact Value™ (MIV®)* with an Instagram carousel of his appearance at Thom Browne's New York Fashion Week show. As per Launchmetrics — the software and data company specializing in the fashion, beauty, and luxury sector — Johnny was responsible for the top-performing post related to Thom Browne's The Little Prince-inspired show. Alison Bringé, Chief Marketing Officer at Launchmetrics shared with EnVi, "NCT has emerged as one of the K-pop star groups seen on numerous front rows and bringing a significant uplift in brand exposure during Fashion Weeks. […] although we're still processing this season's NYFW [insights], our initial data shows NCT to be one of the top Voices for the week."
With such impressive accolades, Johnny is one of the names representing the AAPI community in the world. It helps, of course, that he has mastered the suiting formula, adding his own flair to every look he wears on and off-stage.
But Johnny is not the only star nailing red carpet style. Asian celebrities across the board are dominating the fashion scene. Read everything about the Asian stars that stole the show at this year's Met Gala here.