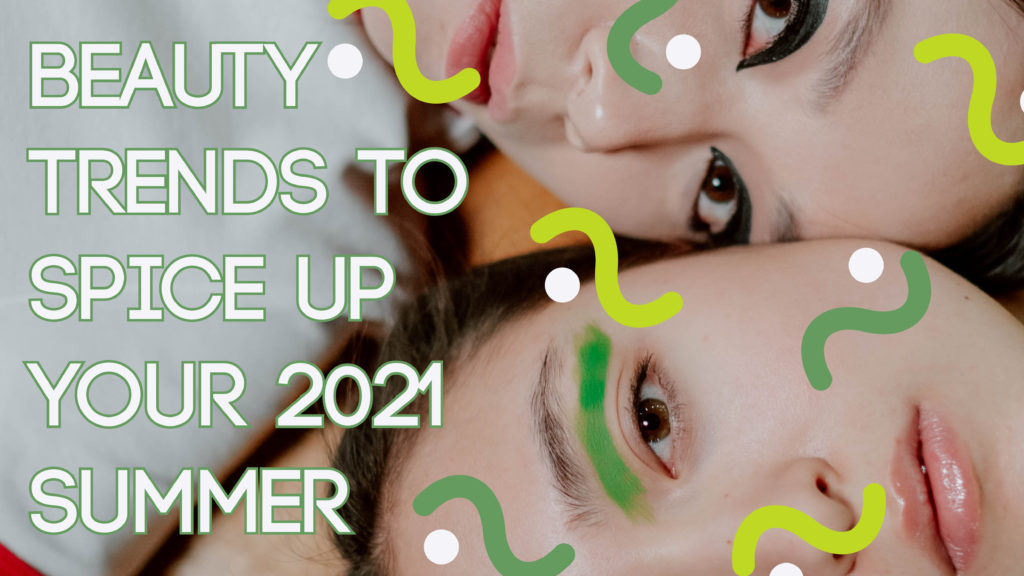 Following the recent pandemic, the still-recovering world is slowly opening up, which means a lot of people are getting ready to venture out. Countries are opening their borders to visitors, concerts are resuming, and dining out has become more frequent. As life goes back to more "normal," EnVi's beauty team wants to prepare you for some of the latest beauty trends you'll be seeing out and about!
Trend: Graphic liners
Graphic liners are all the rage this summer! To make a bold statement with and without a mask, graphic liners are the way to go. Influencers like June (@visiblejune) are rocking our social media feeds with thoughtful liner looks. Using a more alternative approach to liners, she can artfully create her looks. Graphic liners have also been utilized by influencers like Antoinette (@esantoinette). Her eyeliner looks gain thousands of likes regularly on platforms such as Instagram. The influencer community isn't the only community picking up graphic liners. Celebrities like Doja Cat have posted images with different variations of liner looks. For graphic liners, we recommend the NYX Vivid Brights Color Liquid Eyeliner. The product comes in nine different colors and is affordable for your next graphic liner look! This will be a staple for the summer. 
View this post on Instagram
Trend: Wavy nail art 
Much like the graphic liner trend, bold line art has penetrated through the different beauty mediums and has subsequently reached nails. Many influencers, such as Sophia Tuxford (@sophiatuxford), have posted the trendiest wavy manis, racking up large numbers of likes and interactions. Even celebrity nail artists like Chaun (@chaunlegend) have re-created the look over and over again, with local professionals such as Anna Haynes (@_nailsbyanna)  following in their steps, keeping on top of the trend. Usually built on top of a neutral base (like Essie's Topless and Barefoot Nail Polish), many of the designs feature a monochromatic color palette such as green, blue, or pink, however, there are more vibrant variations depending on what fits your style! The free-flowing lines make this trend super easy to do at home. Grab yourself a polish of your choice (we recommend Nails inc. London's newest release Relationship Status: Proud 4-Piece Nail Polish Set), a long "striper brush," and wave away to your heart's content. Finish with a topcoat (Ciaté London Plant Pot Speed Top Coat is fast drying and super shiny) and you're ready to tackle summer, hands-on. With wavy lines and cute color combos, it's clear this nail trend will prevail in summer. 
Trend: Skin-like makeup 
With the rise of skincare and our need to stay the most at home for over a year, we have a newfound love for natural and skin-like-looking makeup. Whether it's wearing a very light foundation (a style that influencer Kali Ledger truly mastered) or just going in with concealer (and maybe barely even wearing complexion makeup at all), a lot of people are preferring light and soft makeup over tons and tons of layers, especially in their daily lives. Lightweight skin tints are the best for this, like Catherine Hill's CHill liquid foundation. Another cool technique, following the faux freckle fever from 2020, is emphasizing moles or even drawing new ones, to make the foundation look even more like skin and give your face a more natural look, even with a little bit of coverage. We suggest using an eyebrow pen for this effect, like the Klasme Eyebrow Marker.
View this post on Instagram
Trend: Yellow-orange lids
Nothing more summer-like than warm colors! The bright yellow/orange trend is perfect for the hot weather and great for simply rocking bold colors. Be it matte or shimmer, like done by Soph (@glowbysoph), this style has been going around since the middle of spring and is definitely staying for this summer. It's been showing up in many K-pop concepts, like with NCT Dream and Itzy. You can try this style using just one flat tone, or using different shades of the same color (the Miami Sunset Duo by Lovely Makeup and the Seja Sua Melhor Versão palette by Vizzela are great for this!). You can even match this with the graphic liner trend and spice up your bright warm lid with a cool design like done by influencer Alexa Jennah (@alexajdmakeup). Another way is matching yellow and orange together, like this look by Deandra Michelle (@deandramichelle__), or even with other colors like pink, peach, and lilac for a more fun look!
View this post on Instagram
View this post on Instagram
We can't wait to see these beauty trends in action! If you try any yourself, make sure to tag us on socials @envimediaco and hashtag #EnVi! 
Need some inspiration? Check out how EnVi's beauty team put together looks inspired by NCT's Instagram posts!
Thumbnail courtesy of Nevi.