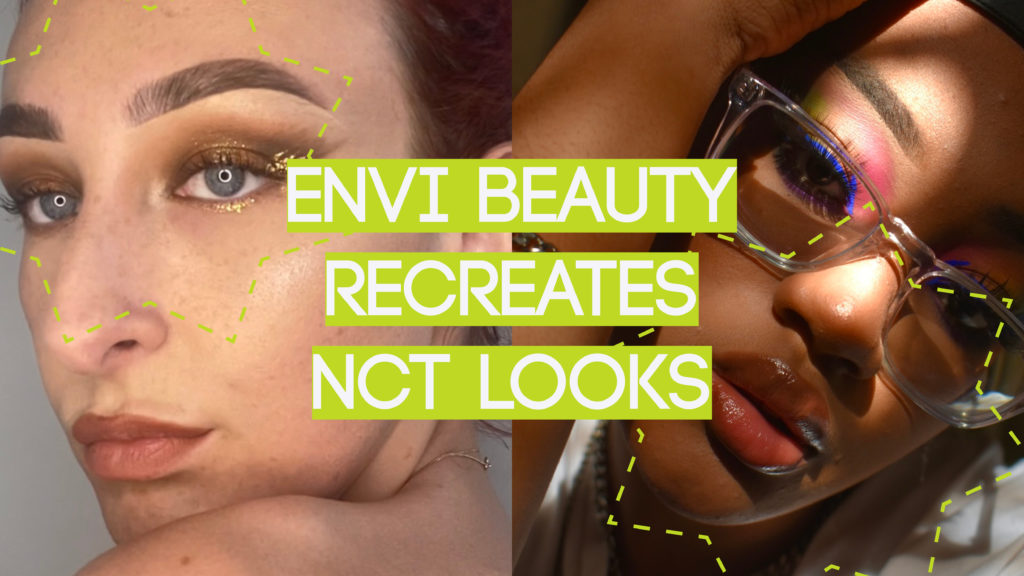 EnVi's beauty team put their creativity to the test, creating looks inspired by their favorite NEO Instagram posts.
Name: Taylor Louise | @taylor_louisem
Bias: Mark
Neo's IG: @onyourm_ark
Original post: Mark's Instagram
Taylor's look: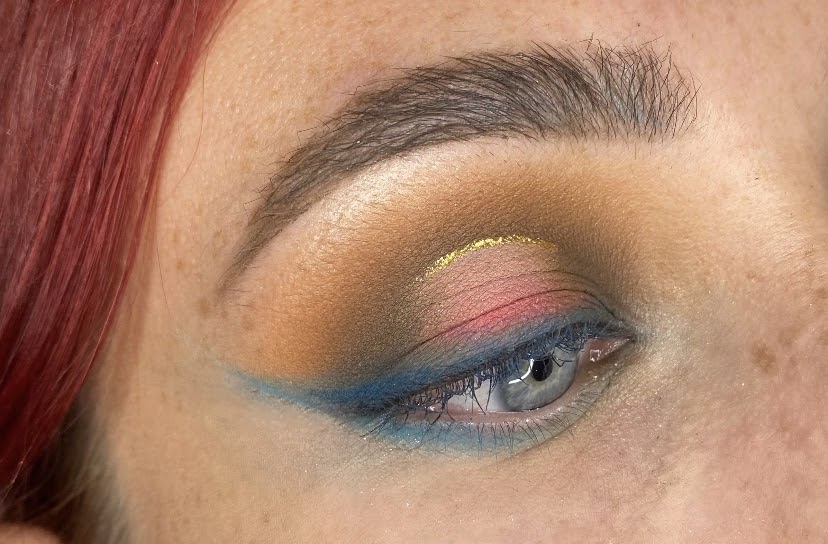 Why did you choose this post? 
Mark's poetry posts are some of my favorites throughout all the content he has shared—mainly because they're the written form of his thoughts, making them extremely personal. In the post chosen, the poem is about late night thinking. The way I interpreted it, his mind was busy with thoughts and so he wasn't able to sleep. For me, this poem resonated strongly, which is why I chose this post as inspiration.
Look breakdown: The majority of the post has warm, brown tones, with the background being predominantly dark, deep brown—making me feel that rich, matte browns were the best base to build from. There are also small gradients, moving from teal-blue to a lighter turquoise shade, which is why I began with these specific shadow shades. Likewise, there was a small pink-coral shape that I chose for the highlight color. On top of a base, I built up a brown gradient from the crease upwards, making sure I was blending evenly. Once I was happy with the blending and gradient, I then started to carve out the halo-cut crease with a light concealer. I really wanted to use some of the curved lines and shapes that were scattered within the poem's background, so this is why the rounded edge of the halo-cut crease was used. To do this, I used a light concealer, as mentioned before, and with a flat, circular edged brush, I created the shape above my natural crease. I patted the concealer on to ensure minimal smudging of the existing shadows. Since the concealer was damp, it was easy for the vivid coral shadow to stick.  Following the coral shadow, I bordered the cut crease with a gold liner, which represented the edges of the detail and significance of the words in Mark's post.
Products used: 
Anastasia Beverly Hills Brow Pomade 
Revolution Beauty London Fast Base Foundation Stick 
Iconic London Illuminator 
Revolution Beauty London Conceal and Define Concealer
Morphe Cosmetics 35B Artistry Colour Burst Artistry Palette
Jeffree Star Cosmetics Conspiracy Palette 
Clarins Supra Volume Mascara 
Name: Ellie Forte | @filthydinosaurs
Bias: Taeyong 
Neo's IG: @taeoxo_nct
Original Post: Taeyong's Instagram
Ellie's look: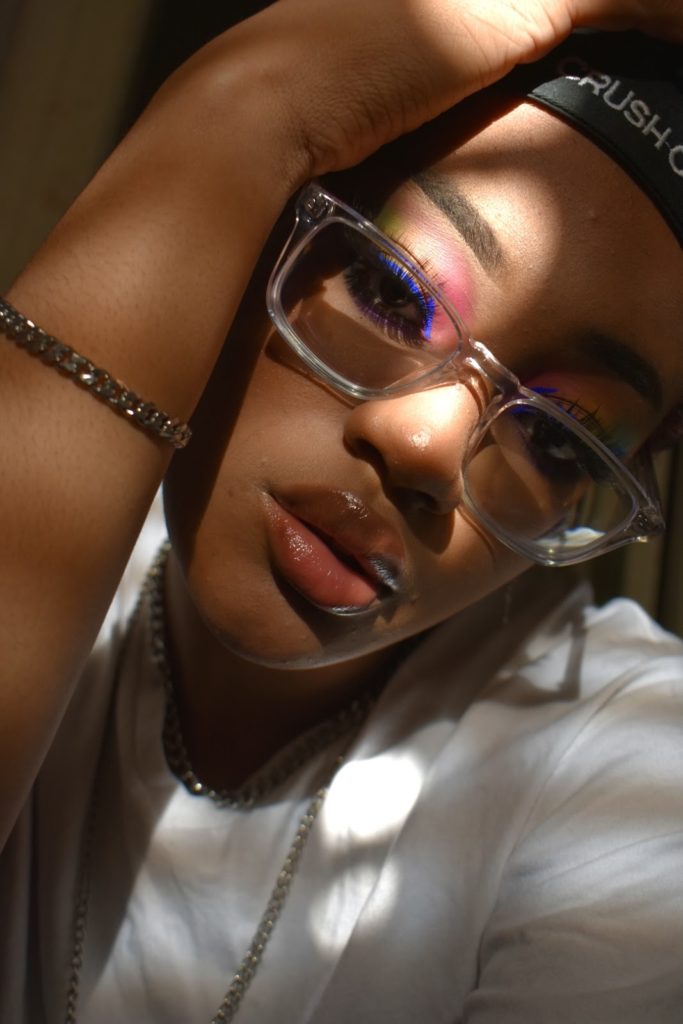 Why did you choose this post? This is one of my favorite Taeyong Instagram posts because of the lighting. When taking pictures, I personally love the look of being covered in shade. The contrast of the sunlight interacting with Taeyong's skin makes the picture interesting. There are subtle parts of the Instagram post, like the rainbow shining on his arms and pants that add to its beauty. 
Look breakdown: For this look, I wanted to mimic the lighting in Taeyong's post, but make it my own and go with a full face of glam. I started off the base with brows, contour, then foundation. In the post, the rainbows on Taeyong's hands and clothes are subtle. For my eyes, I used those same rainbows for my eyes and decided to add red and pink on my inner lids while finishing the rainbow. The colors I used after that were yellow, green and blue. To make a statement, I also used blue eyeliner and added eyelashes. I finished off the look with lip gloss and highlights. 
Products used:
YSL All Hours Foundation
YSL All Hours Concealer
e.l.f Lock on Liner and Brow Cream 
Anastasia Beverly Hills Mini Eye Primer 
BH Cosmetics Modern Mattes (Discontinued) 
Anastasia Beverly Hills Jackie Aina Palette 
NYX Vivid Brights Color Liquid Eyeliner
Fenty Beauty Gloss Bomb Universal Lip Luminizer
G4EBeauty Eyelash Doll Collection in Sherri
Name: Annie | @_whoisannie
Bias: Jaehyun, Haechan, Ten
Neo's IG: @_jeongjaehyun
Original post: Jaehyun's Instagram
Annie's look: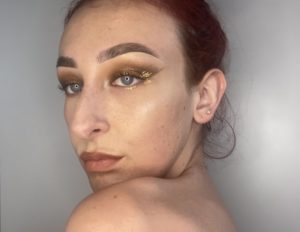 Why did you choose this post? 
I've been obsessed with Jaehyun's black and golden suit ever since the "Kick It" music video teaser came out. Maybe because I was sad I'd have an outfit that cool, but mostly because it was such a unique piece of clothing and Jaehyun pulled it off really well. I wanted to do something with those colors, so I chose this post.
Look breakdown: Because I'm treating a skin allergy and cannot currently put on makeup, I decided to draw it out and Taylor helped me bring it to life. I started with a messy brush stroke of black pigment, to give it almost a paint-like feeling. I transitioned it with a dark shimmery brown, also shading the entire crease. The rest of the eyelid was a transition to a copper shimmer, then a golden glitter in gel, that I also used under the eye. The main point of the look was the golden leaves, inspired by the outfit print. I used a chrome golden eyeliner to draw the leaves on the outer part of the eye. To finish off, I suggested using a highlighter with golden undertones and a nude lipstick.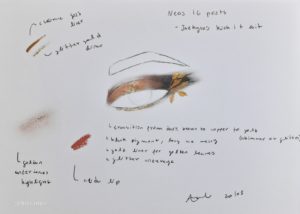 Products used:
Colormake Pigmento em pó Matte (2984)
Ruby Rose Desert Palette
Ruby Rose Delineador Glitter Shine 1
Luisance Chrome Liquid Eyeliner in Cor C
Ruby Rose Iluminador Glow Duo Highlighter 2
Essence this is nude Lipstick in #3 Bold
Love these NEO Instagram looks? Want more from EnVi's beauty team? Check out our SPF favourites for this summer here!
Thumbnail courtesy of Nevi.