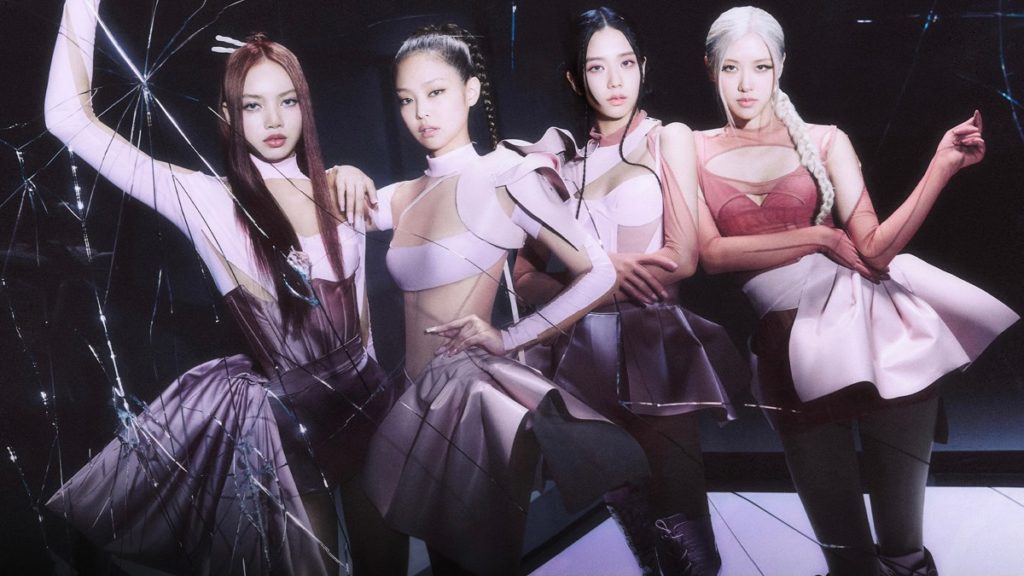 Less than a month to go before their upcoming album Born Pink, BLACKPINK dropped their pre-release single titled "Pink Venom." On August 19 at midnight EST, the music video was released on YouTube and surpassed 10 million views in just under an hour. Entering a new era after two years, this single experiments with a sound that mixes traditional Korean instrumentals with hip-hop.
Straight to the Scenes
Characterized for their signature "girl crush" concepts, BLACKPINK explore their dangerous, yet alluring "Pink Venom" in the new music video. As Korea Joongang Daily reports, YG Entertainment states that this was the largest production budget under the label so far. Not disclosing the exact amount spent on the video, each set displayed copious amounts of detail.
Vibrant scenes are built for each member with distinct color palettes that draw viewers further into the music video. Each member has individual backgrounds that differ from their group shots. They also continue making numerous references to their East and Southeast Asian heritage. From the hanbok in "How You Like That" to the use of the geomungo throughout "Pink Venom," this video does not fall short of any references. Though there are various sets and group shots, much of the video plays on harmony in the music and sets.
In the opening scene, Jisoo is surrounded by dark figures shining brightly on stage as "BLACKPINK" is chanted. Next, emitting a passionate vibe, red dominates Jennie's scene, from her dress, makeup, to the props. Then, followed by a desert-like set, Lisa delivers a memorable rap that references Rihanna's "Pon de Replay." Led by Rosé, the pre-chorus is met with a darker imagery as she wears a black dress against a thunderous background.
With an eccentric sound, each group shot brings forward new looks and diverse backgrounds. From hip-hop to rock-infused verses, each set matches the vibe of the song. Bringing more natural elements into the mix, the final hook is reminiscent of their "DDU-DU DDU-DU" water dance break from their online concert 'BLACKPINK: THE SHOW.' As the song concludes fiercely chanting "I bring the pain like," "Pink Venom" displays a new beginning for BLACKPINK.  
Light Up The Pink Campaign
Referencing their line "light up the sky" from "How You Like That," BLACKPINK announced the "Light Up The Pink" campaign via Twitter on August 17. Celebrating their comeback, the campaign acts as a way to connect BLINKS all over the world. Major tourist sites in six cities from Seoul to New York lit pink to promote the new single.
Quite literally bringing BLACKPINK to your area, the campaign has given international fans the first taste of this comeback. The grandiose project has many eagerly awaiting their upcoming tour in the last quarter of 2022.
Beloved by BLINKS
Earning over 86.2 million YouTube views in under 24 hours, BLACKPINK create a new record for most viewed female artist music video on opening day. Additionally, it has become the most viewed music video by a K-pop act this year alone. Breaking records after their two-year hiatus, fans take their unwithering support for the single to social media. To name a few, "Pink Venom" reached #1 on US and UK iTunes charts, 700,000 digital sales in China, and topped the MelOn Top 100 charts in 24 hours.
Fans take their reactions to Twitter to discuss the single further and share their thoughts on the new single. From creating edits to sharing their favorite parts of the music video, all thoughts circulate the digital space.
With their highly anticipated VMA stage on August 28, BLACKPINK are set to make their official U.S. music award show debut. Joining artists such as Jack Harlow, Lizzo, and Måneskin, the girls become the fifth girl group overall to perform at the show. Set to make a memorable performance, fans can be sure that BLACKPINK will leave an everlasting impression on both new and old listeners alike.
Listen to "Pink Venom" on Spotify and YouTube. To keep up with the latest comeback news you can follow BLACKPINK's Twitter and Instagram to stay posted on their album release on September 16.
Want more BLACKPINK comeback coverage? Check out our piece on the Born Pink announcement here.