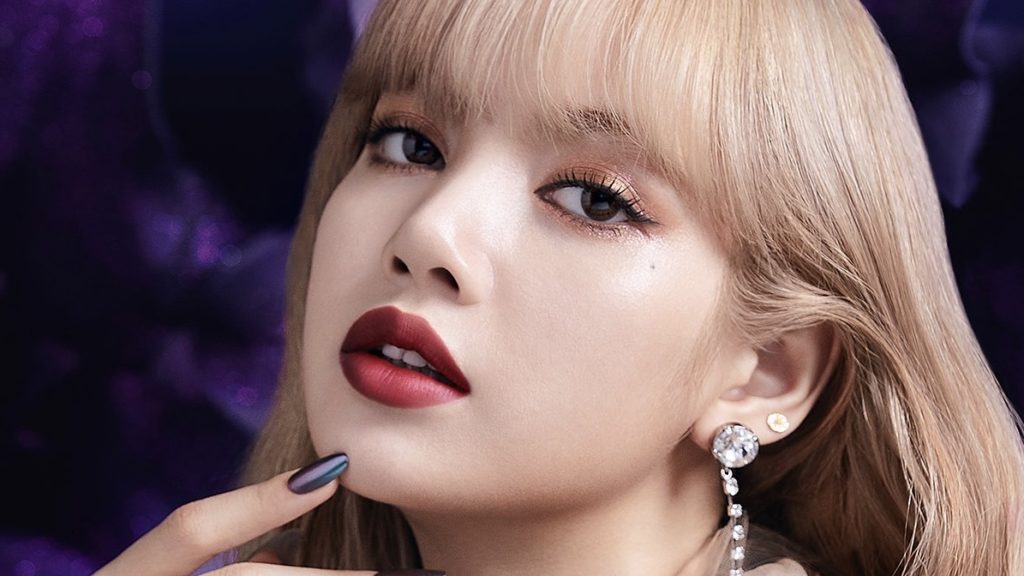 On December 3, 2021, the highly anticipated MAC x Lisa collection dropped. Officially entitled, "MAC X L," the collection features a variety of makeup essentials hand-picked by the BLACKPINK star herself. From the dazzling purple casing to the intricate flower designs, we cover this collection's most unique and must-have products!
Purple for the Holidays
The release comes with a special video featuring Lisa in her "purple party" look, complete with the shimmery shades "Aries Kiss," "Lily," and "Popstarry" from the limited edition eyeshadow palette. Together, these gorgeous shades make for a dreamy purple look perfect for holiday nights when one wishes to stand out from the crowd. Lisa loves purple so it's no surprise that she'd add in these unique "lavender and periwinkle" pigments to her palette.
Also featured in the look is a peach-toned blush named "Melba," and Extra Dimension Skinfinish highlighter in the "Show Gold" shade, also of the peach family. They are swept across the cheeks to add a smooth glow. Both pieces are encased in an attractive purple and glittery round compact with the title "MAC x L" written in gold across the top, but the surface of the highlighter has been carved into Lisa's favorite flower, making it an exceptional piece to have in one's collection.
The look is topped off with Lisa's signature cat-eye and a pouty red lip. The "classic winged shape" was created with Lisa's own specially designed "Brushstroke 24-hour Liner" in Brushblack and her standout red lip was created with "Powder Kiss Liquid Lipcolor" in the shade "Haute Pants."
The Palette Made with Love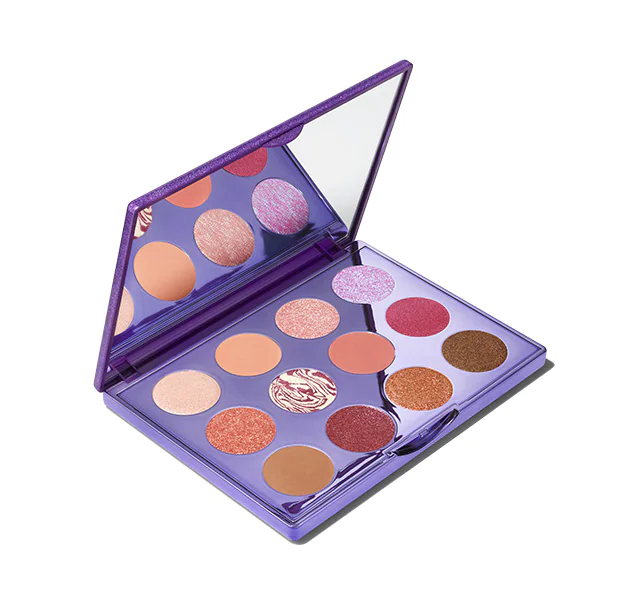 The primary focus of this collection for many is the shimmer-filled eyeshadow palette featuring shades and colors that are unique to anything else on the market right now. Lisa shared that, "This is the most special piece in my collection because all of the shades are designed and named after what I love most!"
This palette includes twelve highly pigmented shadows personally curated by Lisa herself! The neutral and shimmery shades are guaranteed an eight-hour wear with no creasing. Not to mention, these shadows can be used wet or dry, providing even more creative freedom for customers. With shades named after her cats and metallic shades inspired by Lisa's favorite ice cream flavor and an ultra-violet packaging adorned with her signature, this palette is an item every Lisa fan needs.
Lisa shared in a press email that she "wanted the MAC x L Eye Shadow Palette to be a versatile lineup that can effortlessly create naturally soft and sultry looks for every day or glam looks for a night out by embracing a bold balance of mattes, shimmers and glitters."
Glowing in Show Gold
Another beautiful item in the MAC x Lisa collection is the Extra Dimension Skinfinish Highlighter. This liquid-powder highlighter provides a luminous, metallic finish in Lisa's favorite peach-pink shade. You're guaranteed to glow like Lisa in the shade Show Gold.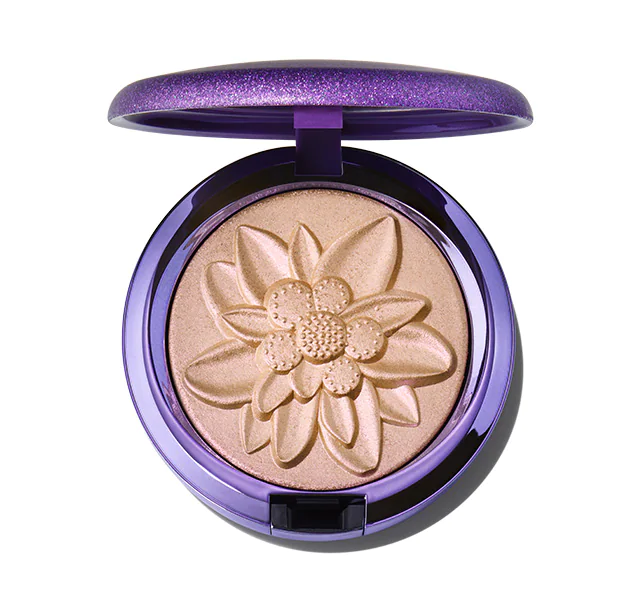 This highlighter instantly leaves the skin illuminated with the peach-pink opulence. The liquid powder has prismatic reflections that delicately sculpt and highlight the face with a beautiful metallic finish. The creamy MAC formula allows a ten-hour wear.
The highlight is pressed with her favorite flower, the edelweiss, another custom piece for Lisa's beautiful collaboration. It's exclusively in her signature ultra-violet sparkle packaging.
Lisa loves Powder Kiss!
Lisa surprised fans with a six-piece powder kiss lip lineup. This lineup stars her favorite shades including all-new hues she personally designed herself!
Powder Kiss Liquid Lipcolor formula provides moisture with a weightless feel on the lips with up to ten hours of wear. With a whipped, mousse-like texture, it doesn't flake on the lips, allowing a comfortable pigmented wear all day long.
This lip line consists of six colors. "Pink Roses" is a beautiful soft pink while "Swoon For Blooms" is a dusty rose while the "pumpkin" shades are named "Sorry Not Sorry" and "Rhythm 'N' Roses." If you're looking for a red lipstick to brave this holiday season, look towards the shades "Haute Pants" and "Fashion, Sweetie."
The vibrant liquid lipsticks are swatched here by M.A.C artist Wisut!
The Signature Cat-Eye
Fans adore Lisa's famous eyeliner looks, so an eyeliner pen with a precision tip is a must for her collection. The BrushStroke 24-hour eyeliner comes in two shades, "Brushbrown" and "Brushblack," giving buyers the option to don bold black looks to emulate her "iconic, on-stage gaze" or soft brown eyeliner looks perfect for an effortless everyday look.
However you decide to elevate your look, you can do so with this liner's tapered-tip, created to give users complete control! It's described as smudge-proof and promises to last all day. It's also encased in a signature metallic, purple tube.
Makeup Artists Create Their Own Looks
Check out the luminous rose-gold look created by Tuantinpar on Instagram!
Looking for holiday makeup inspiration? Take a look at this gorgeous periwinkle look.
For something more bold, these makeup artists combined pigmented pink and purple shades from Lisa's eyeshadow palette for sweet, but sultry looks.
With this new collection, Lisa continues to break barriers and solidify her presence in the beauty world as the brand ambassador for MAC Cosmetics! Keep up with Lisa on her Instagram, and check out MAC Cosmetics on Twitter and Instagram for more from the iconic beauty brand!
Want more BLACKPINK? Check out hand-picked gift ideas for your favorite Blinks here!
Thumbnail courtesy of MAC Cosmetics