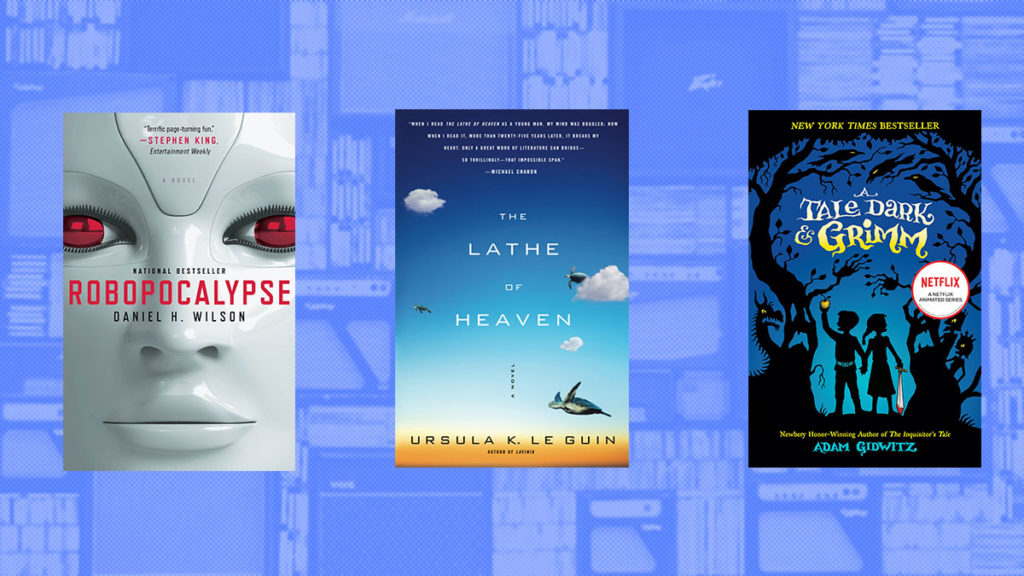 On this year's World Book Day, come celebrate with EnVi and check out book recommendations based on K-pop concepts! K-pop has some of the most unique themes and lores in the music industry. From concepts such as artificial intelligence avatars all the way to medieval royalty, it's always refreshing to see what sort of concepts these artists choose to showcase. Check out the list of books below!
NCT – A Dream Within a Dream
Making their first appearance in 2016, NCT debuted with their first unit NCT U with "The 7th Sense." NCT currently has 23 members and four active units and is continuously expanding in their number of members. With a "limitless" concept, the group is different from your typical boy group as the number of members in this group is continuously growing. Their concept follows a series of five videos called NCTmentary: "Dream Lab", "Switch", "Empathy", "Synchronization of Dreams", and "Back to Reality". Here, NCT explains that dreams connect the group. Reality is bound to limitations everywhere, but in dreams anything is possible–it becomes limitless. And these dreams are what allow NCT to connect, empathize, and become one with music.
Similarly, The Lathe of Heaven by Ursula K. Le Guin depicts concepts of dreams and reality. Except in this science fiction novel, the lines between dreams and reality start becoming blurred when George Orr wakes up one day realizing that his dreams have the ability to alter reality. The story is set in a futuristic world where society is constantly facing both societal and environmental disasters so readers question what George Orr will do as the possibilities are limitless. 
ATEEZ – Ahoy Mateys!
ATEEZ made hit after hit as they grew from monster rookies to fourth-generation leaders in the K-pop scene. From their debut mini album TREASURE EP.1: All to Zero with two lead tracks "Pirate King" and "Treasure", ATEEZ enjoys their fun concept as pirate kings on a journey to find treasure. ATEEZ continues with this concept by sailing the waters with their second title track "Wave" from their third mini album Treasure: Ep 3: One to All, and sailing the skies on their pirate ship in "Illusion".
What is a better way to immerse yourself in a pirate king's shoes than to read Treasure Island by Robert Louis Stevenson? This classic is loved all over the world and is considered to be one of the most popular pirate tales of all time. In fact, since its initial publication in 1883, there have been over ten movie adaptations. When most people think of pirates, they think of eye patches, a map with an "X marks the spot", or a talking parrot. This book is what actually introduced these pirate stereotypes to the world. The story follows Jim Hawkins into an adventure of a lifetime where he is caught in the whirlwind of one massive treasure hunt after the death of an old sea captain.
aespa – AI Alert
Since their debut in 2020, aespa continuously left fans amazed with both their unique concept and stunning performances. From their debut single, "Black Mamba", the four-member girl group kicked off the start of their unique artificial intelligence (AI) centered concept. The "ae" in their name represents "avatar" and "experience" through which each member has their own AI counterparts. In aespa's lore, the characteristics of these virtual counterparts are based on the data that the members upload online such as on social media.
If you love aespa and their innovative concept, Robocalypse by Daniel H. Wilson is a terrific choice if you want to delve into the darker side of artificial intelligence. This sci-fi thriller revolves around modern technology spinning out of control and turning against the human race. The antagonist of the book is an AI called Archos, who has a similar role to the Black Mamba in aespa's concept.
Kingdom – Medieval Madness
Kingdom offers a medieval royalty concept to the K-pop scene. They debuted in 2021 with their first mini album History of Kingdom: Part 1 Arthur with lead track "Excalibur". The seven members, Dann, Arthur, Mujin, Louis, Ivan, Jahan, and Chiwoo, are named after seven different kings who each represent a certain kingdom. Each album released so far has focused on the story of one member as a king. Their first mini album revolved around the story of King Arthur (hence the song being about Excalibur, or the sword in the stone) and represented the kingdom of rain. Their second mini album, History of Kingdom: Part 2 Chiwoo with lead track "Karma" represented the kingdom of cloud, and so forth. The group already released mini albums revolving around members Arthur, Chiwoo, Ivan, and Dann, and the next king to be featured is Louis!
The Once and Future King by T. H. White is the perfect read if you want to dive deeper into the story of Kingdom's first mini album. The classic is a retelling of the infamous story of King Arthur, Excalibur, and Camelot. The book is divided into four parts: The Sword in the Stone, The Queen of Air and Darkness, The Ill-Made Knight, and The Candle in the Wind, which slowly depict Arthur's story from his youth all the way to his downfall.
PIXY – Fatal Fairytales
Fans were stunned by the amazing visuals and lore PIXY showcased in 2021 with their debut single "Wings". The girl group gave many K-pop fans their first taste of what is a mix of dark fairytale and a horror concept. Their story was first launched by a series of "world view" episodes. The first World View story Chapter 01, With my wings, revealed the story behind "Wings." It began by portraying the six members as six fairies who were born without wings in a stunning animation style. The episode showed one of the fairies finding a pair of wings and taking it back home. But since then, she kept on having nightmares about a witch asking her to return the wings or else she and her friends will get cursed. With each PIXY comeback, the story expands as more World View episodes are released.
If you're a fan of dark fairytales, A Tale Dark and Grimm by Adam Gidwitz could be right up your alley! Inspired by the original Grimm fairy tales by Jacob and Wilhelm Grimm, Gidtwitz writes a retelling of the story of Hansel and Gretel with never-ending twists and turns. The story follows Hansel and Gretel as they encounter all sorts of magical beings. The tale has also been recently adapted into a Netflix show.
It's important to always get in a bit of reading every single day and let your imagination take you somewhere else. Let us know if you enjoyed any of these books! Amazon is also offering ten free kindle books on their website for this year's World Book Day. Don't miss out on these good deals!
Interested in learning more about unique K-pop concepts like aespa's? Read all about it in our Kwangya Korner here!