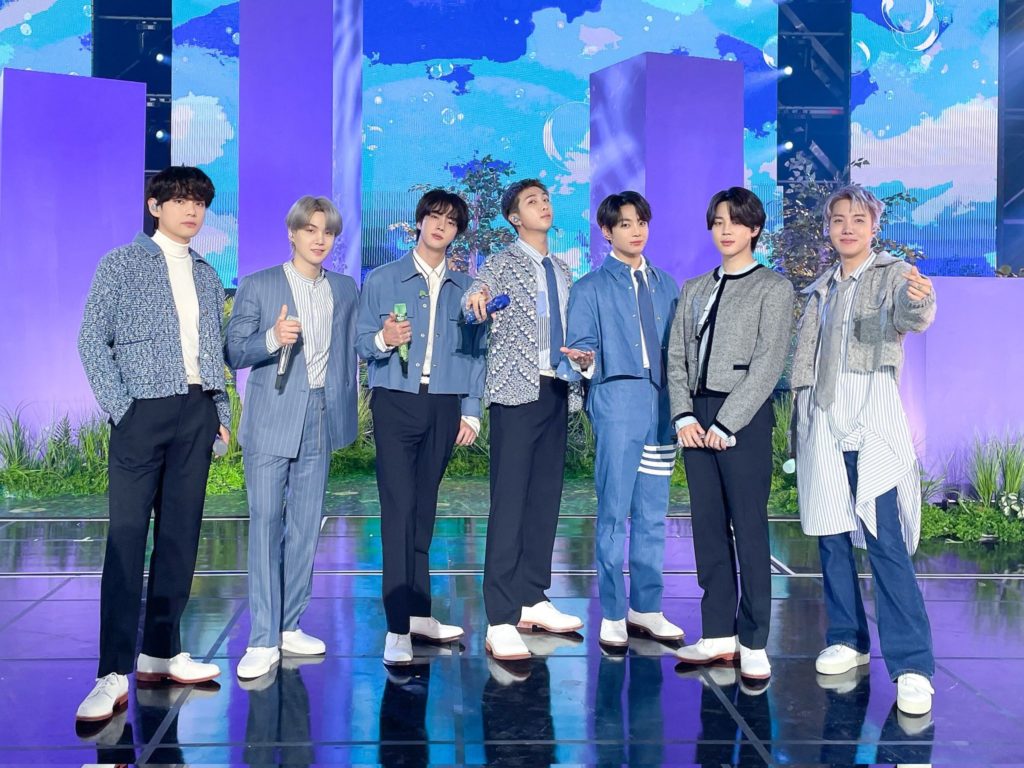 BTS is taking over the world by storm. With eight years into their careers the seven-member group has become trendsetters in K-pop. As worldwide superstars and Grammy nominees, BTS has broken multiple records, won numerous awards, and achieved global recognition. So it does not come as a surprise that their hit track, "Friends," from their 2020 album Map Of The Soul: 7 is being featured on the soundtrack for Marvel's latest release, Eternals.
According to Marvel's Direct and Korean Media, Walt Disney Company Korea confirmed on October 18 that BTS "Friends" is part of the upcoming soundtrack alongside tracks from artists like Lizzo, Pink Floyd, Skeeter Davis, Carl Perkins, and more. The song is going to be featured in a specific scene of the movie. 
Newsen reports that Walt Disney Company Korea confirmed "it's true" that BTS's song Friends is part of the upcoming Marvel film Eternals. It is only the 2nd Korean song to be in an OST of a Hollywood blockbuster. It's part of a 15-song soundtrack that includes music from + pic.twitter.com/eFuVTiziNa

— bora 🍃 (@modooborahae) October 18, 2021
Eternals, directed by Chloé Zhao, follows the story of the Eternals, an immortal alien race created by the Celestials who have lived secretly on earth for over a thousand years. After the events of the Avengers: Endgame (2019), the Eternals reunite to protect humanity from their long-time enemy, the Deviants. 
A Song About Memories 
"Friends" is a pop-rock track with a catchy and charming melody. The duet between BTS' Jimin and V convey seven years of friendship, high school experiences, and their love for each other. With lyrics like "one day when this cheer dies down, (stay) / you are my soulmate /  for eternity, keep staying here, (stay) / longer than seven summers and cold winters," the song conveys their wish to stay together for a long time. 
Jimin is among the track writers and producers, with other credits including Supreme Boi, Stella Jang, Pdogg, Martin Sjølie, and ADORA. When asked about the record back in November 2020, Jimin told Rolling Stones about how precious it was to reminisce old memories while writing the song.
"Our songwriting skills are still a bit rusty, so it took us a while to finish working on that song. However, it was an enjoyable experience for the both of us. We reminisced about old memories and included them one by one into the song to create a piece that is precious to us," said Jimin.
Even though it remains unknown which specific scene the track is part of, it's safe to say that having "Friends" on the soundtrack adds a fresh perspective to the movie as the story portrays a timeless relationship between the characters.
ARMY Takes Over Social Media
Upon the confirmation of the news, fans couldn't hold their excitement and took on Twitter to express their support and anticipation.
TRENDS• PRODUCER JIMIN

'ARMY gets excited after rumours surface that BTS' hit song Friends, which was produced by member Jimin, may be included in the upcoming soundtrack for Marvel's Eternals'.

WRITER JIMIN JIMIN
PRODUCER JIMIN JIMIN 🔥 pic.twitter.com/RIX7yLEScH

— Producer Jimin | Jimtober ♡ (@dailyjimn) October 17, 2021
– PROUD OF JIMIN AND TAEHYUNG trends with over 30.2k+ tweets as it is confirmed that Friends will be featured in Marvel's Eternals

— bts updates data (@btsupdatesdata) October 18, 2021
It's confirmed that "Friends" by Vmin will be featured as a soundtrack in the upcoming marvel movie "Eternals"!

This is huge! I'm so proud of Producer Jimin and Taehyung!! @BTS_twt 💜pic.twitter.com/SJXFM3DKJd

— Jimin⁷ (@PJM_content) October 17, 2021
I'm super excited to see how "Friends" by @BTS_twt will fit and also set the tone for Marvel's Eternals. I'm ready to experience it on a big screen 🔥 pic.twitter.com/F7Ng6K3Egw

— Dita ⁷ 🐙💜🐳 (@almostdita) October 18, 2021
OMGGGGGGG BTS' FRIENDS is one of the songs that will be played in Marvel's The Eternals 😭😭😭💗 pic.twitter.com/IctcySnpVS

— Ally⁷ 🐰 (@soft4taegguk) October 16, 2021
FRIENDS by Producer JIMIN on marvel: eternals ost soundtrack 🥳👏🏼

so excited & happy for them 🥺 VMIN's beautiful vocals 💜 ami's pride 🎀@BTS_twt pic.twitter.com/blgwX3Pa4n

— peach크림 (@jkeurim7) October 18, 2021
Friends by VMIN in marvel movie??!!

IM SO PROUD OF PRODUCER JIMIN
PRODUCER JIMIN pic.twitter.com/ywwzG6bx1s

— buff joon⁷ (@jiminieistaken) October 17, 2021
jimin's first song he produced getting a marvel movie soundtrack deal… like you dont understand this is HUGE im so incredibly proud of him

— hourly jimin (@hourlyjmn) October 17, 2021
WAIT WE ARE GETTING PRODUCER JIMIN IN A MARVEL MOVIE ??? pic.twitter.com/IleW8ugP6y

— loving october boy ♡ (@jiminbeakie) October 17, 2021
vmin friends since high school , graduated together , their song will be ost of marvel the eternals , yes vmin the most successful bestfriend , so proud of jimin and taehyung 🥺 pic.twitter.com/vU3PENXDhj

— MAYCEE ⁷ JIN OST 💜 (@seokjinmylabsss) October 17, 2021
"FRIENDS" OF JIMIN AND TAEHYUNG WILL FEATURE AS THE OST OF A MOST ANTICIPATED MARVEL SERIES , "ETERNAL"

— Kay⁷𓍯 (@jmkvult) October 17, 2021
y'all don't understand how happy i am that Friends is going to be featured in the new marvel movie the Eternals :') as a big fan of both marvel and bts this is exciting im so proud of jimin and taehyung #BTS pic.twitter.com/L8bDgHfZHv

— isabella⁷ 🎃👻 (@isabellasariana) October 17, 2021
BTS continues to add new achievements to their list, from becoming the first K-pop group to be nominated for a Grammy to reaching ten weeks at number one in the Billboard Hot 100 Chart with their single "Butter." Now being part of a Marvel soundtrack, BTS keeps breaking records and cementing themselves as a globally acclaimed artist with every new step they take on. Fans cannot wait to see what's next in store for the group. 
Want to read more about Marvel? Take a look at our coverage on Shang-Chi here!
Thumbnail courtesy of HYBE