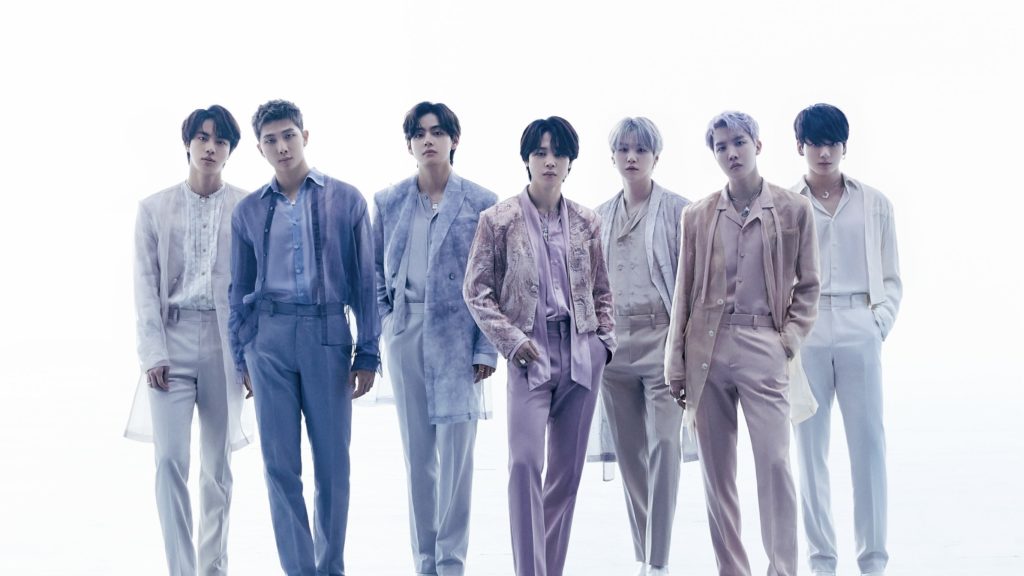 With a career spanning nine years, juggernaut group BTS have built quite a discography. From bold hip-hop to summery pop, the seven members of the group have covered a wide range of genres and themes in their 15 Korean albums (and beyond). "Dynamite," "Butter," and "Permission to Dance" may have hit the commercial jackpot, with their first all-English single racking up over 1 billion streams on Spotify alone, but BTS have many more hidden gems worthy of the same attention.
To celebrate the arrival of their anthology album, Proof, EnVi shares some of our favorite BTS B-sides that should be on any new—or old—ARMY's playlist.
2 Cool 4 Skool — "Like"
Released in 2013, "Like" is the sixth track on BTS' debut album, 2 Cool 4 Skool. Written by HYBE's in-house producer Slow Rabbit alongside BTS' RM, SUGA, and j-hope, "Like" incorporates a mix of R&B and pop genres with a captivating melody, setting it apart from the rest of the album's heavily influenced hip-hop sounds. In the lyrics, the group shares their perspective after ending a relationship, using the idea of liking their ex-lover's social media posts to express their frustration at not being able to move past their relationship. "I'd like to know how you are doing these days / Out of curiosity, (shit) I see that you have so many likes / Why did I think of you when you're doing fine without me," they sing.
Recently, the track became a viral dance on TikTok, and BTS members Jimin, j-hope, and SUGA joined the trend.
O!RUL8,2? — "Attack on Bangtan"
Just like the title track from O!RUL8,2?, "N.O," this B-side from their second EP does not come to play. Through "Attack on Bangtan," the group devised a fiery track aimed at those who disregard them because of their "nugu idol" status. The English title, "Attack on Bangtan," is a play on the Japanese manga, Attack on Titan, and one of the many references packed into this track. As the seven shout the syllables of their name, the weight of each is emphasized further when timed with the downbeat. BTS bursts with confidence and absolute certainty in who they are as they declare "Who are we? Who? Advancing Bangtan."
Skool Luv Affair — "Tomorrow"
Featured as the sixth track on their second mini-album Skool Luv Affair, this B-side expresses the frustrations of today's youth. Written by BTS' SUGA, j-hope, and Slow Rabbit, this song has become a comfort to ARMYS everywhere. Incorporating R&B and pop genres into this hip-hop-centered album, the group seamlessly binds all to create a signature "bangtan sound." With an emphasis on percussion and electric guitar sounds, certain ideals of success are criticized through the heightened emotion in this song. Portraying the transition into adulthood, the first verse narrates a ​​monotonous routine. "My life is in between / Jobless twenty-somethings / are afraid of tomorrow." While the album addresses the wonders of youth, BTS does not shy away from the problems they face as well. As the song unfolds, each verse encourages individuals to steadily keep fighting for their passions. Though the conscious decision to give up may come with many difficulties, a better tomorrow is not always promised. Moving forward as BTS continues to run towards new heights within their careers, "Tomorrow" becomes a reminder of pursuing those dreams. 
Dark & Wild — "Let Me Know"
In August 2014, BTS released their first full album, Dark & Wild. With fourteen tracks that maintained their hip-hop trademark, the group continued to expand their music catalog to R&B tones with tracks such as "Let Me Know." The R&B ballad mixes an electric guitar sound with mellow rhythms, allowing listeners to sense the deep emotions described in the lyrics. The lyrics explore a more mature side of BTS, as they open up about the heartbreak that comes with ending a relationship. As the song progresses, the group wonders why they ended up making this decision and concludes that it's better to move on from the sadness and anger of a breakup. "If there are hellos, then there's bound to be goodbyes? / Never ever / I don't care about that, / I don't want to stick to that I'll turn away, hypnotizing myself." j-hope raps. BTS' SUGA took part in producing the track alongside HYBE's long-time producer Pdogg.
The Most Beautiful Moment in Life Pt. 1 — "Moving On"
BTS hype music is great, like the explosive "Burning Up (Fire)" and the proud "Mic Drop," but the sentimental side of the seven is just as—if not more—powerful. Backed by an impactful hip-hop beat and a high-pitched melodic phrase produced by PDOGG, "Moving On" is a letter to BTS from themselves. RM starts off the moving out journey with the memorable line, "Ayo, SUGA!" He then focuses his verse on the early days when he first met the "Give It to Me" rapper. In between j-hope, SUGA, the leader's self-penned raps, the four vocalists sing "Let's move / Goodbye to this place that we became attached to / Let's move / Now to a higher place." Seven years later, they sure have moved to that "higher place."
The Most Beautiful Moment in Life Pt. 2 –– "Butterfly"
As part of the second installation of the group's The Most Beautiful Moment in Life series, "Butterfly" is a B-side that tugs at the heartstrings. The beloved track was written by HYBE founder and chairman "Hitman" Bang, as well as the label's well-known songwriters and producers Pdogg, Slow Rabbit, and Brother SU. "Butterfly" is a masterpiece of a song that can be sonically compared to a film score. In just under four minutes, the soft strumming acoustic guitar transforms into beautiful strings and synths that swell as the song reaches its climax. Throughout the track, they compare the subject of the song to a butterfly––focusing on the fragility and unattainable nature of the beautiful creature. Despite the fear that accompanies loving someone so wholly, the bridge encompasses the unwavering love of BTS with the lines, "My love that is forever / It's all free for you baby."
The Most Beautiful Moment in Life: Young Forever – "Love Is Not Over – Full Length Edition"
Re-released as the sixth track on the second disk in BTS' first compilation album The Most Beautiful Moment in Life: Young Forever, this song narrates heartbreak in its most pure form. Mainly written and produced by BTS' Jung Kook at the age of 18, he collaborates with Slow Rabbit, Pdogg, and BTS' Jin. With R&B and ballad influences, the softness of this song paired with the airy vocals creates a calming atmosphere for listeners all around. Marking an end to this era in BTS' discography, interpretations of this song as a farewell to both a person and one's fleeting youth. The hook follows, "Love is so painful / Goodbyes are even more painful / I can't go on if you're not here / Love me, love me / Come back to my arms." Reflecting on themselves throughout the song, BTS invites listeners to take comfort in these lyrics. With nothing more to give they argue their lasting efforts to love. These heartfelt lyrics capture even the darkest moments of the relationships many stray away from.
Wings / You Never Walk Alone — "First Love"
It comes as no surprise that "love" is a common theme in BTS' discography. However, SUGA's solo from Wings (and the repackage You Never Walk Alone) turns the expectations of a love song on its head. Many may expect a "first love" to be a person, but for the main rapper, it is his brown piano. He takes listeners on an emotional journey, inviting them in to see inside some of his most personal memories through the personification of the instrument. Meanwhile, this emotional turmoil occurs as he raps over a simple piano line. The instrumentals swell with strings woven into the piano notes, leading to the peak of the track where SUGA's voice almost breaks with emotion: "So don't ever let go of my hand / Because I'm not letting go of you ever again."
Love Yourself: Her –– "Pied Piper"
The fifth track off of Love Yourself: Her lures listeners in with an enchanting chorus that sweetly chants, "Follow the sound of the pipe… / I'm here to save you, I'm here to ruin you." With nods to the relationship shared between BTS and ARMY, there is a playful teasing from the septet towards their fans, but it is with the best intentions. The group urges ARMY to ignore the temptations of BTS and focus on their studies rather than being distracted by watching their reality series Bon Voyage. RM, SUGA, and j-hope are all credited as songwriters for this fan favorite and their clever wordplay is all over the track. Other credited songwriters include "Hitman" Bang, Pdogg, Jinbo, and Kass. Although the message is intended to be motivational, many ARMYs find BTS to be sending mixed signals with "Pied Piper" as both the song itself, as well as the choreography, can be viewed as seductive. With carefully timed body rolls, sweet falsetto riffs, and the line "I'm takin' over you," it is no wonder why ARMY choose to give their attention and love to BTS whenever this track comes on.
Love Yourself: Tear — "Outro: Tear"
With lines such as "You're my beginning and end," "We used to talk about forever, / but now we mercilessly destroy each other," and "Burn off my heart that is torn into pieces," the conclusion of their 2018 album Love Yourself: Tear packs an emotional punch. The lyrics reflect the hopelessness from which the track was born and play with the different meanings and pronunciations of "tear." In BTS' documentary Break The Silence, SUGA mentioned that "Tear" was "written for the members" when the group was considering whether they should disband. Written by Shin Myung-soo, SUGA, RM, j-hope, and DOCSKIM and produced by the latter, "Tear" is haunting from the first notes. A powerful yet steady bassline resonates throughout the song, echoing the delicate opening piano notes. The three main rappers of BTS bring the pain and hopelessness from this period and channel it into their lyrics, their rapping tones, and the growing intensity behind each word until the end.
Love Yourself: Answer – "Magic Shop"
Also used as a theme for their 5th Muster in 2019, "Magic Shop" remains the utmost symbol of comfort to ARMYs everywhere. Performed across their "Love Yourself World Tour in 2019", this song has become a fan favorite both in-person and online. Mainly written and produced by BTS' Jung Kook, he collaborates with Hiss Noise, Dj Swivel, Candace Nicole Sosa, ADORA, BTS' j-hope, SUGA, and RM. Inspired by James R Doty's memoir "Into The Magic Shop" which narrates the story of a neurosurgeon's mission to uncover the mysteries between the brain and heart. BTS reinvents the message of the book into an exchange for positivity. Acknowledging the worries of their fans with lines such as "I won't say obvious things like 'cheer up' / but I'll share with you my story." BTS invites ARMYs into their 'Magic Shop' to which they can relieve their souls to love themselves. Rather than stating they can become a new source of strength, they encourage listeners to find it within themselves to keep going. "You gave me the best of me / so you'll give you the best of you." The shimmering track creates an auditory environment that engulfs listeners into a space for self-discovery. With outstanding vocals and well-delivered raps, the message of "Magic Shop" intercepts BTS' discography. 
Map of the Soul: Persona / Map of the Soul: 7 — "00:00 Zero O'clock"
On their 2020 full album, Map of the Soul: 7, BTS reflected on seven years of their careers, exploring the group's journey since their debut and touching on themes such as self-reflection, acceptance, and growth. With the track "00:00 Zero O'clock," the group conveys the exact message of moving on. Sung by BTS' vocal-line Jin, Jimin, V, and Jung Kook, the pop ballad includes a soft melody mixed with lo-fi sounds. Throughout the lyrics, the unit addresses the idea of going forward, despite life's complications, using the concept of the clock hitting midnight to express that every day you get a new opportunity to start over. "00:00 Zero O'clock" reminds the listener that no matter what you are facing, each day you get a chance to be happy. "And you're gonna be happy / Turn this all around / When everything is new, Zero o'clock," they sing. 
When explaining the meaning behind the album on V-live, BTS' RM confessed that he felt comforted while listening to the members sing his lyrics, "When they sang this song, it felt like what was deep down in my heart, like my own story, told by others to comfort me."
BE — "Telepathy"
The breezy, cheerful song "Telepathy" is the fifth track from BTS' latest album, BE, released in 2020. The retro-pop record adds bright energy to the album, using funky sounds with bass elements. Written by EL CAPITXN, Hiss noise, SUGA, RM, and Jung Kook, "Telepathy" describes a connection that remains strong despite being far from each other. In the lyrics, the group expresses their desire to meet people again, spend time together and remind the listener that distance does not change their feelings. "Although we're far apart now / Our hearts are still the same / Even if you're not by my side, yeah / Even if I'm not by your side, yeah / You know we're together," the group sings.
Stream the best of BTS on Spotify and Apple Music, and journey back into their music videos on YouTube. Plus, keep up with the members and the latest BTS news on Twitter and Instagram.
Want to relive more BTS history? Check out EnVi's piece on the Proof photo concepts here, and read about their performance at the 64th Annual Grammys here!