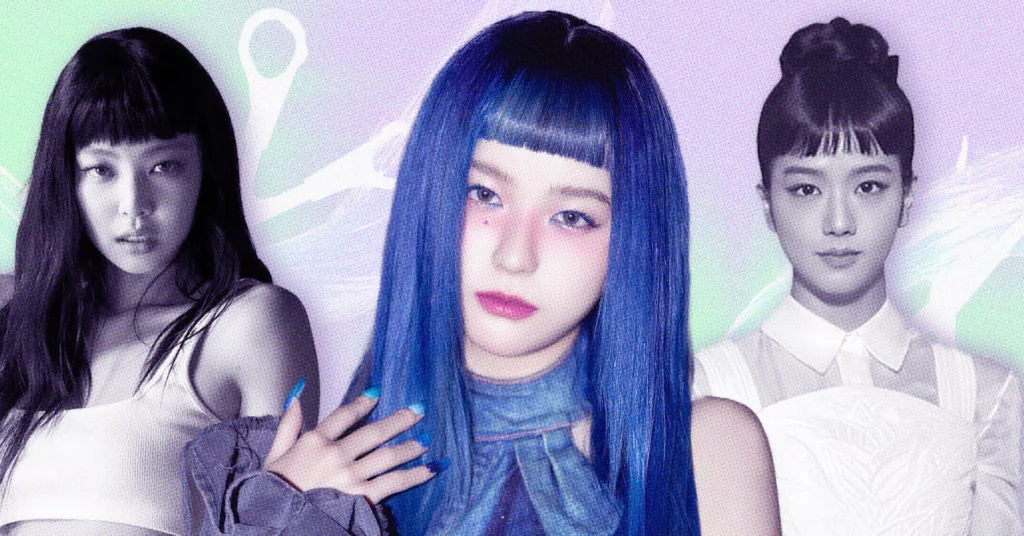 Is it officially the end of the curtain bang era? With a new hair trend rising in K-pop, this might be the case. Ditching the romantic, wispy curtain bangs and replacing them with miniature bangs that hover right above the brows, K-pop idols are taking center stage with a new hairstyle. These minuscule bangs come in all sizes and can only be described as "baby bangs." As an ode to the 1960s and 1970s, this hair trend is coming back in full swing on and off the screen.
What are Baby Bangs?
Baby bangs are a hair trend that can be best described as the antithesis of the former it hairstyle, the curtain bangs. While curtain bangs are chic, romantic, and mature, baby bangs offer a short, spunky, and youthful look. Despite the requirement of hovering from the upper forehead to just above the brows, baby bangs are versatile and they can come in different styles and shapes. A retro take on baby bangs is short, blocky, and a perfect juxtaposition between innocent and unique. Another version is thinner and frames the face by blending baby hairs with shortly trimmed bangs. Despite being the latest trend on beauty moguls' minds, the entertainment industry is no stranger to it with celebrities like Bella Hadid, Emma Watson, and Beyoncé having donned mini bangs in years prior.
It Girls with It Bangs
In recent days, baby bangs have made their fair share of appearances on a plethora of K-pop idols. Shorter, chunkier baby bangs have taken up many forms, most notably on stars like BLACKPINK's Jennie and XG's Juria. In an advertisement for Calvin Klein, Jennie is pictured with long, layered hair paired with a blunt set of baby bangs. Meanwhile, in the music video for "SHOOTING STAR," XG's main vocalist, Juria, wore a cobalt blue wig and thick baby bangs to accentuate the Y2K aesthetics predominant in the video clip.
While many prefer the chunkier 1970s-inspired baby bangs, other celebrities go for the lighter, innocent take. Wonyoung, member of IVE and Miu Miu ambassador, was spotted at countless music shows with micro mini bangs that were lightly sculpted with baby hairs to create a youthful, face-framing look. Likewise, NewJeans' Hyein has chosen longer, wispier bangs for an effortless, everyday look.
K-pop Idols have even taken the hairstyle to Fashion Week. In her role as Dior's global ambassador, BLACKPINK's Jisoo attended the brand's Spring 2023 Haute Couture show. The singer sported a chic top knot bun paired with a set of perfectly groomed baby bangs that — as many noted — channeled Audrey Hepburn.
Baby bangs are the quirky and cute hair trend no one saw coming. As spotted in the K-pop industry, this versatile hairstyle can take different forms — from edgy to chic. With stars serving a variety of takes on baby bangs, it is safe to say that we'll continue to see more of the short and spunky new it hairstyle.
Want to read more about the latest hair trends? Take a look at the beauty and hair trends spotted at Men's Fashion Week here.