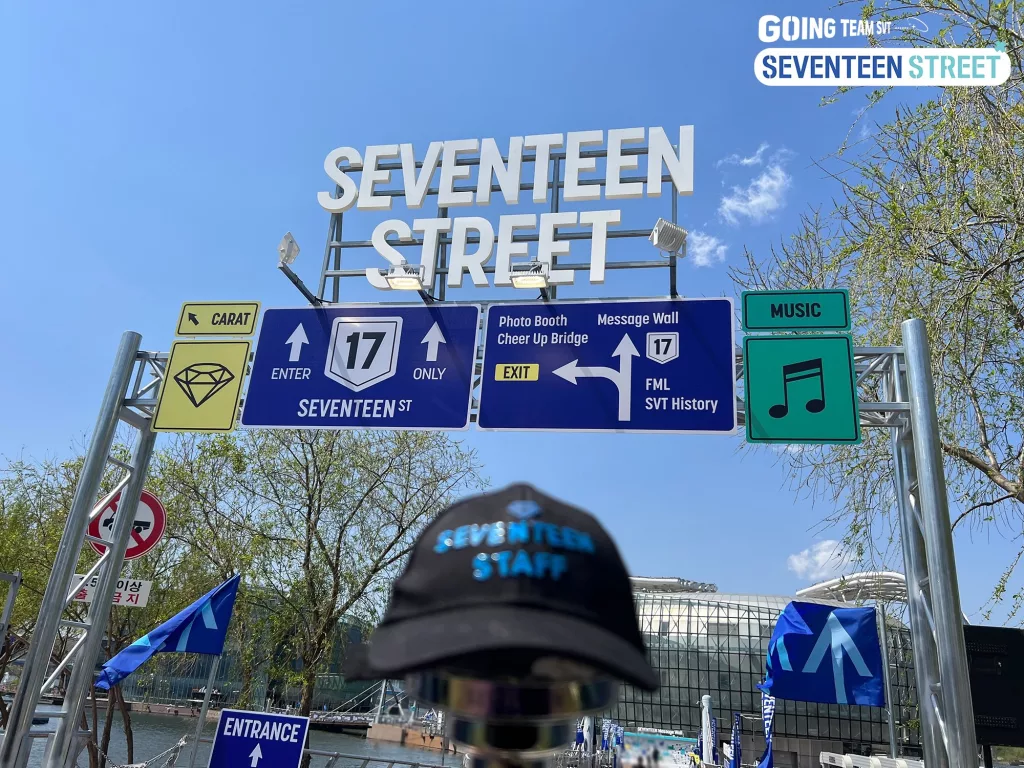 Ahead of the release of their tenth mini album FML on April 24, 2023, boy group SEVENTEEN treated fans to a free outdoor exhibition titled SEVENTEEN STREET, which ran from April 8-16. Scores of SEVENTEEN fans, affectionately known as CARATs, flocked to Sebit Floating Island just off Seoul's Banpo Han River Park to take in the nine-day event. Prior to opening day, a map of the exhibit was uploaded to SEVENTEEN's Weverse and Twitter platforms outlining its five zones, including a timeline wall, message board and photo booth.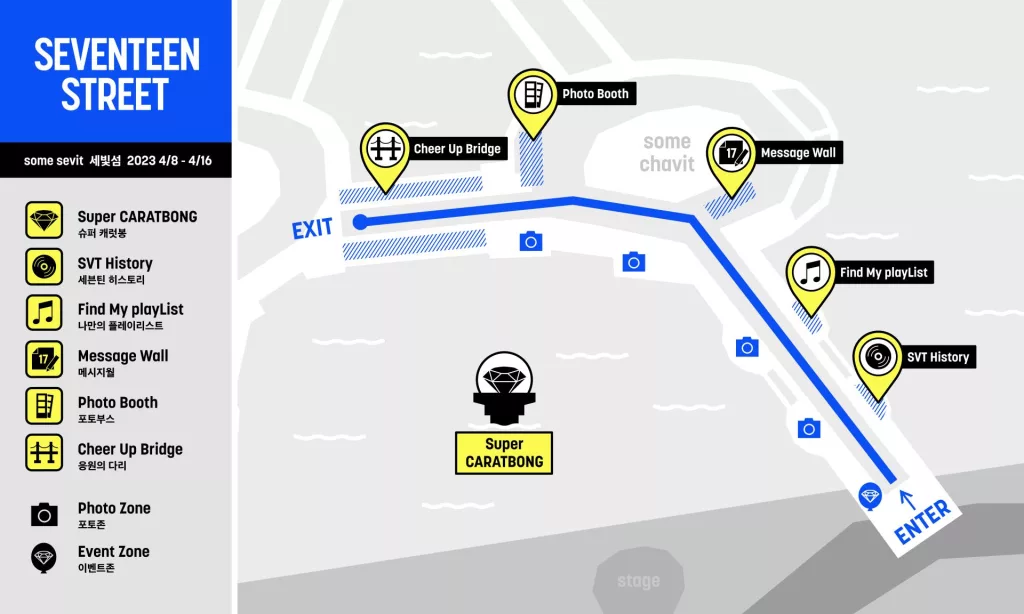 As the name suggests, SEVENTEEN STREET took on the layout of a main street, with photo and event zones marked by SEVENTEEN-themed road signs, a bus stop, and the like. The entrance of the exhibit was marked by highway-inspired signage, complete with arrows indicating the direction of the various zones. Upon entry, visitors were offered a free beverage alongside an official SEVENTEEN STREET ticket.
[SEVENTEEN STREET] TEAM SVT와 함께하는 TOUR💎 – 드르렁드르렁 기다리던 세븐틴 스트리트 함께 즐기기💕https://t.co/YIRRfqj6k3#SVTstreet #세븐틴스트리트 pic.twitter.com/AyHfnV8nRV

— SEVENTEEN STAFF (@pledis17_STAFF) April 8, 2023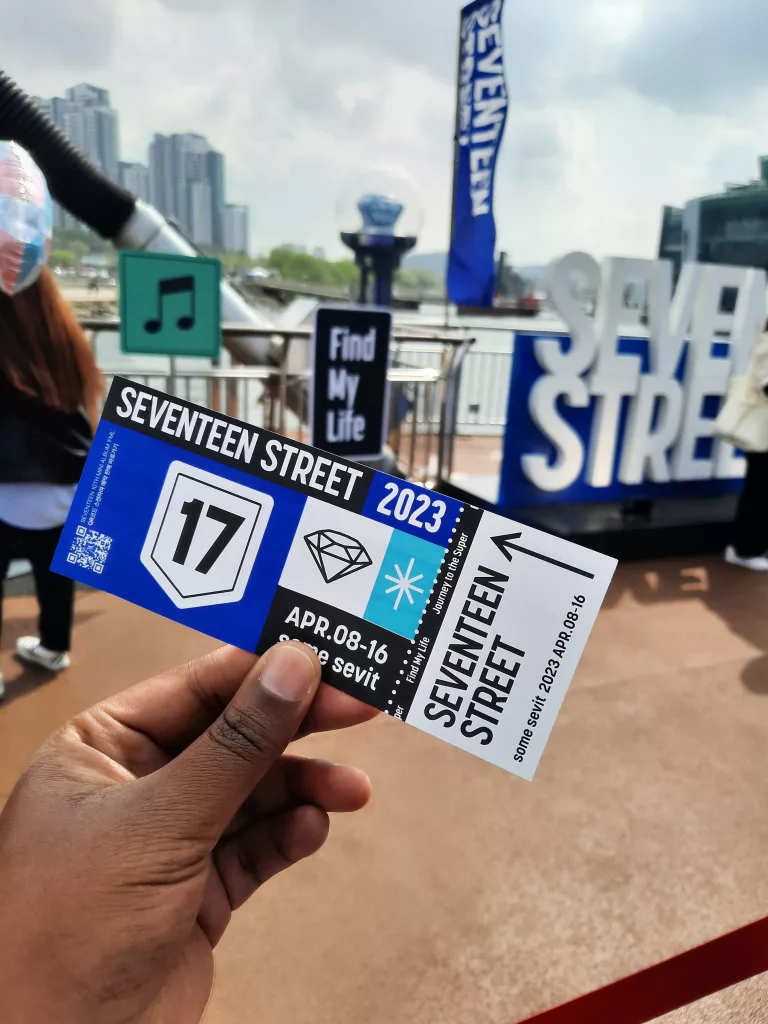 SEVENTEEN History
First among the zones was the SEVENTEEN History exhibit, presented in the form of a timeline wall. The chronological display featured album covers of all of SEVENTEEN's releases since their 2015 debut, beginning with 17 Carat (2015) and ending with their latest Japanese EP, Dream, released in November 2022.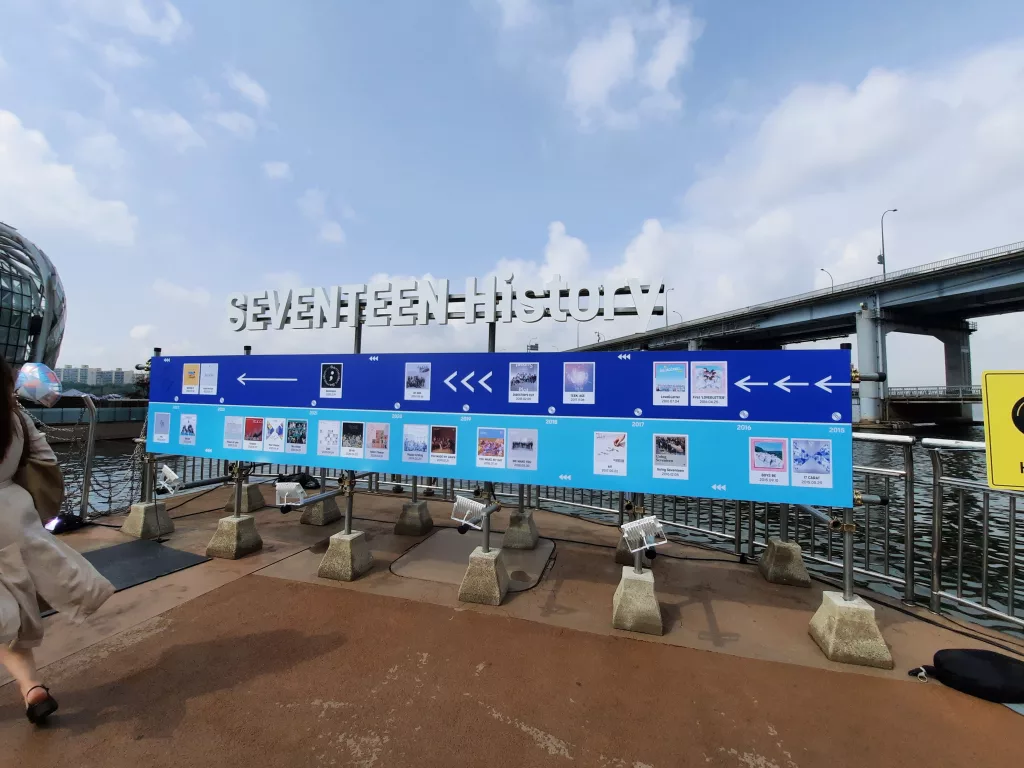 Find My Playlist
Not far away was the Find My Playlist zone, where people lined up for their turn at one of the two kiosks. Fans were given a choice among four mood-based playlists specially curated by SEVENTEEN themselves. Upon selection, they received a Receiptify-inspired, shop-style receipt with a list of songs plus a QR code which, when scanned, linked to a corresponding YouTube playlist. While they waited, some fans stopped to snap photos with the massive SEVENTEEN STREET sign set up directly opposite the area.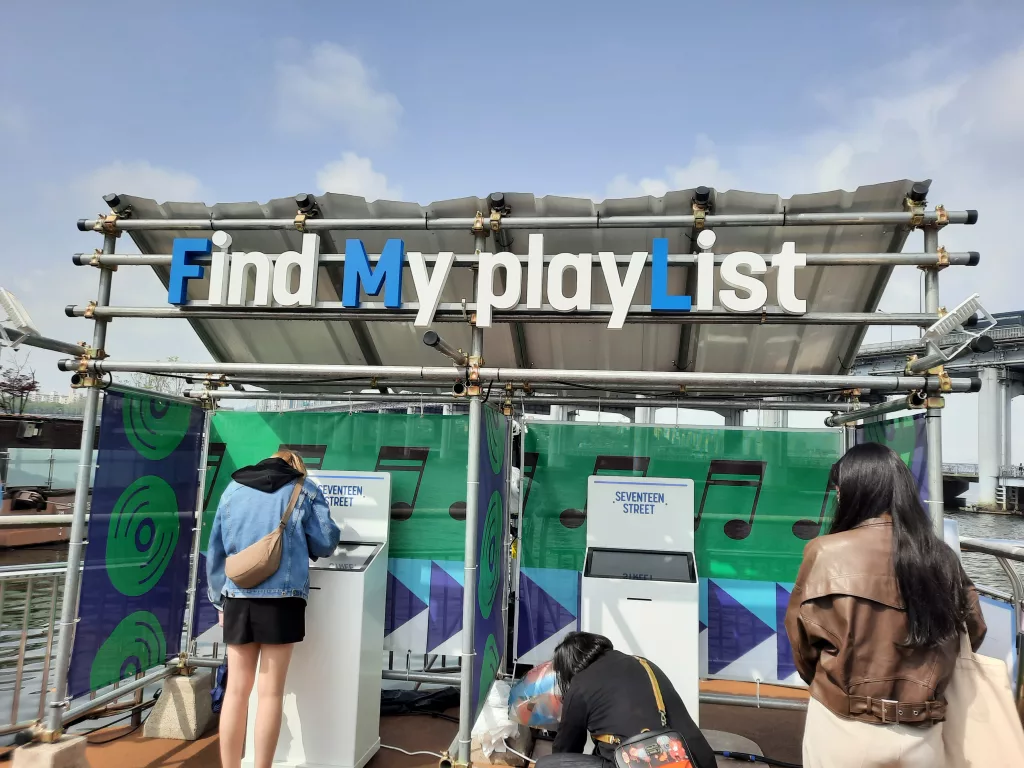 SEVENTEEN Message Wall
Next up was the SEVENTEEN message wall, where 13 panels bearing the members' signatures were surrounded by hundreds of colorful handwritten notes and drawings by fans. Fans lined up to add their own messages, answering the question "What is SEVENTEEN to you?" and expressing their love, admiration and gratitude for the group and their music.
Photo Booth
Lines for the SEVENTEEN-themed photo booth were long enough to warrant a waiting system, with fans waiting for up to two hours for their turn to record memories of their trip to SEVENTEEN STREET. While they waited, visitors took advantage of the many photo and event zones scattered across the exhibition.
Cheer Up Bridge
The final portion of the SEVENTEEN STREET exhibition was Cheer Up Bridge, a short walkway lined with encouraging lyrics from various SEVENTEEN songs handpicked by the members. Fans readily shared photos of their favorite lyrics on social media.
Super CARATBONG
The highlight of SEVENTEEN STREET was the giant floating Super CARATBONG, a massive replica of the recently released third version of SEVENTEEN's official light stick. Anchored in the waters between Banpo Han River Park and Sebit Floating Island, the Super CARATBONG was a prominent feature in the photos and videos of excited fans eager to commemorate their visit. With the fixture clearly visible from any point in the exhibit, CARATs weren't afraid to get creative with their poses.
SEVENTEEN Sightings
The stars of SEVENTEEN STREET were not to be left out of the fun, with several SEVENTEEN members being spotted visiting the exhibition throughout its nine-day run. Members Hoshi and S.Coups stopped by on the first night, while Dino, Vernon and DK visited SEVENTEEN STREET on the evening before the last day of the exhibition. The members interacted with eager fans, read CARATs' messages, took photos and left their signatures throughout the various zones.
What's Next?
Currently, SEVENTEEN are midway through their FML pre-release activities, releasing individual and group photo teasers themed after various meanings of the acronym.
The mini album will be led by title tracks "F*ck My Life" and "손오공 (Super)," both accompanied by their respective music videos. As per SEVENTEEN tradition, FML features songs by each of the group's units: "Fire" (hip-hop team), "I Don't Understand But I Luv U" (performance team) and "Dust" (vocal team). An official album trailer titled "F*ck My Life: Life in a minute" was uploaded to SEVENTEEN's official YouTube channel on April 14.
FML will hit streaming platforms on April 24, 2023 at 6 p.m. KST, while the "F*ck My Life" music video will be released two weeks later on May 8. While you wait, you can get to know SEVENTEEN's funny side with the latest episodes of GOING SEVENTEEN on YouTube!
Want more SEVENTEEN content? Check out EnVi's 7 Things To Know About SEVENTEEN here!