Being authentic, overcoming your fears, and perseverance—this is what K-pop girl group bugAboo is all about. After a groovy two-track debut on October 25, the group under Ateam Entertainment spoke to EnVi over email about the group's debut track, dream collaborations, and the bigger message behind their music.
Who is bugAboo?
A diverse six-member group, bugAboo brings together fresh faces from Korea, Taiwan, and Japan, each multi-talented and playing several roles. The group's Korean members are leader Choyeon, main rapper Eunchae, and vocalists Cyan and Zin. Vocalist and visual Yoona, originally hailing from Japan, and Taiwanese lead vocal Rainie, complete the group.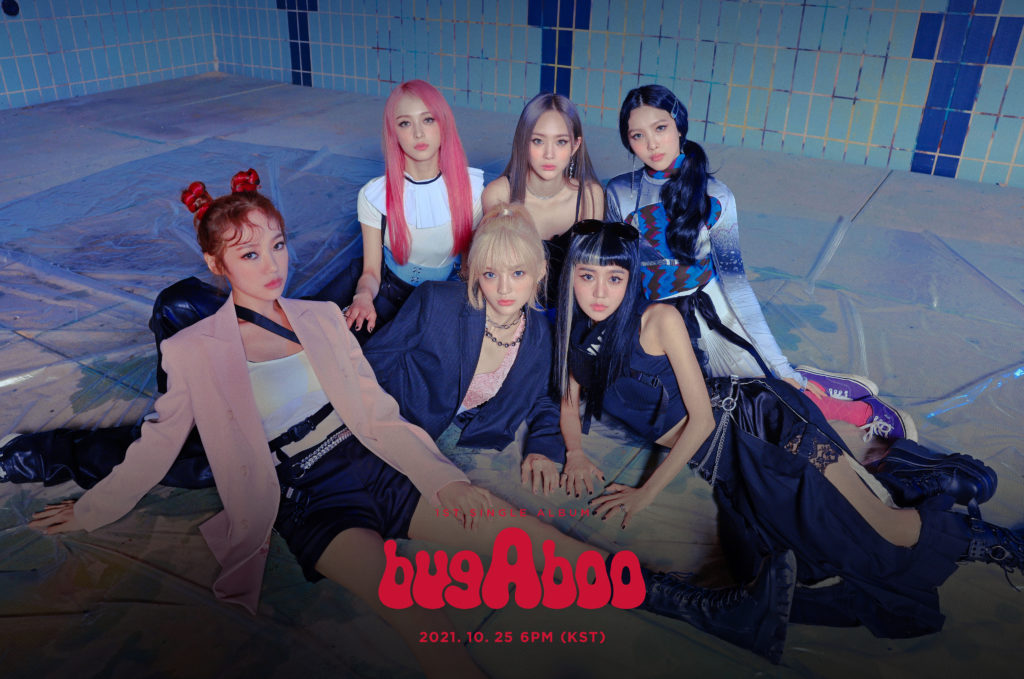 "bugAboo has a sound that gives a western vibe," Choyeon shares. Their debut track "bugAboo," produced by K-pop songwriter Ryan Jhun, lends itself to gaining earworm status, with a catchy hook that is easy to sing along to.
The Road to Debut
Like many idol groups who debuted during the COVID-19 pandemic, bugAboo's debut showcase and live stages had no in-person audiences, but that didn't stop the girls from celebrating the milestone. "The day we had our showcase, we had a party at our waiting room with a pretty cake! All six members made a wish and blew out the candle," Choyeon said. "We realized that we finally made the debut happen, so we hugged all together and some of us came to tears." The girls held their debut showcase at SBS—an event that was jam-packed with live stages, games, and ments.
But even without a live audience for the showcase, bugAboo has won hearts worldwide, even holding their first offline fansign on November 13.
The bugAboo Universe
While it's easy to take "bugAboo" at face value as a solid debut track and strong entry into the industry, the concept in both the girls' teaser photos and the music video address something deeper. "bugAboo has a concept of six typical girls meeting a new world and overcoming their traumas," Choyeon explained. "Similar to our group's concept, the music video is about all six members riding a school bus and arriving at a new world. It shows the story of each of us fighting our trauma. It is a happy ending story as we finally fight them and overcome them."
This isn't the only time bugAboo has discussed these "traumas" or fears. "We wanted to let the people know that we have things that we fear," Eunchae shared. At their debut showcase, each member explained the meaning behind their individual "bugAboos"—the in-universe name for their real-life fears. For Yoona, this meant battling with food and body image, for Cyan, being ordinary, and for Choyeon, burning out too soon. In moments of genuine vulnerability, the girls walked the audience through the personal struggles they are working to overcome every day.
"Sharing the progress of us overcoming our traumas, and sending out a message that says 'you also have the potential to do the same thing we did, and to reach your dreams' is what we want to do." This ability to be vulnerable with audiences right off the bat is what makes bugAboo unique, according to Zin. "As bugAboo has a meaning of together overcoming the trauma in our minds, I think our communication with our fans sets us apart from other artists."
Getting to Know the Girls
When they're not working hard on stage or in practice rooms, the bugAboo girls are just like any others their age—they love to hang out at home, watching movies or television while they recharge. Like any other rookie group who have gone through debut training together, they know how to relax and bond as a group. "We shout 'bug to the A to the boo' before stepping on stage," both Choyeon and Cyan said. "We try to feel less nervous by having our favorite conversations," Yoona added, and Eunchae noted they even make silly faces when they're on standby behind the stage to ease any nerves.
For a bit of fun, EnVi asked the girls which member they would bring with them to a deserted island. Choyeon's pick was Cyan, citing her quick wits and her tendency to make plans. "I think she will always seek solutions for any situation," she added. For Rainie, her go-to was Yoona. "She's like a mom to all the members," Rainie said, "staying with her makes me feel less nervous." Zin's choice was Eunchae: "she's always neat and clean, and also a great cook!" Zin herself turned out to be a popular choice–Cyan, Eunchae, and Yoona all picked her to be their island companion, as she's strong, calm, and a fan of camping.
The girls are all big fans of their industry seniors—the girls list J Rabbit, EXO, and IU as artists they've been listening to lately, and their list of dream collaborators includes CHUNG HA, Taeyeon, Red Velvet's Seulgi, and MAMAMOO's Hwasa.
Love for Rainboos
Despite the COVID-19 pandemic making their debut slightly less than normal, bugAboo has nothing but love for their fans, Rainboos. To their fans and listeners, bugAboo has one message they hope to share through their music: that we're each full of magic and potential, and through life's ups and downs, bugAboo will be by our side. "You are the protagonist of your life, so be courageous," Zin told EnVi. "I will be next to you fighting my trauma, and march forward with you."
Each member sent messages of endless gratitude. "The love and interest you have sent to us since before our debut is what makes bugAboo keep going. We will work hard to pay back such love, so let's stay together from now," Choyeon said. "It is sad that we can't meet our fans, nor listen to their voices directly, because of Covid. But please wait for us a bit more. We will work hard to show various figures of bugAboo," Rainie said.
bugAboo is one part of a new generation of girl groups opening up conversations about the challenges and obstacles we all face as we go through life. With their vibrant sound, down-to-earth personalities, and a message that resonates, we can't wait to see what bugAboo does next.
Keep up with bugAboo and their upcoming schedules by following them on Twitter, Instagram, and YouTube!
Looking for more conversations with idols? Check out our interview of AB6IX here!
Images courtesy of ATeam Entertainment, thumbnail by Alex.