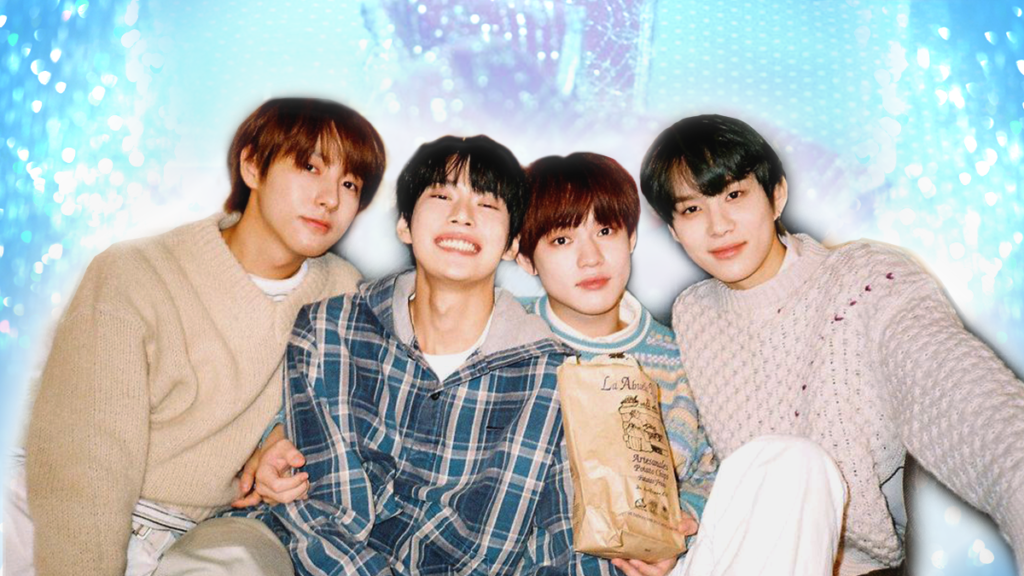 Whether you're turning up the thermostat, stringing fairy lights around your home, or digging out your gingerbread man cookie cutters, it's hard to miss out on the festive spirit in the air. As you dust off your classic Christmas playlist, why not add a few new songs into the mix? To welcome the holiday season, EnVi shares 12 NCT songs and covers that will inject a little neo energy into your Christmas caroling this year.
The Christmas Song (Justin Bieber ft. Usher) – Taeil
With a seraphic voice, Taeil puts his special touch on this cover of "The Christmas Song" and shows off his dulcet tones. This classic was originally sung by the legend Nat King Cole in 1946, but Taeil proves that an old-time Christmas carol can remain evergreen no matter how many decades pass, especially if it's filled with his effortless timbre. As Taeil ends the song by wishing a "merry Christmas to you," this might be the sweetest and most soothing season's greetings you'll receive this year.
White (TVXQ) – Yuta
This joyful track opens to bright piano chords, jingling bells, and Yuta staring in wonder at the Christmas lights and decorations adorning New York City. While meandering through Midtown, Yuta is accompanied by his buoyant vocals and an upbeat instrumental. Just like TVXQ's original version, this cover is sung completely in Japanese – Yuta's native tongue. His rich vocal color shines throughout the song as he delivers lyrics about wanting to remain in a loved one's warm embrace forever. "White" shares the pure joy and excitement of spending Christmas with someone you love.
This Christmas (TAEYEON) – Doyoung
In this emotive rendition of Taeyeon's "This Christmas," Doyoung's airy and silky vocals evoke feelings of wistfulness in listeners. Known for his expressive and powerful singing, Doyoung effortlessly teases emotional nuance from the simple piano instrumental. Listeners are transported to a snowy Christmas night while his ethereal voice takes center stage. The song's melancholic lyrics are a bittersweet trip down memory lane as Doyoung croons a promise to offer an "earnest heart" when he meets his loved one again. This poignant ballad will have you anticipating a reunion with the people you love on Christmas day.
Have Yourself A Merry Little Christmas – Jaehyun
Jaehyun's spin on this Christmas classic was released as a gift to fans back in 2018. With its unpretentious piano accompaniment, the stripped down cover allows his warm lower register to shine. Released on YouTube, the music video is simple, but by no means lacking. As Jaehyun records alone in an unadorned studio, his smooth baritone steals the spotlight. Jaehyun's mellow, soulful tone and the song's earnest holiday wishes will leave you feeling like you're wrapped up in a comforting embrace.
Santa Claus Is Coming To Town – Xiaojun
Part of WayV's Play V series on YouTube, Xiaojun's cover of "Santa Claus Is Coming To Town" is playful and bright. Xiaojun flaunts his vocal mastery with riffs and runs peppered throughout the song. Beyond showing off his singing chops, the music video adds an additional layer of theatricality that only serves to enhance his performance. As Xiaojun flits through the Christmas-themed set, he sends flirty winks to the camera, breaks into some wicked dance moves, and reveals his piano playing skills. Even the Grinch would be filled with festive cheer with this cover.
First Snow (EXO) / Mistletoe (Justin Bieber) – Mark and Haechan
A long-time formidable duo, Mark and Haechan deliver a cozy 2-in-1 cover while lounging comfortably on a couch in flannel pajamas. The music video starts with Mark strumming his acoustic guitar before Haechan's enchanting honey-like vocals launch into the EXO classic "First Snow." Midway through, the pair transitions neatly into "Mistletoe," originally sung by one of Mark's favorite artists – Justin Bieber. Taking turns to sing, they share the message of wanting to spend all their time with a special someone. In a casual display of their vocal prowess, Mark and Haechan adorably wrap up the video by riffing out a final "Merry Christmas."
12월 24일 (d.ear) – Doyoung, Jungwoo, Renjun, and Chenle
2020 brought two pairs of Awsaz couples together for a charming rendition of d.ear's 2012 release "December 24th." In the lyrics, Doyoung, Jungwoo, Renjun, and Chenle wistfully reminisce about memories of being together with a loved one during a past Christmas Eve. Dressed in comfy sweaters while seated amidst Christmas presents and cookies, they blend their voices in sweet and perfect harmony. While the playful domino game and cheerful smiles contrast the song's yearning undertones, perhaps the true message is to cherish time spent with your loved ones while you still have the chance to do so.
Coming Home – NCT U
"Coming Home" was one of four songs in the "STATION X 4 LOVEs for Winter (2019 SMTOWN Winter)" collaborative project. Officially, the song features broad themes of love and winter. With its message of longing to be reunited with a loved one, "Coming Home" echoes the Christmas sentiment of spending the season surrounded by those you love. NCT 127 main vocalists Taeil, Doyoung, Jaehyun, and Haechan – the jokingly self-dubbed "NCT Four Seasons" – flawlessly blend their voices in this warm ballad. Despite the song's grand opening to an orchestra of drums, piano, and string, its message is simple: sometimes the best gift is having someone to come home to.
Sweet Dream – NCT U
This jazzy R&B track shines a spotlight on the velvety vocals of Taeil, Kun, Jaehyun, Haechan and Chenle. With romantic lyrics that liken every moment spent with a lover to a "sweet dream," the song captures the effervescent feelings of being in love. This special performance video was released as a surprise Christmas gift to fans in 2021. The gauzy filter lends a surreal visual quality to the song, which ties in aptly with its title. With a sweet melody that leaves you feeling like you're floating on cotton candy clouds, "Sweet Dream" is the perfect track to listen to with someone who is the star of your dreams.
I.O.U. – NCT U
Released in 2020 as part of the repackage NCT RESONANCE Pt. 2: The 2nd Album, this dreamy low-fi track features Taeyong, Kun, Doyoung, Yangyang, Shotaro, Chenle, and Jisung. A sweet keyboard instrumentation weaves throughout the song, and the complementary smooth raps and R&B tones elevate its chill vibes. With lyrics that tease a love confession during the first snow, the members croon about finding solace and joy in a person. "I.O.U." emphasizes that Christmas is more than just a holiday – it can also be someone you love and appreciate. Just like Doyoung's closing bars, when you're with the right person, it "feels like Christmas every time."
Joy – NCT DREAM
In 2017, NCT DREAM dropped their first SM STATION song in the form of a sprightly Christmas remix, "Joy." This carol is a mashup of classics like "Joy to the World" and "Jingle Bells," intertwined with Mark and Jeno's youthful rapping. In dapper outfits fit for a holiday party, the Dreamies dance, laugh, and smear whipped cream over each other's faces. With its twinkling bells, lively beat, and brassy horns playing throughout the song, "Joy" offers the perfect soundtrack for you to dance into the holiday season on a jubilant note.
If you're looking for more NCT songs to slip into your Christmas playlist, NCT DREAM is set to release their first Winter special mini album, Candy, on December 19.
Interested in discovering more of NCT's music? Read about Doyoung's collaboration with Kim Min Ha on "Fallin'" here!