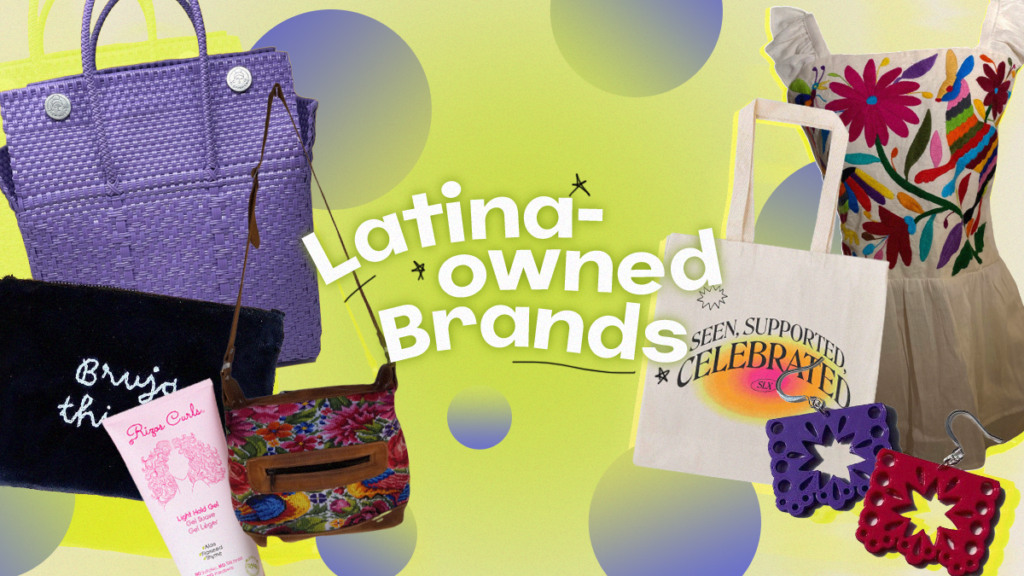 At EnVi, we believe it is important to support and show our love for small businesses. We gathered a few Latina-owned brands that honor and carry out the promise of bringing Hispanic culture to your wardrobe, and everyday life. 
Shop Latinx
In a recent interview with Complex, Brittany Chavez—founder and CEO of Shop Latinx—said that Shop Latinx began in 2016 as an Instagram account where she wanted to shine a light on small businesses and share their wonderful stories. That vision still stands today, along with creating an international shopping experience that highlights the talent and beauty of multiple Latina-owned brands. The network she and her team organized quickly turned into a safe space where people who identify as Hispanic can visit and feel seen and support and shop from brands that share the same culture as them. 
View this post on Instagram
The team at Shop Latinx takes great pride in their roots and always keeps the objective of celebrating Hispanic culture. They aim to let the Latino community feel seen, celebrated, and supported in an international shopping space. You'll find all Latina-owned brands on the site, and some that even focus on handmade and ethically produced products with clean ingredients. On September 29, they announced that their limited-edition capsule collection called "Seen, Supported, Celebrated" is up for presale. These pieces are dedicated to honoring the power of visibility, representation, and community care. On October 15, they launched 15 new brands on their website, allowing customers to choose from up to 27 lines of beautiful commodities. Staying true to its mission, Shop Latinx recognizes the Latino community and all the diversity surrounding it. 
SaviaGuate
Before beginning her business, Leslie Esmeralda Cruz—creator of SaviaGuate—often found happiness in sharing souvenirs from trips she took to Guatemala with co-workers. After some time, they'd request some items from her and inevitably thought up the idea to start a company of her own.
View this post on Instagram
From alluring bags to colorful clothing, SaviaGuate has many products up for purchase that honor the richness and beauty of her country's radiant colors and one-of-a-kind culture. They even offer a wonderful collection of Worry Dolls—also called muñeca quitapena—which are small, hand-made figurines. According to their legend, they'll listen to your worries and, after being placed under your pillow, will take that worry from you. It's a staple piece of culture in Guatemala, just one of the many things featured at SaviaGuate that will bring you Guatemalan tradition. 
Eres Una Maravilla
View this post on Instagram
College professor Paulina Lainez shares her passion for crafting and social change through her online shop, Eres Una Maravilla. The "tiendita that celebrates cultura" offers a variety of handmade earrings, including Jewelry with a Cause. In this special collection, proceeds are donated with every purchase. 
View this post on Instagram
Paulina and her husband Alvaro started their small business in 2020. What began as a small shop that sold digital prints, the duo decided to expand their business after noticing a lack of products that celebrated their Latinx culture. A self-taught artist, Paulina started crafting custom wire hoop earrings. Later, she added handmade polymer clay earrings to her stock, creating collections that illustrate memories from her childhood. Lainez's handmade jewelry highlights some of the most colorful parts of Mexican culture, like her Papel Picado earrings that depict traditional Mexican folk art. The shop has featured in BuzzFeed's "Mi Gente and Pero Like Mini Mercadito 2021," which featured small Latinx-owned businesses. Eres Una Maravilla continues to grow and transform, celebrating Latinx culture one pair of earrings at a time.
View this post on Instagram
Anoria Boutique
View this post on Instagram
Vanessa Guzman celebrates artisanal textile art through her small business, Anoria Boutique. The boutique, previously known as Two Fridas, specializes in hand-woven and embroidered huipils, woven dresses representing "indigenous solidarity and defiance amid oppression." Huipils are typically worn in Mexico and Guatemala. The weaving techniques used to create them go back hundreds of years, before the Spanish conquest of the Aztec Empire. 
View this post on Instagram
Anoria Boutique, named after Guzman's mother and grandmother, features the elaborate work made by women in indigenous communities in Mexico. With every purchase, proceeds go back to these communities, helping them improve their social, economic, and cultural environments. Environmental conservation is important to Guzman as she pushes for eco-friendly clothing consumption through the collections she offers. The garments are made from organic cotton materials. The colorful, one-of-a-kind embroidered designs depict the richness of indigenous culture. As a result, Latinx and non-Latinx people can enjoy traditional textile art while supporting the communities that keep these traditions alive. 
View this post on Instagram
Rizos Curls
Mexican-American and Los Angeles native, Julissa Prado, founded Rizos Curls in 2017. Like many other curly-haired people, Julissa went through countless battles to find the right products to style and maintain healthy rizos (curls). So, being the Latina boss she is, she decided to create her own formula that would cater to other curly-haired women going through similar hair struggles. On the Rizos Curls website, you can find her best-selling products such as the Refresh & Detangle Spray, Light Hold Gel, and the Rizos Curls Trio—a bundle that includes the Hydrating Shampoo, Deep Conditioner, and Curl Defining Cream. All these hair products were created with the belief that high-quality natural ingredients such as aloe vera, coconut oil, and flaxseed are essential for achieving overall healthy hair. Her products also exclude sulfates, parabens, silicons, and other ingredients that can damage the bounciness and shine of curly hair. 
View this post on Instagram
Rizos Curls products have been a game-changer for many individuals looking to revive their curly-textured hair. One reviewer, Nicole B., spoke about their Curl Defining Cream and said, "I've always had curly hair but I started straightening it and bleaching it for color and highlights and my curls somewhat died," they add, "I started using Rizos Curls at the beginning of September after seeing a video on Tiktok and my hair has come back to life, my curls look and feel like they did when I was little. I highly recommend this." 
Rizos Curls hair products are also available at major retail stores such as Target and Ulta. 
El Cholo's Kid
Through the love of Mexican artisan items and their devotion to eco-friendly fashion, El Cholo's Kid honors Mexican culture and the beautiful artistry it brings. Founder and CEO Daisy Romero, started her shop in 2008 to sell pieces she'd find during her travels to different countries. She became fascinated with the hard work she had witnessed and the idea of using plastic materials to create art, and then began a business of her own. 
View this post on Instagram

The brand features a handful of bright and colorful handbags, all of which are weaved in Mexico using recycled plastic. As shown in a video from their official TikTok page, the bags are carefully handmade, making them a special and unique piece. Additionally, they sell hoop earrings, scarves, stickers, and gift wrapping. As Romero works with weavers in Mexico, she's able to bring traditional artisan-made items to people from all around the world while paying tribute to her culture. 
GRL Collective
Founded by Kristine Rodriguez, GRL Collective is a Latina-owned brand that provides scholarship funds for girls in India. They donate 20% of their profits to The Sambhali Trust, an organization focused on the development and empowerment of marginalized women and girls in Rajasthan. In addition, $5 of their Lucha tee is donated to Black Lives Matter, and $5 of their kids Lucha tee is donated to RAICES Texas. 
View this post on Instagram
GRL Collective offers a multitude of goods including jewelry, handbags, stationery, etc. On some occasions, they offer free events to take part in—the last one being a Day of Wellness event in partnership with Smartwater+. In order to represent a true eco-friendly business, they believe in ethical, sustainable, and fair-trade practices when designing and manufacturing their products.
You can now find GRL Collective at Macy's nationwide, in person, or online. They are part of Macy's STORY, a curated gift shop within Macy's where you can shop for gifts from small and big businesses. 
If you're looking for Latina-owned webshops that not only offer unique cultural pieces but also ensure their customers of creating ethically produced items, these are just a few of our top favorites! 
For more small businesses to support, check out our latest roundup of NCIT-themed college essentials!
Thumbnail courtesy of Rebeca.