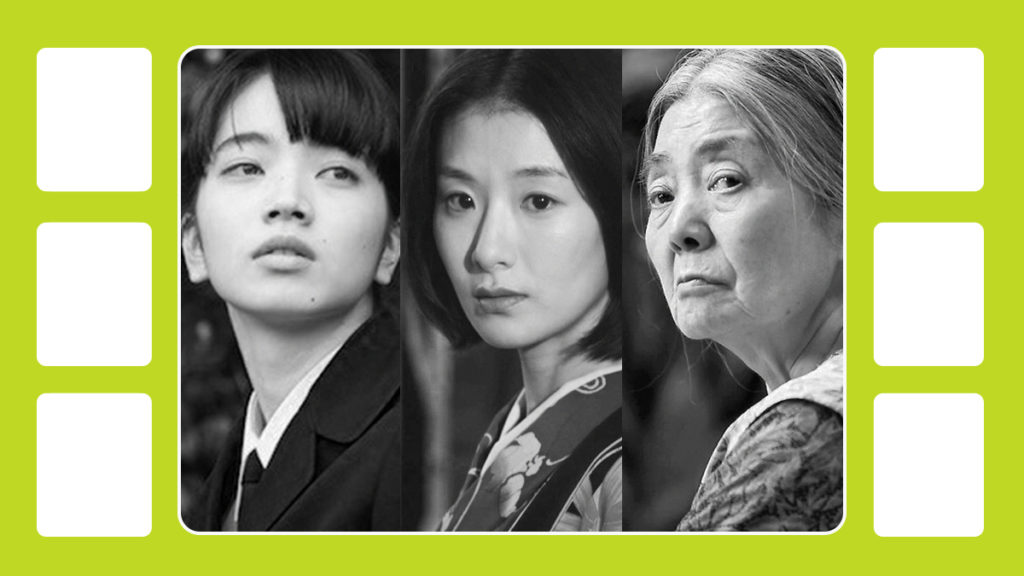 Diving into a whole new world of cinema can be intimidating–especially a cinema with as long and rich a history as Japan's. So if you're new to the world of Japanese films but are dying to dip your toes into everything it has to offer, don't worry! ACT!ON has you covered with ten of our favorite films from the land of the rising sun–there's something for everyone!
For the Action Aficionado
Seven Samurai (1954)
An essential piece of cinema, Akira Kurosawa's Seven Samurai (1954) is a delightful action-adventure. As the title suggests, the story focuses on seven unemployed samurai in the 16th century recruited by a poor village to defend them against local bandits. This is not a trip for the faint of heart. It is a three-hour epic starring legendary actors Toshiro Mifune and Takashi Shimura. Despite its release in the 1950s and its setting of imperial Japan, Seven Samurai has a lasting legacy, influencing films like The Matrix Revolutions and Mad Max: Fury Road. Of the movies inspired by Kurosawa, one of the most notable is the Star Wars saga.
For the Cinephile
Tokyo Story (1953)
Another classic is Yasujirō Ozu's, Tokyo Story (1953). This drama ranks third on Sight & Sound's 100 Greatest Films of All Time, following the glossy Hollywood films Vertigo (1958) by Alfred Hitchcock and Orson Welles' Citizen Kane (1941). Tokyo Story is the third installment in Ozu's unofficial series of films and a heartbreaking story of elderly grandparents who are forgotten or overlooked by their self-centered family. Ozu is a master of the mundane, following a simple, relatable storyline, but boasts beautiful cinematography and delicate performances from its cast.
For the Foodie
Tampopo (1985)
Keep your pantry stocked–after watching Juzo Itami's Tampopo (1985), you'll be craving a steaming bowl of ramen. Playfully called a "ramen western" in its tagline, Tampopo's main plot surrounds a struggling noodle shop run by a single mother and the truck driver who decides to lend his help to perfect the ramen recipe. Creatively woven into the film are various smaller stories that explore the relationships we have with food–everything from the sexual and intimate to the familial.
Rated R for some sequences of explicit sexual material.
For the Fan of Anime with an Edge
Perfect Blue (1997)
For a bone-chilling story that lingers with you long after the credits roll, check out Satoshi Kon's Perfect Blue (1997). Based on the novel by Yoshikazu Takeuchi, Perfect Blue is an animated psychological thriller that follows Mima Kirigoe, a member of a Japanese idol group. After retiring to pursue an acting career, she becomes a stalker's latest victim. As terrifying murders occur around her, Mima starts to blur the lines between fantasy and reality.
Rated R for animated sequences of violence and nudity, and for brief language.
For the Ghibli Lovers
The Wind Rises (2013)
It wouldn't be a piece on Japanese cinema without an appearance from Studio Ghibli. The last film directed by the ever-iconic Hayao Miyazaki, The Wind Rises is the fictional story of real-life engineer Jiro Horikoshi, who is credited with creating the Mitsubishi A5M, a World War II-era fighter plane. Unlike Miyazaki's other films, this one doesn't put magic at the center, but rather focuses on wistful dreams, and presents the viewer with an interesting idea: maybe finding beauty in the mundane can help us handle the horror that is war. Plot aside, the film is a visual treat. "Miyazaki is at the peak of his visual craftsmanship here," Variety's Scott Foundas aptly says.
Rated PG-13 for some disturbing images and smoking.
For the Romantics
Drowning Love (2016)
An adaptation of the Japanese manga Oboreru Knife by George Asakura, Yuki Yamato's Drowning Love is a summer romance about a popular teen model who is bored with her new life in the countryside. Despite that, she meets and falls in love with a free-spirited local boy over the summer. Starring Nana Komatsu and Masaki Suda in the lead roles, this is another emotional trip and visual treat wrapped up into one–its cinematography is a highlight. The film can also be considered a coming-of-age film, dealing with love, loss, trauma, and belonging.
Rated PG-13.
For the Festival Fanatics
Drive My Car (2021)
Ryusuke Hamaguchi's Drive My Car has been the talk of the town as this year's Japanese submission to the Academy Awards and a film festival favorite. Drive My Car is an adaptation of Haruki Murakami's short story of the same name. ​​A widowed actor (Hidetoshi Nishijima) seeks a chauffeur. The actor ends up in the company of a 20-year-old girl (Tôko Miura) on his road trip, and despite their initial misgivings about one another, the two develop a special bond as the film progresses. A heavy addition to this list, Drive My Car handles issues of infidelity, loss, and grief in a delicate, introspective manner.
Rated PG-13 for some sequences of sexual material.
For the Parasite Fans
Shoplifters (2018)
One of Japan's most prolific directors, Hirozaku Kore-eda, is at the helm of Shoplifters. In the same realm as Bong Joon-Ho's class analysis Parasite, Kore-eda's film follows a messy family of petty thieves on the margins of Tokyo, who take in a child they find alone one cold night. Earning over 100 nominations, including Best Foreign Language Film at the 91st Academy Awards, Shoplifters took home the Palme d'Or. But accolades aside, Shoplifters is complex, nuanced, and engaging, with a stellar ensemble, and will tug at your heartstrings as much as the plot twists will keep you on your toes.
Rated R for some sexual content and nudity.
For the Hitchcockians
Wife of a Spy (2020)
If you're looking for a proper thriller, then Wife of a Spy is for you. Kiyoshi Kurosawa brings an old-school flavor to this Hitchcock-esque thriller. Set in 1940, just before the outbreak of the Second World War, a local merchant and filmmaker has a feeling things will be going downhill. After a trip to Manchuria, he aims to bring light to what he witnessed and filmed there, leaving his wife to battle with her loyalty to her home and her country. Kurosawa took home the Silver Lion (Best Director Award) at the 2020 Venice Film Festival for Wife of a Spy.
Rated PG-13 for some mature themes.
For the Horror Junkies
Battle Royale (2000)
Often cited as a predecessor for a series like The Hunger Games, this cult classic takes place in a dystopian Japan, following a group of junior high students who are forced to fight to the death by their totalitarian government. A "battle royale," in this universe, becomes a way for the government to curb juvenile delinquency, and the film touches on themes of loyalty, bravery, and the dangers posed by totalitarianism. Be warned, though–it's not for the faint of heart!
Rated R for sex & nudity, violence & gore, and profanity.
This is just a taste of Japan's diverse national filmography, but there's no doubt there's something for everyone. Curl up with some popcorn and queue up one of our suggestions–you never know what might end up a new favorite!
Want more ACT!ON, read about films and dramas with international remakes here!
Thumbnail courtesy of