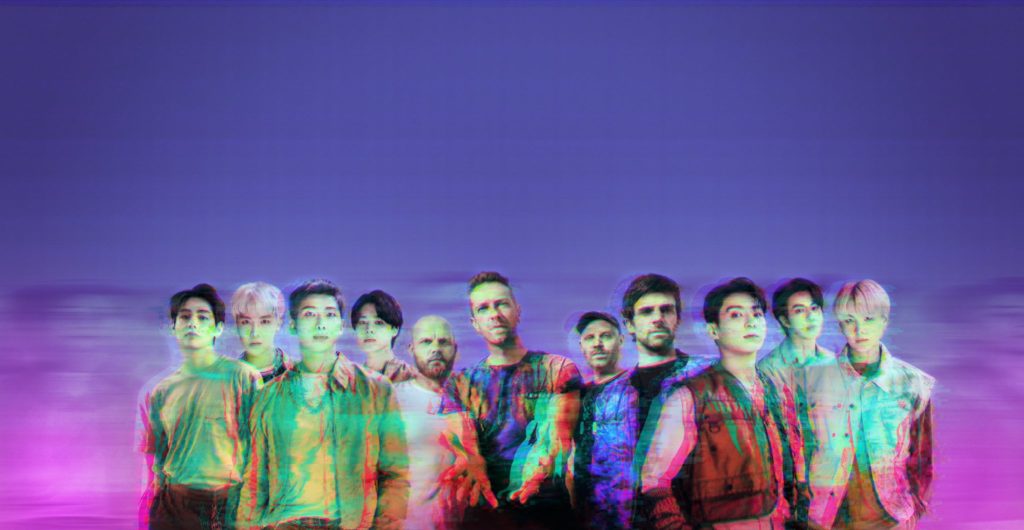 On September 24,  world-renowned K-pop group BTS and Grammy-winning British band Coldplay joined forces on the single "My Universe."  The track is part of Coldplay's upcoming album, Music of the Spheres, scheduled to release on October 15. The collaboration was revealed on Coldplay's social media early September, alongside an exclusive preview of the song on TikTok, and fans of both artists have been eagerly waiting ever since. 
#MyUniverse // Coldplay X BTS // September 24th // Pre-order & pre-save now // https://t.co/yAcfYX0gER ❤️♾⭕️ @bts_bighit @BTS_twt pic.twitter.com/J91ZVQIRf7

— Coldplay (@coldplay) September 13, 2021
My Universe // Coldplay X BTS // Exclusive song preview on TikTok now https://t.co/DPuYw9mFRQ pic.twitter.com/oDRPcObPcs

— Coldplay (@coldplay) September 13, 2021
Hours before the official release, Coldplay premiered the song at the Apollo Theater in Harlem, New York. 
COLDPLAY SINGING MY UNIVERSE LIVE!! #ColdplayXBTS pic.twitter.com/wavpnaMl1Z

— cherry cami 🙂 (@euphoria_cam) September 24, 2021
"My Universe"
"My Universe" is an uplifting pop-rock track with a catchy melody, the lyrics both in English and Korean convey the difficulty of love, and the feelings of joy that come with being together.  BTS' RM, SUGA, and J-Hope are among the track's writers, with other writing credits including Bill Rahko, Max Martin, Oscar Holter, Coldplay's Chris Martin, Guy Berryman, Jonny Buckland, and Will Champion.
A highlight of the song comes after the second chorus, when J-Hope and SUGA introduce their signature rap, a sharp contrast to the track's bright melody. The rap is followed by Jungkook and Chris' vocals, blending perfectly into the last verse: "when I'm without you I'm crazy/come and hold my hand/we are made of each other, baby/you are my universe/and I just want to put you first." The song includes a unique electro-dance outro, highlighting the incredible synergy between the artists. 
A Highly Anticipated Collaboration 
Prior to this collaboration, BTS has already shown their love for Coldplay, releasing a cover of one of the band's most well-known tracks, "Fix You," for MTV Unplugged back in February. The cover caught the band's attention and fans began speculating about a collaboration between the two ever since.
아름다운 @bts_twt 🤍🤍🤍
Love c, g, w & j #BTSUnplugged https://t.co/XkHAwMi0sl

— Coldplay (@coldplay) February 24, 2021
With that, "My Universe" does not come as a surprise, nor does Coldplay flying to Korea to meet BTS and work on the track. When asked about working with BTS, Coldplay's lead singer Chris Martin told Apple Music about how grateful he felt. "It had been in my mind for a while, BTS were wondering if we'd do a song for them or something like that, and then we started communicating with BTS and then went to Korea," Chris said. "Anytime there's actually communication or music between us, it just feels so good."
Fan Reactions 
Fans couldn't contain their excitement and took on social media to show their love and support for the single. The hashtag  #MyUniverse trended number one on Twitter's worldwide trends. 
"They said that we can't be together, because we come from different sides (but) you are my universe and you make my world light up inside."#MyUniverse #MyUniverse_ColdplayxBTS pic.twitter.com/xf2Dr9h9IJ

— . (@piecesofbluee) September 24, 2021
"What lights me up are
The stars that were embroidered with your love.
In my universe you
Create another world for me"

Jung Hoseok's verse and deep voice im in tears😭😭#MyUniverse  #ColdplayXBTS #JHOPE pic.twitter.com/qgJiK3wY1j

— j-hope daily ∞ (@thehobiprint) September 24, 2021
I love that #MyUniverse can be sung lover to lover, or parent to child, or friend to friend, or human to nature. It truly is universal and radically loving.

— Miche⁷ (@MicheBangtan) September 24, 2021
They are kings, the song is perfectly beautiful, thank you for giving us this art, I LOVE YOU 🤍#MyUniverse@coldplay @BTS_twt

— MinEstef✰ |🪐 (@Y0ONGILVS) September 24, 2021
jungkook's vocals are so beautiful im in love#MyUniverse
pic.twitter.com/3Av7zur7pK

— miya⁷ (@jeonqzr) September 24, 2021
it was so beautiful… I think I'm crying… my universe of seven angels Love you…💜🌌

*"you make my world light up inside"#MyUniverse @BTS_twt#ColdplayXBTS @coldplay pic.twitter.com/yrutZ33jXI

— Octaviaa ⁷🎐|ᴹʸ ᵁⁿᶦᵛᵉʳˢᵉ (@sisssyyy95) September 24, 2021
you're my universe ♡ #ColdplayXBTS pic.twitter.com/A3sY8QMtS0

— bts oldies 💜🐙 (@oldiesbts) September 24, 2021
It's too early to cry#MyUniverse pic.twitter.com/krLxXY0vjI

— Dittu⁷ 💜 (@Namjiniment) September 24, 2021
every time i think i can't be any prouder of coldplay, they continue to surprise me. seriously feel like my heart is gonna burst rn. the way they embraced BTS for this song is so heartwarming and the chemistry between both groups really shows in the final song 🥺 #MyUniverse

— georgia 🐙💜 (@jonnybuckIand) September 24, 2021
Apart from the track, fans of both Coldplay and BTS can look forward to an exclusive Inside My Universe documentary on September 26, and two additional versions of "My Universe" set to release on September 27: a "Supernova 7" remix, and an acoustic version. As of now, there is no set date yet for a music video for the single.
TWO DAYS until Friday's release of My Universe by Coldplay X BTS – and we can tell Coldplayers and the ARMY are as excited as we are! 🐳💜🐙 Here are some #MyUniverse dates for your diary…
Pre-save / pre-order: https://t.co/89xSOizV6J@coldplay @BTS_twt @bts_bighit pic.twitter.com/fFsAz3O1uO

— Parlophone Records (@parlophone) September 22, 2021
With two musical powerhouses collaborating on a project like this, we can't wait to see what they bring to fans in the coming days! 
Want to read more about BTS' latest activites? Read our coverage on the remix of "Butter," featuring Megan Thee Stallion.
Thumbnail courtesy of Parlophone.