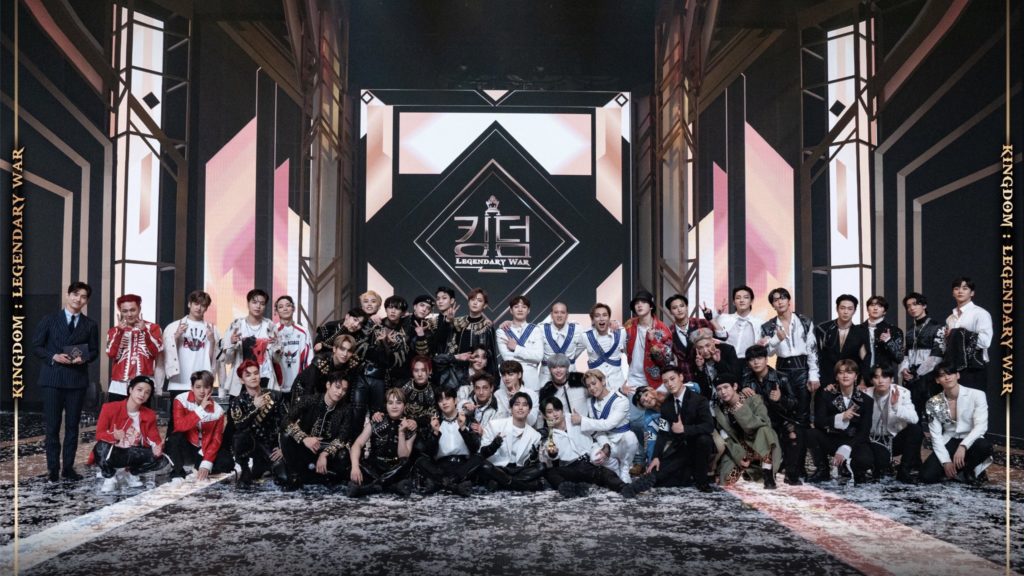 By Annie Bourbonnais | @_whoisannie
One of the most awaited Korean reality shows this year is probably MNET's Kingdom—the third season of the format after 2019's Queendom and 2020's Road to Kingdom. Giving us a teaser of what we might see in April, the introduction performances of each competing group (BTOB, The Boyz, SF9, iKon, Stray Kids, and Ateez) were broadcast live on February 23rd, to gather fan votes for the intro round.
As the performances won't be broadcasted again until the show officially starts, here's what you might have missed on the amazing intro stages:
Ateez was the first group on the lineup. Known for their strong stage presence, they continued their ongoing pirate concept on their stage, performing as seven members (rapper Mingi is on hiatus due to his health) a dramatic version of their summer song "Wave," acting out a ship wreckage. The performance ended in a flashy manner, with San standing on the backs of the members while carrying a lit torch.
Ateez out-doing themselves? Again and again? On multiple occasions? pic.twitter.com/HUnYQqTabw

— Ben (@birb_tm) February 23, 2021
atiny please 😭😭 i know we can't upload photo/vid from kingdom but they create a stickman looks like ateez performance. I'm in the right fandom 😭😭👍🏻 pic.twitter.com/bzBQBaavjI

— ia ; tapi tak jadi nk close la (@blerpyeosang) February 23, 2021
Next, vocal kings BTOB took the stage, showing a type of performance not usually expected from the show contestants, but very much expected from BTOB, focused, of course, on the vocals. With their BTOB4U formation (Minhyuk, Eunkwang, Peniel, and Changsub), they delivered an emotional rendition of "Beautiful Pain," starting with a powerful rap by Peniel and captivating viewers with their harmonies.
i can't believe btob did that without half their group

— cici ♥︎ (@cIcshine) February 23, 2021
Really might have to stan btob after this

— She (@byeongify) February 23, 2021
The next group to perform was SF9, bringing their 2020 comeback "Good Guy"—the song that awarded them their first music show win. Starting with a powerful dance intro, led by main dancer Taeyang, they showed a sharp and elegant stage in their tailored suits, looking like perfect gentlemen. The group performed as eight, as Rowoon is still recovering from an injury, however, he was present to support his members.
SF9 be looking like MEN on kingdom.

— 🌈We are twiterians-Love in Space🚀💕🪐 (@ScaryF9) February 23, 2021
I'm suddenly on SF9 Kingdom twt and honestly I might have to check them out

— syd (@dxnghxon) February 23, 2021
Another group that showed up with their first win song was Stray Kids. Going all in with the 'lost in the jungle' concept mentioned in the lyrics, they performed an explosive remix of "Miroh," with props such as sparklers and knives, and acrobatics by leader, Bang Chan.
STRAY KIDS IN:

SKZ CODE CLIO KINGDOM pic.twitter.com/4jAC0ryfAY

— BEST BOY IN THE WORLD (@jeonginertia) February 23, 2021
One of the most expected performances of the day, Road to Kingdom winners The Boyz, didn't disappoint with their rendition of their latest Korean comeback "The Stealer." Sporting intricate black outfits, they referenced their varied Road to Kingdom stages, including knife-sharp moves, acrobatics, and contemporary dance. Fans noticed that they might have also nodded to the other groups who participated in the previous competition.
The Boyz showed so much in just under 2 minutes…the switch up to the contemporary style dance after going so hard for the first half left me FLOORED. they're so talented and unique and they deserved their RTK win, i really can't wait to see what else they'll have in store 😩

— cait 💜🫧 (@sunwooosberry) February 23, 2021
when i first watch their THEBOYZ performance on road to kingdom, they definetly got me so i stan them. Now watching them performing on KINGDOM stage, i have no regrets.

— 임DIA is ia (@theboyzloops_) February 23, 2021
Wrapping up the introductions, iKon took the stage and softened up the atmosphere after the many dark and dramatic performances. With an "iKon is back" whisper setting up the mood, they delivered a fun, but powerful stage of their hit "Rhythm Ta." Rapper Bobby added a verse from "Hip Hop Gentlemen," a 2002 song by YG Family rappers, paying homage to his seniors.
Did you see a happy bobby today?
Like I always say, a happy bobby means that everything is going to turn out fine 😊

INTRODUCING iKON#iKONtoKINGDOM #iKON @YG_iKONIC

— Zombin (@mijingy0o) February 23, 2021
But for real, iKON's performance was so exciting to watch. The change of rhythm, the white colour, their relaxed facial expressions, choreo, everything was so on point. They made me watch the whole thing. I couldn't take my eyes off of the screen. #iKONxKINGDOM #iKON @YG_iKONIC

— 열이 올라요 ❤️‍🔥 month! (@blackpeppearl) February 23, 2021
Kingdom will be airing on MNET on April 1st, 2021, with TVXQ! as hosts.
Be sure to check out I.M's solo debut with Duality here!
Thumbnail by @atinyxjungho